Introduction
Highlights
Information
Important
Locations
Introduction
Bratislava scavenger hunt and city tour
Bratislava scavenger hunt and city tour was created to offer you the best way to explore one of the most beautiful Danubian cities.
The Capital of the Slovak Republic Bratislava, also referred to as the Beauty on the Danube can not only boast interesting history but it also is the centre of the most dynamically developing region of central Europe at present. Situated in the south-west of Slovakia stretches on both banks of the Danube and in the foothills of the Little Carpathian Mts.
Thanks to this favourable position it was always a commercial centre.
Highlights
Explore Bratislava, playing our scavenger hunt and city tour!
What to expect
Uncover the highlights with an interactive smartphone app. Solve location-based riddles on this walking tour.
Visit 10 of the most important attractions in the city as you walk. Stop and find clues at each attraction to reveal your next destination.
Enjoy the challenge of using logic, imagination, observation, and team spirit to finish the game.
Feel the thrill of completing each riddle. Start or pause the tour whenever you want. See the city at your own pace.
Read interesting information and facts. Stop to snap pictures as you go. Reveal an exciting a puzzle at the exterior of each attraction.
Information
Includes
Mobile app and login credentials
Self guided tour
Navigation
Important information about Bratislava scavenger hunt
Average duration: 2 hours including total walking time 1 hour
Supported languages: English, German, Spanish, Italian, French, Czech, Polish
Museum admission fees: Visits to museums and other attractions do not require a ticket, as the puzzles are related to
their outdoor areas. Admission is purely your choice.
Not suitable for…
Wheelchair users
People with mobility impairments
Unaccompanied children
What to bring
Weather-appropriate and comfortable clothing and shoes
Charged smartphone
Internet connection in case of the online-mobile application.
Important
What you need to know about Bratislava scavenger hunt ?
No one will be waiting for you anywhere, it's just you and your smartphones!
You can start playing anytime, any day, every day! You can even pause your game and resume later or any other day within a year !
You can use one language per serial number. If your group is multilingual, you will need to buy more games if you need more languages.
There is no time limit for the game. You can complete it at any time at your own pace.
Our game is completely outdoor, so it depends on the weather. The game can continue on the same day or another day if it is interrupted.
Prefer to start the game in daylight, as the lack of light may make it difficult to solve puzzles. However, the game can still be played at night.
Children must be accompanied by an adult. It is a nice and very educational activity for them if an adult helps them solve the puzzles and explains them.
Puzzles do not require knowledge. Players must use their imagination, logic, combinatorial thinking and cooperation.
Every attraction hides a puzzle ! The puzzles are independent and not connected to each other through a story. The goal is for players to interact with the attractions and their surrounding areas !
Our game is completely covid19-free as it is an outdoor game!
Locations
Bratislava scavenger hunt and city tour
You will visit:
Primatial Palace

Michael's Gate

Maximilian's fountain

Old town

St. Martin's Cathedral

Slovak Philharmonic

SNM-Natural History Museum

Old Bridge

And more hidden places!
Blue church – starting point of Bratislava scavenger hunt and city tour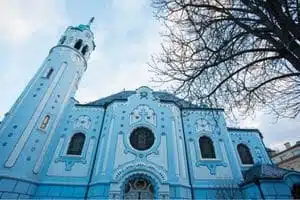 Primatial Palace
This is a beautiful, neoclassical Palace situated in the old town of the city. The construction of this palace was completed between 1778 and 1781. However, Melchior Hefele was the architect of this building. At present, the palace is serving as a Mayor of Bratislava's seat.
Overall, the most popular chamber of the Primatial Palace is the Hall of Mirrors, which is still attractive for visitors.
Michael's Gate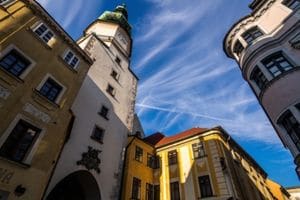 Here is another old structure of the city. Michael's Gate is the last of the original medieval gates. These gates are used to protect the city's east entrance. However, this rate climbs to 51 meters over an elegant streets' tangle. Even more, it dates back to the earlier 14th century. While, in 1759, the Gate took on its present shape after remodeling.
However, to enjoy a handy vantage point over the magnificent old town, head to the 6th floor of the tower.
Maximilian's fountain
Maximilian's Fountain in the main square of the city is another amazing place to visit in Bratislava. This is a common meeting place in the city. The fountain commissioned by the King of Hungary is right opposite the Old Town Hall.
In 1572, it was a water supply system for the citizens of Pressburg. Even more, some of the people here believe that this is an image of Roland, who was Pressburg's rights' mythical defender.
Old town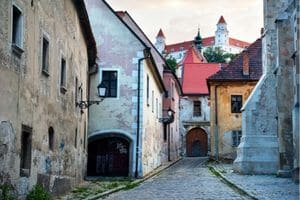 Just like any other city in Europe, the actual beauty of Bratislava lies in its Old Town. Even more, the beautiful Old Town is where you can visit the majority of the tourist attractions of the city. Basically, you can consider it as a historic center of Bratislava. This is the reason why commonly the Old Town is full of tourists.
The Neoclassical Primate's Palace dates back to the 18th century is also in the heart of the Old Town.
In short, a visit to the Old Town can let you spot an array of historical buildings and monuments here.
St. Martin's Cathedral
You can find the 15th-century Gothic-style cathedral on the west of Old Town against the city walls.
Since 1563, it has become a coronation church for Hungary. Up to 1830, about 11 kings and queens had crowned in this building. However, the nave inside the church is in three aisles divided by Gothic columns. Overall, the beauty of this building is worth your visit.
Slovak Philharmonic
Well, this is a beautiful Slovak symphony orchestra located in Bratislava. The orchestra has resided since the 1950s and was founded in 1949. While the concert hall dates back to 1773. This has beautiful architecture and can amaze the visitors here with ease.
SNM-Natural History Museum
Even though the principal aims of this SNM museum are research, presentation, and documentation of living and non-living nature's development and diversity. However, with a collection of about 2.4 million objects, it is ranked among the most prominent natural history museums of Europe.
The major collection of museums include:
Petrology
Mineralogy
Botany
Zoology
Anthropology
Paleontology
Overall, you can pay a visit to this huge museum to spot the immense range of items displayed here.
Old Bridge – ending point of Bratislava scavenger hunt and city tour
The Old Bridge is basically the very first bridge over the river of Danube. Over time, it had many names such as Štefánik's Bridge, Emperor Franz Josef bridge, and others. However, it opened on 30th December 1890 for the first time.
Exclusive domestic materials have been used in its construction. Even more, before blowing up in 1945, the bridge has served the city for more than 45 years. However, its reconstruction was completed in 1946. The interesting fact about this bridge is that it was dismantled and closed in 2008 and then reopened after reconstruction in 2016. With all that it has turned into the present Old Bridge with distinctive green color.