Melbourne hunt+city tour
5 $ - 14 $
Description
Introduction
Highlights
Information
Important
Locations
Introduction
Melbourne scavenger hunt and city tour
Melbourne scavenger hunt was created to offer you the best way to explore an amazing city. The city has been repeatedly declared one the most liveable cities in the world by The Economist's liveability rankings, which surveys over 140 cities around the world.
It is the capital city of the state of Victoria and is home to more than five million people. Melbourne has a proud history of cultural diversity with many different people from all kinds of cultures and all ages.
Highlights
Explore Melbourne, playing our scavenger hunt!
Uncover the highlights with an interactive smartphone app. Solve location-based riddles on this walking tour.
Visit 10 of the most important attractions in the city as you walk. Stop and find clues at each attraction to reveal your next destination.
Enjoy the challenge of using logic, imagination, observation, and team spirit to finish the game.
Feel the thrill of completing each riddle. Start or pause the tour whenever you want. See the city at your own pace.
Read interesting information and facts. Stop to snap pictures as you go. Reveal an exciting a puzzle at the exterior of each attraction.
Information
Includes
Mobile app and login credentials
Self guided tour
Navigation
Important information about Melbourne scavenger hunt
Average duration: 2 hours including total walking time 64 minutes
Walking Distance : 5 km
Supported languages: English, German, Italian, Chinese, Greek
Museum admission fees: Visits to museums and other attractions do not require a ticket, as the puzzles are related to
their outdoor areas. Admission is purely your choice.
Not suitable for…
Wheelchair users
People with mobility impairments
Unaccompanied children
What to bring
Weather-appropriate and comfortable clothing and shoes
Charged smartphone
Internet connection in case of the online-mobile application.
Important
What you need to know about Melbourne scavenger hunt ?
No one will be waiting for you anywhere, it's just you and your smartphones!
You can start playing anytime, any day, every day! You can even pause your game and resume later or any other day within a year !
You can use one language per serial number. If your group is multilingual, you will need to buy more games if you need more languages.
There is no time limit for the game. You can complete it at any time at your own pace.
Our game is completely outdoor, so it depends on the weather. The game can continue on the same day or another day if it is interrupted.
Prefer to start the game in daylight, as the lack of light may make it difficult to solve puzzles. However, the game can still be played at night.
Children must be accompanied by an adult. It is a nice and very educational activity for them if an adult helps them solve the puzzles and explains them.
Puzzles do not require knowledge. Players must use their imagination, logic, combinatorial thinking and cooperation.
Every attraction hides a puzzle ! The puzzles are independent and not connected to each other through a story. The goal is for players to interact with the attractions and their surrounding areas !
Our game is completely covid19-free as it is an outdoor game!
Locations
Melbourne scavenger hunt and city tour
Ending location:SEA LIFE Aquarium
You will visit:
Saint Francis' Church
State Library Victoria
Old Melbourne Gaol
Melbourne City Baths
Queen Victoria Market
Flagstaff Gardens
The Hellenic Museum
SEA LIFE Melbourne Aquarium and more…
St.Paul's Cathedral – starting point of Melbourne scavenger hunt
Melbourne Town Hall
Well, this is Melbourne's central city town hall. Since 1867, it is also a popular historic building of the state of Victoria. Most importantly, the destination is situated between Swanston and Collins Street's intersection on the northeast corner of the central business district.
The famous architects Joseph Reed and Barnes designed the town hall in the style of the Second Empire.
However, at present, this town hall has become a multi-purpose building and is commonly used for concerts, exhibitions, and theatrical plays. Visiting this town hall can let definitely let you have fun.
Saint Francis' Church
Saint Francis' Church, one of the most sacred places in Melbourne situated on Lonsdale Street. However, it has been the most loved place of pilgrimage in the heart of Melbourne for about 182 years. Even more, it has an extensive history of more than a century. Also, it is one of the oldest and most visited Roman Catholic churches in Australia.
State Library Victoria – Melbourne scavenger hunt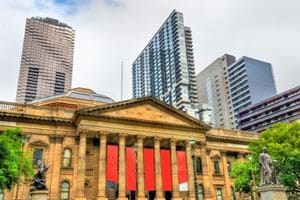 This is basically a historical institution in Melbourne that is welcoming more than 8 million visitors annually. The State Library was built in 1856 originally. However, the library now has grown into a massive event space that has become a source of pride for the city.
When you will visit the place, you can find a long queue of people here already. It's because the massive book walls and original wood furniture in the beautiful library are definitely something not to miss.
Old Melbourne Gaol
Well, the Old Melbourne Gaol is an amazing museum in the center of the city. It has operated as a prisoner in the beginning from 1842 to 1929. Due to which it remained as a common site of execution for multiple infamous criminals of Australia. However, at present, the museum can offer you a glimpse of life in the 1800s. It also contains a lucrative range of artifacts including executed criminals' death masks. Even more, it also offers some ghost tours to its visitors.
Melbourne City Baths
The baths of Melbourne city firstly opened in 1860. These baths are providing health and fitness services to the overall community here. Even more, these also boast the largest swimming pool in the city along with a fitness and gym studio.
Overall, the City Baths of Melbourne are offering a range of services that you can also enjoy by visiting the place.
Queen Victoria Market
This is an amazing yet important food hub of Melbourne since it opened in 1878. Here you can enjoy some of the tastiest treats of Melbourne. Also, you can find here some excellent olives, cheese, and smoked meats too.
Besides that, the building is also a beautiful example of Victorian architecture. You can also find some spectacular crafts of local craftsmen here. Also, multiple events are held here throughout the year. So visiting this can let you enjoy those events too.
Flagstaff Gardens
This is the oldest Melbourne garden established in 1862. Over time, it has become the most visited garden of the city by both locals and visitors. This is mainly because of its notable archaeological, social, horticultural, and historical significance to Melbourne's history. It boasts a 7.2 hectares area and has an informal style that attracts people more.
The Hellenic Museum
Even though this art and history museum is relatively new in the city. However, it boasts rich cultural traditions of contemporary and ancient Greece. It is occupying the Royal Mint building landmark. However, it has become a popular cultural destination in the city to visit.
SEA LIFE Melbourne Aquarium – end point of Melbourne scavenger hunt
Sea Life Melbourne Aquarium can let you spot thousands of aquatic creations. When you will journey through the aquarium, you will get an opportunity to come closer to:
Huge sharks
Penguins
Massive sawfish
Beautiful seahorses
Topical fishes
Majestic stingrays and much more.
Overall, here you can enjoy anything from state-of-the-art displays to extensive aquatic creatures' encounters. Even more, the aquarium visit will also be entertaining, engaging, and educational.
Only logged in customers who have purchased this product may leave a review.