Description
New York Central Park scavenger hunt and tour
New York central park scavenger hunt was created to offer you the opportunity to explore the most beautiful park in the world !
Arguably one of the most famous parks in the world, Central Park is a manmade wonder.  Not only is it the first public park built in America, but it is also one of the most frequently visited, with over 42 million visitors per year.
Set in the middle of bustling Manhattan, its grounds serve as a true haven,  for athletes, daydreamers, musicians and strollers.
Explore New York Central Park , playing our scavenger hunt !
It is an outdoor activity combining playing, walking and learning!
As a result, we created the best walk of the park, so you can learn everything about it and it's most important attractions.
You will solve riddles and move from one attraction to the other! Don't worry, using our in app navigation system, you will never get lost.
For the hard riddles, an automatic help system will help you move on!
Exploring New York Central Park playing our scavenger hunt was never more fun!
Take photos, discover hidden gems and narrow streets!
This is the best activity for families, friends, couples, students! Finally, for the escape room lovers also!
Give it a try!
Cost:  Each game costs 25 dollars, up to 4-5 players.
Average duration of New York Central Park scavenger hunt : 120 minutes including total walking time of 45 minutes
Supported languages: English, German, Spanish , Italian, French
Museum admission fees: Visits to museums and other attractions do not require a ticket. The puzzles are related to
their outdoor areas. Admission is purely your choice.
What you need to know about New York Central Park scavenger hunt ?
No one will be waiting for you anywhere, it's just you and your smartphones!
You can start playing anytime, any day, every day! You can even pause your game and resume later or any other day within a year !
You can use one language per serial number. If your group is multilingual, you will need to buy more games if you need more languages.
The city hunt + city tour provides information about the city and its attractions, but the escape games do not offer a city tour.
The outdoor escape games provide total points and a leaderboard and are a bit more difficult than the city hunt + city tour.
There is no time limit for the game. You can complete it at any time at your own pace.
Our game is completely outdoor, so it depends on the weather. The game can continue on the same day or another day if it is interrupted.
Prefer to start the game in daylight, as the lack of light may make it difficult to solve puzzles. However, the game can still be played at night.
For groups of more than 5 people, you must purchase 1 game per 5 people. For example, for a group of 25 people, buy 5 games.
Children must be accompanied by an adult. It is a nice and very educational activity for them if an adult helps them solve the puzzles and explains them.
Puzzles do not require knowledge. Players must use their imagination, logic, combinatorial thinking and cooperation.
Every attraction hides a puzzle ! The puzzles are independent and not connected to each other through a story. The goal is for players to interact with the attractions and their surrounding areas !
Our game is completely covid19-free as it is an outdoor game!
You will visit:
Cleopatra's Needle
Belvedere Castle
Delacorte Theatre
Swedish Cottage
Shakespeare's Garden
Strawberry Fields
Skater's Circle
Olmsted Flower Bed
Bethesda Terrace
Bethesda Fountain and more…
Cleopatra's Needle – starting point of New York central park scavenger hunt
Belvedere Castle
Shakespeare's Garden
Strawberry Fields – John Lennon's Monument
Bethesda Terrace

Bethesda Fountain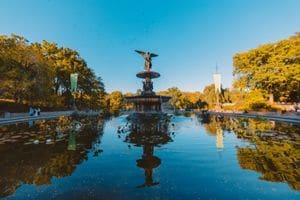 Alice in Wonderland statue – ending point of New York central park scavenger hunt
More things to see Central Park
You might also be interested in Montreal