Description
Introduction
Highlights
Information
Important
Locations
Introduction
Bruges scavenger hunt and city tour
Bruges scavenger hunt and city tour was created to offer you the best way to explore this beautiful city! 
Bruges is one of Europe's best preserved cities. Picturesque cobbled lanes and dreamy canals 
link photogenic market squares lined with soaring towers, 
historical churches and lane after lane of old whitewashed almshouses.
Bruges is an outstanding example of a medieval historic settlement, 
which has maintained its historic fabric as this has evolved over the centuries, 
and where original Gothic constructions form part of the town's identity.
As one of the commercial and cultural capitals of Europe, Bruges developed cultural links to different parts of the world. 
Bruges scavenger hunt is surely the best way to explore the city !
Highlights
Explore Bruges, playing our scavenger hunt and city tour!
Uncover the highlights with an interactive smartphone app. Solve location-based riddles on this walking tour.
Visit 10 of the most important attractions in the city as you walk. Stop and find clues at each attraction to reveal your next destination.
Enjoy the challenge of using logic, imagination, observation, and team spirit to finish the game.
Feel the thrill of completing each riddle. Start or pause the tour whenever you want. See the city at your own pace.
Read interesting information and facts. Stop to snap pictures as you go. Reveal an exciting puzzle at the exterior of each attraction.
Information
Includes
Mobile app and login credentials
Self guided tour
Navigation
Important information about Bruges scavenger hunt
Average duration: 2 hours including total walking time 24 minutes.
Walking Distance: 2km
Supported languages:

English, German, Spanish, Italian, French, Dutch.

Museum admission fees: Visits to museums and other attractions do not require a ticket, as the puzzles are related to their outdoor areas. Admission is purely your choice.
Not suitable for…
Wheelchair users.
People with mobility impairments.
Unaccompanied children.
What to bring
Weather-appropriate and comfortable clothing and shoes.
Charged smartphone.
Internet connection.
Important
What you need to know about Bruges scavenger hunt ?
No one will be waiting for you anywhere, it's just you and your smartphones!
You can start playing anytime, any day, every day! You can even pause your game and resume later or any other day within a year !
You can use one language per serial number. If your group is multilingual, you will need to buy more games if you need more languages.
There is no time limit for the game. You can complete it at any time at your own pace.
Our game is completely outdoor, so it depends on the weather. The game can continue on the same day or another day if it is interrupted.
Prefer to start the game in daylight, as the lack of light may make it difficult to solve puzzles. However, the game can still be played at night.
Children must be accompanied by an adult. It is a nice and very educational activity for them if an adult helps them solve the puzzles and explains them.
Puzzles do not require knowledge. Players must use their imagination, logic, combinatorial thinking and cooperation.
Every attraction hides a puzzle ! The puzzles are independent and not connected to each other through a story. The goal is for players to interact with the attractions and their surrounding areas !
Our game is completely covid19-free as it is an outdoor game!
Locations
Bruges scavenger hunt and city tour
Ending location: Rozenhoedkaai
You will visit:
Jan Van Eyck Square

Belfry of Bruges

Sint-Salvatorskathedraal

Bonifacius Bridge

Church of Our Lady Bruges

Huisbrouwerij De Halve Maan

Rozenhoedkaai and more
Bruges is an attractive city of medieval streets and elegant swans. However, there are much more Bruges things to do than just sighting unique birds and walk here. Let's have a look at the best attractions below :
The central plaza of Bruges, with a gothic town hall, neo-classical buildings, and a courthouse , dating back to the 1700s. You can even enjoy delicious food here in a heritage hotel nearby. Besides this, it's also a great place to enjoy waffles.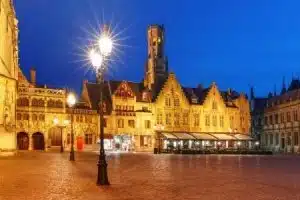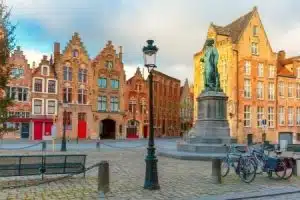 Jan van Eyck's statue location is in the square with the same name. This statue is placed here as a memorial to the school of art's best-known exponent. However, this small square is a big tribute to Jan Van Eyck.
However, besides seeing this statue, you can also spend some quality time at this square while wandering around to see the buildings from the 13th and 14th centuries.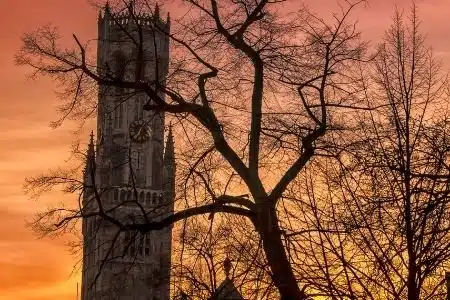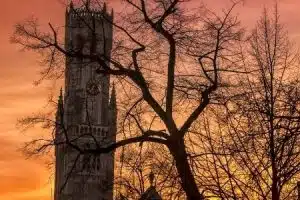 The belfry is one of the top Bruges things to do. It was the city's central hub. And surprisingly, it still buzzes with life because locals and tourists alike mingle between street performers, shops, and horse-drawn carriages.
Overall, being a prime photo spot and plenty of old buildings, the belfry is a must-visit place in Bruges.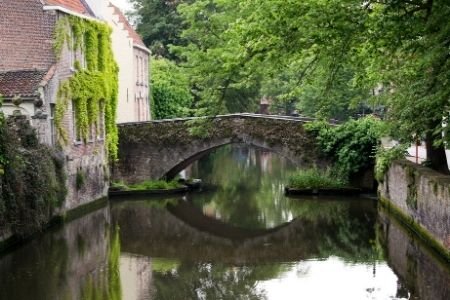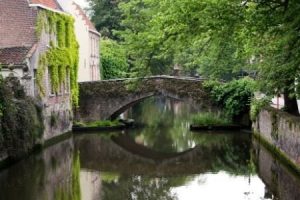 It is the most photogenic bridge of Bruges. Even though it is the youngest one here,  still sums up the entire city perfectly. Abundantly fabulous and romantic views and mysterious atmosphere here worth your attention. Here you can gaze at little yet peaceful canal view and half-timbered houses to enjoy some amazing time.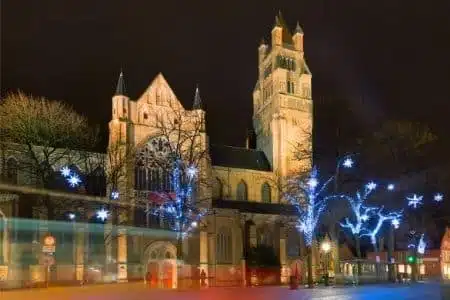 This cathedral is situated in one of the major shopping streets of Bruges. Most amazingly, this Kathedraal will cost you nothing to step inside. You can stay a little inside this huge worship place to have inside peace.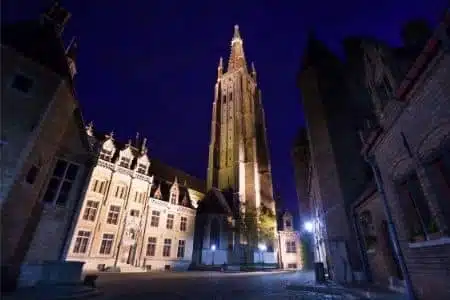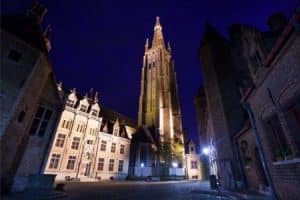 One of the oldest Bruges churches whose construction started in 1220. Furthermore , the church took 200 years to complete, but its architecture is still very impressive. Delightfully it's completely free to wander around this church, and it's definitely worth your visit.
Huisbrouwerij De Halve Maan is a family-owned brewery dating back to the 16th century. De Halve Maan is brewing the famous beer of Bruges city that's known as the Brugse Zot. Here you can find how exactly beer was being made in the ancient days.
Here you can learn about Belgian culture and boost your beer knowledge as well with ease.
Right in the city's heart and near Burg Square, this stunning park contains some imposing trees and numerous other treasures as well. There are many things to enjoy here, including the pond with its beautiful fountain, romantic kiosk, larger playgrounds, and more.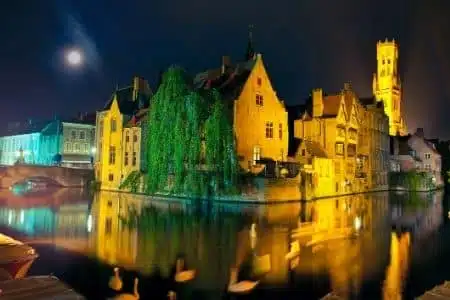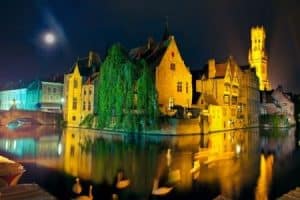 Rozenhoedkaai is closer to Tanner's Square and possibly one of the best Bruges things to do. It is a stunning area that no one wants to miss. Located around where Dijver and Groenerei canals meet. That makes it a picture-perfect spot with the gothic buildings in the surrounding.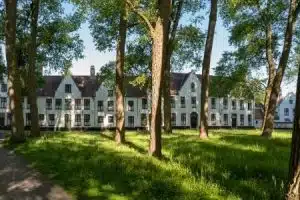 Do you want to keep yourself back in a place of tranquility and peace? An architectural complex, which was created to keep lay religious women.
In addition , Ten Wijngaerde was founded in 1245, but still looks stunningly medieval.
It is a perfect place to leave the city's buzz behind and enjoy the beautiful moments here..
Instead of Bruges scavenger hunt, you might be also interested in Brussels, Antwerp, Ghent or Liege?