Description
Introduction
Information
Important
Locations
Introduction
Genoa outdoor escape game
Genoa escape game! Let's go outdoors! What about playing an outdoor escape game in Genoa ? You will have the chance to wander around the streets solving riddles! You will explore this amazing city in an interactive and unique way! Everything in your mobile phone, in your language and in a very cheap price! What a great chance to take some beautiful photos too!
Information
Can you solve the riddles and escape from Genoa ? Genoa escape game
The mobile app provides :
Navigation and automatic help system with 3 levels of hints.
Total points and leaderboard.
Time is with you and not against you. Solve the riddles at your own pace.
You can pause your game any time and continue later or another day.
Each month, the no1 team of the leaderboard will win a free game for any city we provide.
Average duration:2 hours including total walking time of 60 minutes
Supported languages: English, Deutsch, Spanish, Italian, French, Dutch
Level of difficulty : Always hard 🙂 , but hints will always be there and the code of the riddle in order to be able to continue playing.
Important
What you need to know about Genoa escape game ?
No one will be waiting for you anywhere, it's just you and your smartphones!
You can start playing anytime, any day, every day! You can even pause your game and resume later or any other day within a year !
You can use one language per serial number. If your group is multilingual, you will need to buy more games if you need more languages.
The outdoor escape games provide total points and a leaderboard and are a bit more difficult than the city hunt + city tour.
There is no time limit for the game. You can complete it at any time at your own pace.
Our game is completely outdoor, so it depends on the weather. The game can continue on the same day or another day if it is interrupted.
Prefer to start the game in daylight, as the lack of light may make it difficult to solve puzzles. However, the game can still be played at night.
Children must be accompanied by an adult. It is a nice and very educational activity for them if an adult helps them solve the puzzles and explains them.
Puzzles do not require knowledge. Players must use their imagination, logic, combinatorial thinking and cooperation.
Every attraction hides a puzzle ! The puzzles are independent and not connected to each other through a story. The goal is for players to interact with the attractions and their surrounding areas !
Our game is completely covid19-free as it is an outdoor game!
Locations
You will visit:
Palazzo Grimaldi della Meridiana

Piazza Fontane Marose

Santa Maria delle Vigne

Palazzo San Giorgio

Cattedrale di San Lorenzo

Doge's Palace

Piazza De Ferrari

Porta Soprana

Christopher Columbus' House
Palazzo Grimaldi della Meridiana
Apart from being the birthplace of Christopher Columbus, it is an important place in Italy that is known for its architecture and high cultural values.
It is the place where you will be starting your trip to Genoa. Being a World Heritage Site by UNESCO, it has high importance for Italy as well as for the whole world. The building takes you back to the mid-16th century days when it was built, and it amazingly portrays Spanish architectural style.
Piazza Fontane Marose
Piazza Fontane Marose is a square located in the historic center of the city and it is present between the XXV Aprile and the New Streets. The location and the architectural value dates back to the 16th century. However, it has been modified several times by now.
Santa Maria Delle Vigne
This Roman Catholic church was built in the 10th century for the first time and its main altar was completed in 1730. Apart from being a church and a historical site, it is also important because it is the final resting place of Alessandro Serradella who was a famous Italian composer.
Palazzo San Giorgio – Genoa scavenger hunt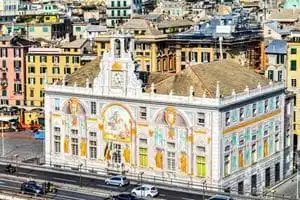 Yet another historical building is present in Genoa which dates back to the 13th century. The architectural style of this building looks stunning in the daylight. In the early days, it served as the civil-political center of the place
Cattedrale di San Lorenzo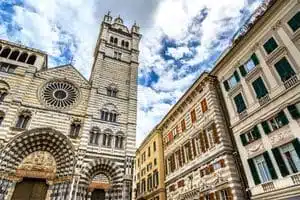 Also known as the Genoa Cathedral, it is dedicated to Saint Lawrence. The cathedral is a huge building that was built between the 12th and 14th centuries. The exterior of the church is built in gothic architectural style dating back to the 13th century.
Doge's Palace – Genoa escape game
Another building is built in gothic architectural style. It is a palace that was built in Venetian Gothic style and this Palace is one of the most famous landmarks in Genoa. It was built as a palace in the 14th century but in the 20th century, it was converted into a museum.
Piazza De Ferrari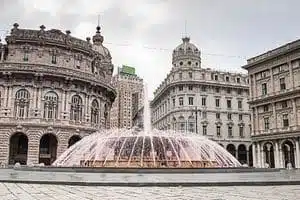 The main Square of Genoa is not only an important historic site, but it is also the important modern center of the city. Apart from being historically important, it is also a famous tourist attraction because of the main fountain of the square. Now this square and its surrounding buildings are the houses to a lot of office buildings for different companies.
Porta Soprana
One of the most important historical parts of Genoa is this place as it was the protection of the city of Genoa in the older times. The giant walls are only remaining in portions these days and they are longer than any walls in any other city in the whole of Italy. While there was a purpose for these walls in the olden days, now they only serve as a tourist attraction.
Christopher Columbus' House – ending point of Genoa escape game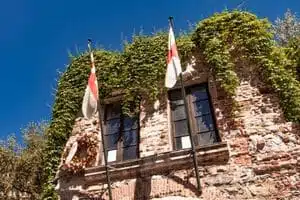 The last stop for you is Christopher Columbus's house itself. It is undoubtedly the most important place to visit in the whole of Genoa. The house was reconstructed in the 18th century, and it is the place of birth as well as the place where Christopher Columbus grew up.
The original house was destroyed so it was rebuilt but everything was mimicked like the original one. This is where your exploration of Genoa comes to an end.
You might also be interested in Rome, Florence or Milan or Venice