Description
Introduction
Information
Important
Locations
Introduction
Liege outdoor escape game
Liege escape game! Let's go outdoors! What about playing an outdoor escape game in Liege ? You will have the chance to wander around the streets solving riddles! You will explore this amazing city in an interactive and unique way! Everything in your mobile phone, in your language and in a very cheap price! What a great chance to take some beautiful photos too!
Information
Can you solve the riddles and escape from Liege ? Liege escape game
The mobile app provides :
Navigation and automatic help system with 3 levels of hints.
Total points and leaderboard.
Time is with you and not against you. Solve the riddles at your own pace.
You can pause your game any time and continue later or another day.
Each month, the no1 team of the leaderboard will win a free game for any city we provide.
Average duration:2 hours including total walking time of 60 minutes
Supported languages: English, Deutsch, Spanish, Italian, French,Dutch
Level of difficulty : Always hard 🙂 , but hints will always be there and the code of the riddle in order to be able to continue playing.
Important
What you need to know about Liege escape game ?
No one will be waiting for you anywhere, it's just you and your smartphones!
You can start playing anytime, any day, every day! You can even pause your game and resume later or any other day within a year !
You can use one language per serial number. If your group is multilingual, you will need to buy more games if you need more languages.
The outdoor escape games provide total points and a leaderboard and are a bit more difficult than the city hunt + city tour.
There is no time limit for the game. You can complete it at any time at your own pace.
Our game is completely outdoor, so it depends on the weather. The game can continue on the same day or another day if it is interrupted.
Prefer to start the game in daylight, as the lack of light may make it difficult to solve puzzles. However, the game can still be played at night.
Children must be accompanied by an adult. It is a nice and very educational activity for them if an adult helps them solve the puzzles and explains them.
Puzzles do not require knowledge. Players must use their imagination, logic, combinatorial thinking and cooperation.
Every attraction hides a puzzle ! The puzzles are independent and not connected to each other through a story. The goal is for players to interact with the attractions and their surrounding areas !
Our game is completely covid19-free as it is an outdoor game!
Locations
Liege escape game begins at St Paul Cathedral and ends at Le Grand Curtius Museum
You will visit:
Collegiate Church Saint-Jacques

Charlemagne monument

Aquarium-Muséum

Théâtre de Liège

Opéra Royal de Wallonie-Liège

The Palace of the Prince Bishops

Place Lambert

église Saint-André de Liège

Saint Bartholomew's Church

Le Grand Curtius Museum and more
Collegiate Church Saint-Jacques
St Jacques church; a church dedicated to James the Less in the Liege. Bishop Baldrick II founded that in 1015 as an Église for Benedictine. However, later it became one of the collegiate churches in the city. While in 1801 the church converted into a parish church.
The rest of the church except its narthex on the west side is in the late Gothic style. Overall, this richly decorated church is worth your visit.
Charlemagne monument
This is a permanent public monument containing the statue of Charlemagne at its top in Liege. This monument has created by Louis Jehotte; a great sculptor in 1867.
Charlemagne Monument is wearing a tuning and chlamys with a short sword in the hand. overall, this is a beautiful sculpture to see.
Aquarium Museum
The Aquarium Museum of Liege can let you see 150 different aquatic animal species from the seas, oceans, lakes, etc. All of these aquatic species have placed in approx. fifty different tanks. Even more, here you can also cast your gaze at preserved specimens in both skeletons and stuffed forms.
Overall, the tour to Aquarium Museum in Liege will be entertaining and educational.
Théâtre de Liège
This theater de Liege is a jewel of the heritage of Liege. It is featuring concrete, glass, and wood in its construction Additionally, this theater boasts a 7,800 m2 area with a combination of contemporary and neoclassicism design. Moldings, Columns, and gliding sit aside the beautiful Vitra furniture by a popular French designer; Jean Prouvé.
Overall, the setting of this theater is creating a stripped-down and warm environment. Even more, the architecture of this theater is also punctuated with textual information from Patrick Corillon whose magical words are animating the entire building.

Founded in 1967, the Opera Royal de Wallonie-Liege association is subsidized by Wallonia-Brussels Federation largely. Most importantly, it is one of the three main opera houses of Belgium. Even more, the location of the opera house is in the heart of the city. So, visiting it is never a hassle.
The Palace of the Prince Bishops
This former palace of the prince is a stunning building right in the center of the city. It used to overlook the cathedral of St Lambert before destruction. The development of the first palace occurred about 1000 years ago. However, a fire destroyed that in the 12th century. While at present the palace is a blend of grandiose and seriousness.
Place Lambert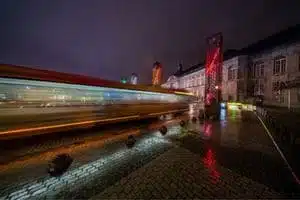 The Place St. Lambert is a square in Liege's center. It was a site of St. Lambert's Cathedral until 1794. However, the remains of the cathedral's foundation have conserved and are available at display under the square.
You can also enjoy the surrounding historical gems of Place Lambert by paying a visit to the place.
Église Saint-André de Liège
Saint-André de Liège is basically a church in Liege situated in the Place du Marché. Even though the origin of this church isn't clearly known. However, it is said that this church belongs to the xviiith century's end to the Order of Teutonic Knights. They had a larger community in Liege. However, the church lost its religious value during the Liège revolution. Until 2011, the former church hosted and organized numerous exhibitions and events temporarily. However, later on, the building was restored and opened for the visitors of Liege as a historic place.
Saint Bartholomew's Church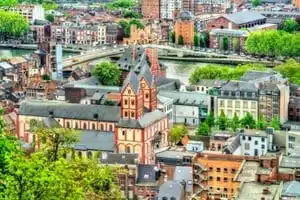 Mosan art is an art style typically originated from Meuse Valley. However, it is now in Netherlands, Germany, and Belgium. Even more, one of the best examples of Mosan art in Belgium is the Church of St Bartholomew.
The popular baptismal font you can find inside the church dates back to the 12th century. It came from St-Lambert cathedral when it was demolished. The font is resting on small OX figures. It seems like these figures are holding the font containing multiple baptism scenes on it.
Overall, visiting this church can let you enjoy the beauty of this font closely.
Le Grand Curtius Museum – ending point of Liege escape game
This Curtius Museum is a famous art and archeology museum in Liege. It has set in a restored mansion that dates back to the 17th century. However, throughout those years, this building had belonged to an entrepreneur from the city. Even more, it was also an idea to gather four small museums collections and create a larger collection displayed at present. So, now you can easily enjoy seeing a sheer number of objects and appreciate this vast museum during your tour to Liege.
Instead of Liege escape game, you might be also interested in Brussels, Ghent or Bruges or Antwerp?