Luxembourg hunt + city tour
€ 4.00 - € 12.00
Description
Introduction
Highlights
Information
Important
Locations
Introduction
Luxembourg scavenger hunt and city tour
Luxembourg scavenger hunt and city tour was created to offer you the best way to explore a beautiful city of Luxembourg.
Luxembourg City, the capital of the only Grand Duchy in the world, will surprise you with its many delights. Rarely will you find a country in Europe where so many cultures, mentalities and languages act in accordance and harmony. With its stunning blend of theatre and museums, UNESCO World Heritage sites, architectural jewels and Michelin-rated gastronomy, the capital city of Luxembourg is one of the most unique experiments in harmonious diversity.
Highlights
Explore Luxembourg , playing our scavenger hunt !
What to expect
Uncover the highlights with an interactive smartphone app. Solve location-based riddles on this walking tour.
Visit 10 of the most important attractions in the city as you walk. Stop and find clues at each attraction to reveal your next destination.
Enjoy the challenge of using logic, imagination, observation, and team spirit to finish the game.
Feel the thrill of completing each riddle. Start or pause the tour whenever you want. See the city at your own pace.
Read interesting information and facts. Stop to snap pictures as you go. Reveal an exciting a puzzle at the exterior of each attraction.
Information
Includes
Mobile app and login credentials
Self guided tour
Navigation
Important information about Luxembourg scavenger hunt
Average duration: 1.5 hours including total walking time 30 minutes
Supported languages: English, German, French, Italian, Dutch, Spanish
Museum admission fees: Visits to museums and other attractions do not require a ticket, as the puzzles are related to
their outdoor areas. Admission is purely your choice.
Not suitable for…
Wheelchair users
People with mobility impairments
Unaccompanied children
What to bring
Weather-appropriate and comfortable clothing and shoes
Charged smartphone
Internet connection in case of the online-mobile application.
Important
What you need to know about Luxembourg scavenger hunt ?
No one will be waiting for you anywhere, it's just you and your smartphones!
You can start playing anytime, any day, every day! You can even pause your game and resume later or any other day within a year !
You can use one language per serial number. If your group is multilingual, you will need to buy more games if you need more languages.
There is no time limit for the game. You can complete it at any time at your own pace.
Our game is completely outdoor, so it depends on the weather. The game can continue on the same day or another day if it is interrupted.
Prefer to start the game in daylight, as the lack of light may make it difficult to solve puzzles. However, the game can still be played at night.
Children must be accompanied by an adult. It is a nice and very educational activity for them if an adult helps them solve the puzzles and explains them.
Puzzles do not require knowledge. Players must use their imagination, logic, combinatorial thinking and cooperation.
Every attraction hides a puzzle ! The puzzles are independent and not connected to each other through a story. The goal is for players to interact with the attractions and their surrounding areas !
Our game is completely covid19-free as it is an outdoor game!
Locations
Luxembourg scavenger hunt and city tour
Place d'Armes
Monument to Dicks et Lentz
Place Guillaume II
Grand Ducal Palace
Bock Casemates
Michaelskirche
Cathédrale Notre-Dame
Monument of Remembrance
Pétrusse Casemates and more…
1.      Place d'Armes – starting point of Luxembourg scavenger hunt
There is no place better than the old town to start your city tour and in the old town, there is no place better than this square. Because of its locations and the availability of local stalls, this is a common attraction for the tourists as well as the locals. What is now a tourist attraction used to be a parade ground in the past for the troops who defended the city.
2.      Monument to Dicks et Lentz
This monument was erected in 1903 and it is the symbol of the price of Luxembourg. In this monument, there is a blacksmith sculptor who represents the past of this place in mining and steel. Apart from that, there is a lion that is holding a family crest.
The monument also holds the relief of Dicks and Lents at the base; they were the first poets to write in Luxembourgish as well as the creators of the national anthem.
3.      Place Guillaume II – Luxembourg scavenger hunt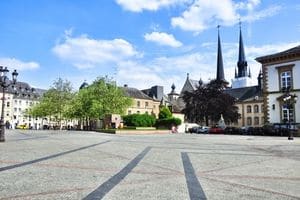 Another popular tourist attraction in Luxembourg is known for the beauty of its roads and architectural beauty. There is a square here as well which has the sculpture of a Grad Duke William II riding a horse. While you are exploring the city there will be several spots that can be an amazing picture background for you, and it is among those.
4.      Grand Ducal Palace – Luxembourg scavenger hunt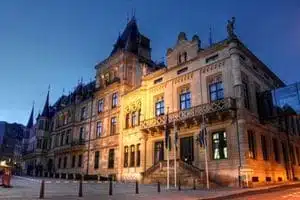 This palace located in the southern part of the city is still the official residence of the Grand Duke of Luxembourg. It is the place where most of the duties are performed by the head of the state.
It is a location with guards like what you have seen in most of the movies and the attractive part is the architectural style of the building. The building is made in a traditional historic style which is worth having a glance at.
5.      Bock Casemates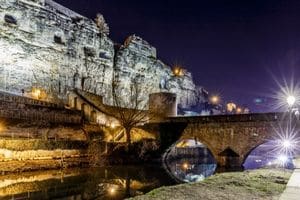 In the olden days, there were different defense mechanisms used for the protection of the cities and it is a network of the underground fortifications used by Luxembourg in the olden days. This network is pretty old, and it has been fortified several times.
Now its historical importance has made it one of the UNESCO World Heritage sites. Apart from the historical importance this place holds, it comes with some stunning views of different districts making this place even special for tourists.
6.      Michaelskirche
St Michael's Church is the oldest extant religious site present in Luxembourg city. The first church built here was built in 987 and in the coming centuries it was destroyed, rebuilt, and reconstructed several times.
The current version was made in the last quarter of the 17th century, and it is made in gothic, Romanesque, and Baroque architectural styles making it look pretty unique in every manner.
7.      Cathédrale Notre-Dame
It is another Roman Catholic Church present in Luxembourg that is worth visiting. The church is made in a Baroque gothic architectural style, and it was built several times between 1613 and 1938 which is a pretty long time. While it looks amazing from the outside, it has stunning views from the inside.
8.      Monument of Remembrance
The Monument of Remembrance is also known as the golden lady in Luxembourg, and it is a special place for the history of this land. It is a war memorial, and it is situated in the memories of hundreds and thousands of Luxembourgers who volunteered to serve in the armed forces in World War 1.
They volunteered for serving the Allied Powers. This monument is present in Constitution square in the central city.
9.      Pétrusse Casemates – ending point of Luxembourg scavenger hunt
Although there is a lot more still left to explore in the city of Luxembourg, it is the last stop for your exploring trip. There could be no place better than a UNESCO World Heritage site to complete your city exploration trip and so is the case here.
This site takes you back to the mid-17th century. It was also built to enhance the defense of the city under the supervision of the Swiss Fortress builder. It is a place that not only holds high historical importance, but it is pretty amazing to visit because of the views.
Only logged in customers who have purchased this product may leave a review.