Description
Introduction
Information
Important
Locations
Introduction
Riga outdoor escape game
Riga escape game! Let's go outdoors! What about playing an outdoor escape game in Riga? You will have the chance to wander around the streets solving riddles! You will explore this amazing city in an interactive and unique way! Everything in your mobile phone, in your language and in a very cheap price! What a great chance to take some beautiful photos too!
Information
Can you solve the riddles and escape from Riga ? Riga escape game
The mobile app provides :
Navigation and automatic help system with 3 levels of hints.
Total points and leaderboard.
Time is with you and not against you. Solve the riddles at your own pace.
You can pause your game any time and continue later or another day.
Each month, the no1 team of the leaderboard will win a free game for any city we provide.
Average duration of Riga escape game : 2 hours including total walking time of 32 minutes
Supported languages: English, Deutsch, Spanish, Italian, French, Russian
Level of difficulty : Always hard 🙂 , but hints will always be there and the code of the riddle in order to be able to continue playing.
Important
What you need to know about Riga escape game ?
No one will be waiting for you anywhere, it's just you and your smartphones!
You can start playing anytime, any day, every day!
You can even pause your game and resume later or any other day within a year !
You can use one language per serial number. If your group is multilingual, you will need to buy more games if you need more languages.
There is no time limit for the game. You can complete it at any time at your own pace.
Our game is completely outdoor, so it depends on the weather. The game can continue on the same day or another day if it is interrupted.
Prefer to start the game in daylight, as the lack of light may make it difficult to solve puzzles. However, the game can still be played at night.
Children must be accompanied by an adult. It is a nice and very educational activity for them if an adult helps them solve the puzzles and explains them.
Puzzles do not require knowledge. Players must use their imagination, logic, combinatorial thinking and cooperation.
Every attraction hides a puzzle ! The puzzles are independent and not connected to each other through a story. The goal is for players to interact with the attractions and their surrounding areas !
Our game is completely covid19-free as it is an outdoor game!
Locations
You will visit:
The Freedom Monument

Laima Clock

Bastejkalna Park

Powder Tower

The Swedish Gate

Three Brother

Riga Castle

Riga Cathedral

House of the Black Heads

St. Peter's Church and more…
1.      The Freedom Monument
What's better than this spot to start exploring Riga. While you are here you will get the idea of independence that this monument is built to give. It was built in remembrance of the soldiers who were killed during the Latvian war of independence that was fought from 1918 to 1920.
The monument itself is amazing to look at as it is made of 56 sculptures with each of them being a part of a group representing the Latvian culture and history
2.      Laima Clock – Riga
While you move from the old town towards the commercial center of the city you will come across a famous landmark in the city. It is nothing but a unique clock present in a corner of the road.
Although being a simple clock it has historical importance as it was made in 2924 and at that time it was used as the political informational stand. This famous landmark in Riga has been under restoration and reconstruction several times till now.
3.      Bastejkalna Park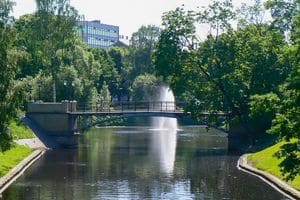 When you are in the old town of Riga it is a park that you must be visiting as it is one of the beautiful places in the city. As it is a spacious park it can be the perfect place for a picnic or some relaxing time. It is beautiful in a unique way as it contains more than 100 types of exotic shrubs and trees out of which 19 are native species.
4.      Powder Tower
What is now known as the powder tower was once a functional defensive hub for the city of Riga. The construction of this tower was completed in 1650 and at that time this 25.6 meters high tower was used as a part of the defensive system of the city. However, the tower was renovated in 1940 which took more than 3 years to complete, and then it was made a part of the Latvian War Museum.
5.      The Swedish Gate
You might have guessed that this gate was used as a part of the defensive system of Riga. Well, yes, it was made in 1698 as part of the Riga Wall that protected the city from the outside world. Now it is not functional that way however it is one of the most popular tourist attractions in the place with the historical architecture displayed like no other place.
6.      Three Brothers – Riga scavenger hunt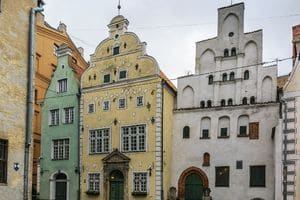 Apart from how its name makes you think of the place, it is a location where there are 3 houses in Riga. The special thing about these houses is that they are the oldest buildings in Riga so watching them will be an experience like no other.
The interesting fact about these houses is that each of these three comes from an architectural style of a different era making things pretty interesting. While you visit this place you can experience some other old buildings present on the same street as well.
7.      Riga Castle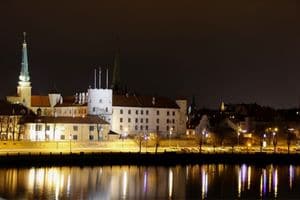 Riga Castle is a building that is going to take you to the early 16th century. This castle is situated on the banks of River Daugava, and it was founded in 1330. The castle has gone through several reconstructions in the 17th and 19th centuries.
8.      Riga Cathedral
Riga cathedral holds high importance for the people of Riga as well as for the tourists. The reason is its religious importance, architectural beauty, and historical existence. It was built in the early 13th century and in all of the Baltic states, it is known as the largest medieval church.
9.      House of the Black Heads
This is a historical building dating back to the early third of the 14th century. If you are walking in the city in the evening time, then it is the best time to visit the old town to see this building as the lights make it look even more attractive. This building was made as a guild for unmarried merchants, foreigners as well as shipowners.
10.  St. Peter's Church – ending point of Riga escape game
Although it is not the last place to visit in Riga, your exploration trip will come to an end at this spot. The gothic architectural style of this building makes it pretty attractive. It was built for the first time in 1209 and since then it has been rebuilt several times.
You might also be interested in Warsaw escape game or Moscow escape game