Description
Introduction
Information
Important
Locations
Introduction
Rome outdoor escape game
Rome escape game! Let's go outdoors! What about playing an outdoor escape game in Rome? You will have the chance to wander around the streets solving riddles! You will explore this amazing mega city in an interactive and unique way! Everything in your mobile phone, in your language and in a very cheap price! What a great chance to take some beautiful photos too!
Information
Can you solve the riddles and escape from Rome? Rome escape game
The mobile app provides :
Navigation and automatic help system with 3 levels of hints.
Total points and leaderboard.
Time is with you and not against you. Solve the riddles at your own pace.
You can pause your game any time and continue later or another day.
Each month, the no1 team of the leaderboard will win a free game for any city we provide.
Average duration:2 hours including total walking time of 60 minutes
Supported languages: English, Deutsch, Spanish, Italian, French, Dutch
Level of difficulty : Always hard 🙂 , but hints will always be there and the code of the riddle in order to be able to continue playing.
Important
What you need to know about Rome escape game ?
No one will be waiting for you anywhere, it's just you and your smartphones!
You can start playing anytime, any day, every day! You can even pause your game and resume later or any other day within a year !
You can use one language per serial number. If your group is multilingual, you will need to buy more games if you need more languages.
The outdoor escape games provide total points and a leaderboard and are a bit more difficult than the city hunt + city tour.
There is no time limit for the game. You can complete it at any time at your own pace.
Our game is completely outdoor, so it depends on the weather. The game can continue on the same day or another day if it is interrupted.
Prefer to start the game in daylight, as the lack of light may make it difficult to solve puzzles. However, the game can still be played at night.
Children must be accompanied by an adult. It is a nice and very educational activity for them if an adult helps them solve the puzzles and explains them.
Puzzles do not require knowledge. Players must use their imagination, logic, combinatorial thinking and cooperation.
Every attraction hides a puzzle ! The puzzles are independent and not connected to each other through a story. The goal is for players to interact with the attractions and their surrounding areas !
Our game is completely covid19-free as it is an outdoor game!
Locations
You will visit:
Castel st. Angelo
Piazza Navona
Pantheon
Piazza della Minerva
Sant'Andrea della Valle
Piazza Venezia
Capitoline Hill
Arch of Constantine
Colosseum
1.      Piazza Navona – starting point of Rome escape game
This is an open space for the public present in Rome, Italy.  It is built on a site which is known as the Stadium of Domitian. It was first built in the first century, which makes it quite ancient however it is very popular among Rome's public. In addition, most people say that the people of ancient Rome used to visit this place and watch the agones.
It is the main reason it was called the Circus Agonalis. Nowadays it is very famous for the Baroque architecture, which includes one of the famous fountains of Italy called as fountains of the four rivers. It has a Roman God present in the centre of the fountain and four women beside him to represent the four main rivers of Italy.
2.      Pantheon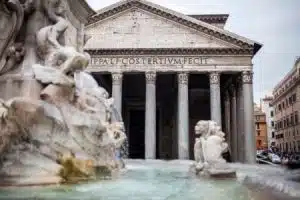 It was a Roman Temple; however, it is a Catholic Church nowadays. It is situated on the site of a temple that was commissioned by Marcus Agrippa Within the golden reign of Augustus. Later it was rebuilt On the order of the Hadrian. It is of great importance to the people of Italy and also one of the tourist attractions because of its historical value.
It has a religious background for both Christians and Hindus, which is why it is also one of the best religious spots visited by people of different religions, including Hindus and Christians in a great number.
3.      Piazza Della Minerva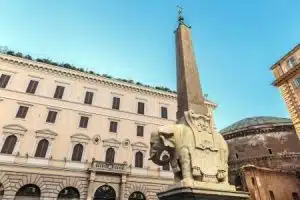 It is situated in Rome, Italy, near the location of Pantheon. The name of the place is derived from a famous temple that was built on this site. In addition, the temple was dedicated to the Minerva Calcidica. However, the Statue of Minerva Calcidica is still present in Vatican Museums.
This place is also visited by several people because it is mostly populated. It has a historical value which makes a popular among the people who has a love for discovering the history and architecture of Italy.
4.      Sant'Andrea della Valle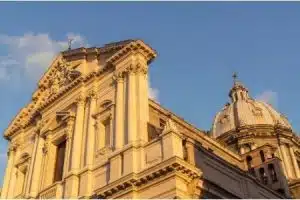 It is one of the minor basilicas which is situated in the region of Sant'Eustachio present in the city of Rome, Italy. It is a religious seat that is used for looking into religious matters, especially the religious order of the Theatines.  Moreover, it is quite decorated from the inside and gives a magnificent view to the visitors. It is important religiously to the locals as well as the people who visit this place.
5.      Piazza Venezia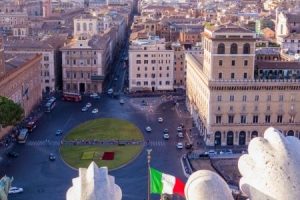 It is a famous hug in Rome, Italy, situated in the centre of the city. It is also considered as the central hub, which is of great importance. Many lines are intersecting at this location, including the Via Dei Fori Imperiali and the Via del Corso. It got its name from the building, which was built beside a church on the order of Venetian Cardinal.
6.      Capitoline Hill
The Seven Hills is one of the famous locations present in Rome, Italy. It is one of the seventh Hill, which is situated between the Forum and the Campus Martius. The Hills have an importance of their own because each of the hell is dedicated to one of the gods. However Capitoline Hill was called Mons Saturnius in the earlier times. It was dedicated to the God Saturn, making it very important for the residents of Rome. Most of the tourists visit these seven has because of their history and popularity within Italy.
7.      Arch of Constantine
It is an important triumphal arch present in Rome, Italy, which is dedicated to one of the famous emperors called Emperor Constantine the Great.  Moreover, it is considered the largest surviving Roman arch till now, which makes it of great importance because of Roman history and architecture. It has political importance and background making it appealing to the locals as well as the visitors.
8.      Colosseum
It is a large amphitheatre Situated in Rome. It was famous for holding and hosting such events which kept the audience entertained. Moreover,  it was the greatest platform for holding events like gladiatorial games. It was built within the time of the Flavian emperors. It was built to present as a gift to the people of Rome, which is cherished by the people even now.
9.      San Gregorio al Celio
It is a famous church situated in Rome, Italy. It is of great importance because it is also a part of a monastery of monks. Most of the time, it is used for religious purposes; however, it is open for the public to seek guidance on religious matters.
10. Santa Maria in Cosmedin – ending point of Rome escape game
This is also a church located in the city of Rome; however, it is considered a minor basilica church. The exact location of the church is at the rione of Ripa. It is one of the Catholic Church which is built on the architecture style of Romanesque architecture.
Only logged in customers who have purchased this product may leave a review.