Introduction
Information
Important
Locations
Introduction
Strasbourg outdoor escape game
Strasbourg escape game! Let's go outdoors! What about playing an outdoor escape game in Strasbourg ? You will have the chance to wander around the streets solving riddles! You will explore this amazing city in an interactive and unique way! Everything in your mobile phone, in your language and in a very cheap price! What a great chance to take some beautiful photos too!
Information
Can you solve the riddles and escape from Strasbourg ? Strasbourg escape game
The mobile app provides :
Navigation and automatic help system with 3 levels of hints.
Total points and leaderboard.
Time is with you and not against you. Solve the riddles at your own pace.
You can pause your game any time and continue later or another day.
Each month, the no1 team of the leaderboard will win a free game for any city we provide.
Average duration:2 hours including total walking time of 47 minutes
Supported languages: English, Deutsch, Spanish, Italian, French, Chinese
Level of difficulty : Always hard 🙂 , but hints will always be there and the code of the riddle in order to be able to continue playing.
Important
What you need to know about Strasbourg escape game ?
No one will be waiting for you anywhere, it's just you and your smartphones!
You can start playing anytime, any day, every day!
You can even pause your game and resume later or any other day within a year !
You can use one language per serial number. If your group is multilingual, you will need to buy more games if you need more languages.
There is no time limit for the game. You can complete it at any time at your own pace.
Our game is completely outdoor, so it depends on the weather. The game can continue on the same day or another day if it is interrupted.
Prefer to start the game in daylight, as the lack of light may make it difficult to solve puzzles. However, the game can still be played at night.
Children must be accompanied by an adult. It is a nice and very educational activity for them if an adult helps them solve the puzzles and explains them.
Puzzles do not require knowledge. Players must use their imagination, logic, combinatorial thinking and cooperation.
Every attraction hides a puzzle ! The puzzles are independent and not connected to each other through a story. The goal is for players to interact with the attractions and their surrounding areas !
Our game is completely covid19-free as it is an outdoor game!
Locations
You will visit:
Église Saint-Thomas

Place Gutenberg

Alsatian Museum

Cathédrale Notre Dame

Palais Rohan

Place Kléber

Opéra national du Rhin

Place de la République

St. Paul's Church and more…
Ponts Couverts – starting point of Strasbourg escape game
Église Saint-Thomas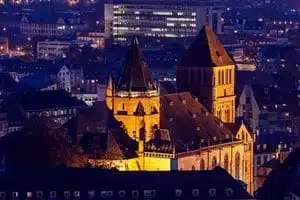 Exploring Strasbourg can start with this church. It is the historical church that became the Lutheran church of the city after the annexation by France. The building is so old that it dates back to the end of the 12th century. Being this old makes this church have a class of its own. On top of everything, the interior of this church is Baroque as well.
Place Gutenberg
There are several squares in Strasbourg, but this is one of the most famous squares. This site is located right in front of the Cathedral's facade. If you are looking to explore some shops, then you can come here. Otherwise, it is a great place to come, sit and relax. The sculpture here adds to the beauty of the place.
Alsatian Museum
This museum opened in 1907 and it contains artifacts and historical stuff related to daily life usage, most importantly the pore-industrial as well as the early-industrial eras. There are more than 5000 exhibits present here. An interesting thing about this museum is that it is famous for the reconstruction of many traditional houses of different eras.
Cathédrale Notre Dame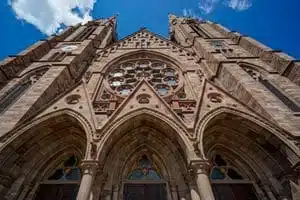 It is another famous cathedral in Strasbourg, and it is one of the best examples of the gothic architecture of the Frenchmen. The construction of this cathedral started in 1163 and it was opened in 1345 making it a historical and one of the oldest cathedrals in Strasbourg. Apart from being a historic site, it is stunning in terms of looks from the exterior as well as the interior.
Palais Rohan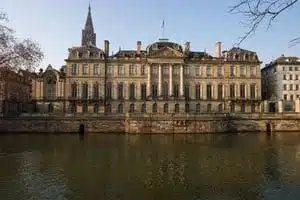 If you are looking for some of the finest examples of architecture in Strasbourg, then this site makes a perfect example for you. This palace was the residence of the Cardinals and Prince-Bishops of the house of Rohan. It is a historical building as it was built in 1730 and the building was completed in 1742. Apart from being a residence, it has been the hosting venue for a lot of French Monarchs.
Place Kléber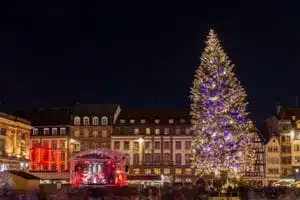 It is the center of the city and the largest square in Strasbourg. The square was built from 1765 to 1772 and it was built in the heart of the commercial area of the city making it one of the most active places in Strasbourg. Now it has been classified as a UNESCO World Heritage site since 1988. It was not only an honor for Strasbourg only for the square itself. The reason is that this was the very first time when an entire city center was classified as a World Heritage Site by UNESCO.
Opéra national du Rhin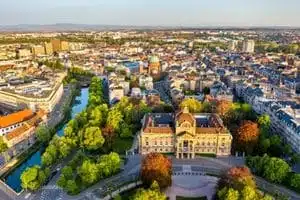 It is a company that still performs in France as well as Germany. This is a Mulhouse in Strasbourg where there are some shows scheduled for them. The interesting part about this place is that since 2001 it has been committed to a policy. According to this policy the place has supported the work of several artists and choreographers.
Place de la Pulque
Another square in Strasbourg is also in Paris. Well, it is located right on the border between the arrondissements number 3, 10, and 11. This is the place which provides amazing views of the border with peace. The monument and the statue on it makes a perfect background for your photos as well.
St. Paul's Church – ending point of Strasbourg escape game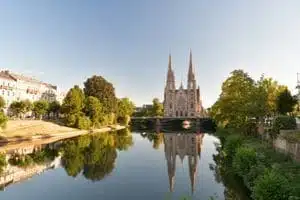 The last site that you are going to visit here is this church. It is a huge example of traditional Gothic architectural style. Apart from being gothic, it is also famous for being an important landmark in Strasbourg. The church was opened in 1897 and its views are stunning. Likewise, the views from the church are amazing as well.