Description
Introduction
Information
Important
Locations
Introduction
Amsterdam outdoor escape game
Amsterdam escape game! Let's go outdoors! What about playing an outdoor escape game in Amsterdam? You will have the chance to wander around the streets solving riddles! You will explore this amazing mega city in an interactive and unique way! Everything in your mobile phone, in your language and in a very cheap price! What a great chance to take some beautiful photos too!
Information
Can you solve the riddles and escape from Amsterdam? Amsterdam escape game
The mobile app provides :
Navigation and automatic help system with 3 levels of hints.
Total points and leaderboard.
Time is with you and not against you. Solve the riddles at your own pace.
You can pause your game any time and continue later or another day.
Each month, the no1 team of the leaderboard will win a free game for any city we provide.
Average duration: 2 hours including total walking time of 52 minutes
Supported languages: English, Deutsch, Spanish, Italian, French,Dutch
Level of difficulty : Always hard 🙂 , but hints will always be there and the code of the riddle in order to be able to continue playing.
Important
What you need to know about Amsterdam escape game ?
No one will be waiting for you anywhere, it's just you and your smartphones!
You can start playing anytime, any day, every day!
You can even pause your game and resume later or any other day within a year !
You can use one language per serial number. If your group is multilingual, you will need to buy more games if you need more languages.
There is no time limit for the game. You can complete it at any time at your own pace.
Our game is completely outdoor, so it depends on the weather. The game can continue on the same day or another day if it is interrupted.
Prefer to start the game in daylight, as the lack of light may make it difficult to solve puzzles. However, the game can still be played at night.
Children must be accompanied by an adult. It is a nice and very educational activity for them if an adult helps them solve the puzzles and explains them.
Puzzles do not require knowledge. Players must use their imagination, logic, combinatorial thinking and cooperation.
Every attraction hides a puzzle ! The puzzles are independent and not connected to each other through a story. The goal is for players to interact with the attractions and their surrounding areas !
Our game is completely covid19-free as it is an outdoor game!
Locations
You will visit:
Amsterdam Centraal

Basiliek van de Heilige Nicolaas

Beurs van Berlage

The Oude Church

National monument

Royal palace

Anne Frank monument

Anne Frank House

Westerkerk

Amsterdam Museum

Jordaan and more
1.      Amsterdam Centraal – starting point of Amsterdam escape game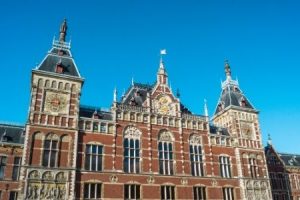 Amsterdam Centraal station is one of the largest and most used railway stations in Amsterdam City. 190,000 passengers use it on a daily basis.
The railway station is always busy with a large number of people. In addition, this is why Amsterdam Central Railway Station where is the second busiest Railway station In Amsterdam.
The first largest and busiest railway station is called Utrecht Centraal. Fifteen total tracks are present within this railway station which allows access to most of the places. This is the main reason passengers Amsterdam Central Railway station. It was first opened on October 15, 1889.
2.      Basiliek van de Heilige Nicolaas
Basiliek van de Heilige Nicolaas Is one of the Amsterdam primary Roman Catholic Church. It is important for the people of Amsterdam because of religious reasons. It is located in the central district of Amsterdam, which is why people can access the Church easily.
This Church is also located near the main railway station of Amsterdam, making it easily accessible for the locals and tourists. Moreover, Baroque Revival architecture and Renaissance Revival architecture style is used in the building of the Church. It was first opened in 1887, making it quite old with a magnificent history.
3.      Beurs van Berlage
This is one of the main buildings present in Amsterdam. It is in use for the former Stock Exchange. Every matter related to the stock exchange is discussed here within the city of Amsterdam. It is also important because of the presence of Square Tower inside the building.
The Square Tower is used for hosting events like concerts and exhibitions. Various other events are organized in the Square Tower. In addition, this is why this building is of great importance for the people of Amsterdam and the entire Netherland.
4.      The Oude Church
This is an important building present in Amsterdam. It has a huge history that ground because it is a very old building.
Moreover, this building was found in 1213 which was later modified in 1306. It was modified by a Bishop of that time, making the building not only historically important but also religiously important. It is the oldest art Institute present in Amsterdam. However, the in the year 1578, this building became a Calvinist church. To this day, the building is used as a church and art institution in the city of Amsterdam.
5.      National monument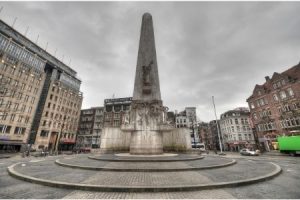 The National monument in the city of Amsterdam is present in Dam Square is a 1956 cenotaph. It is a national remembrance for the people of the Netherlands in the memory of people who were killed in World War 2.  Moreover, every year an event called remembrance of the Dead takes place at this National monument. The event takes place on 4th May in which people who were killed in World War 2 are remembered with respect and gratitude.
6.      Royal palace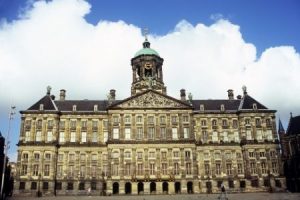 The Royal Palace in Amsterdam is out of the three Royal palaces present in the entire Netherlands. It is of great importance because of Royal background making it politically important. However, it is used by the officials for official matters and also as a residence for the royal family. It is at the disposal of the monarch by Act of Parliament.
7.      Anne Frank monument
This is a monument of a Young Girl. Anne Frank was a Jewish Dutch girl who was killed by Nazis. In addition, she was the youngest little girl who suffered separate from the Nazi soldiers.  Moreover, the monument is built in remembrance of Anne Frank. It makes the people remember the bravery of Jewish Dutch people. Moreover, it also symbolizes the sacrifice of every individual for the country and Nation.
8.      Anne Frank House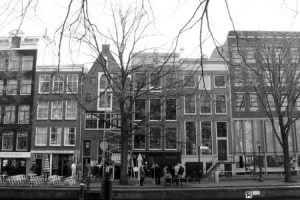 This is a biographical museum that is dedicated to the youngest Jewish Dutch girl murdered by the Nazi soldiers. It is also a writer's house associated with the name of Anne Frank. In addition, this building is located on a canal which is named Prinsengracht.
9.      Westerkerk
This is an important Church present in Amsterdam City. It is a reformed church that is present Within the Dutch protestant Calvinism. Moreover, it is located in central Amsterdam, making it easier to access for the people.
10.  Amsterdam Museum
It is a Museum of great importance in Amsterdam. It occupies the history of Amsterdam since the year 1975. Moreover, people who have an interest in seeing the monuments and historical assets of Amsterdam like to visit this museum.
11.  Jordaan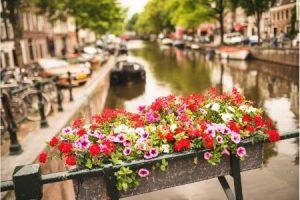 Jordaan district is one of the beautiful Best-loved neighborhoods not far from Amsterdam City. However, It has a lot of flower shops and restaurants. It is often visited by artists because of its immense beauty and narrow streets.