Introduction
Information
Important
Locations
Introduction
Berlin outdoor escape game
Berlin escape game! Let's go outdoors! What about playing an outdoor escape game in Berlin? You will have the chance to wander around the streets solving riddles! You will explore this amazing mega city in an interactive and unique way! Everything in your mobile phone, in your language and in a very cheap price! What a great chance to take some beautiful photos too!
Information
Can you solve the riddles and escape from Berlin? Berlin escape game
The mobile app provides :
Navigation and automatic help system with 3 levels of hints.
Total points and leaderboard.
Time is with you and not against you. Solve the riddles at your own pace.
You can pause your game any time and continue later or another day.
Each month, the no1 team of the leaderboard will win a free game for any city we provide.
Average duration:2 hours including total walking time of 65 minutes
Supported languages: English, Deutsch, Spanish, Italian, French, Dutch
Level of difficulty : Always hard 🙂 , but hints will always be there and the code of the riddle in order to be able to continue playing.
Important
What you need to know about Berlin escape game ?
No one will be waiting for you anywhere, it's just you and your smartphones!
You can start playing anytime, any day, every day!
You can even pause your game and resume later or any other day within a year !
You can use one language per serial number. If your group is multilingual, you will need to buy more games if you need more languages.
There is no time limit for the game. You can complete it at any time at your own pace.
Our game is completely outdoor, so it depends on the weather. The game can continue on the same day or another day if it is interrupted.
Prefer to start the game in daylight, as the lack of light may make it difficult to solve puzzles. However, the game can still be played at night.
Children must be accompanied by an adult. It is a nice and very educational activity for them if an adult helps them solve the puzzles and explains them.
Puzzles do not require knowledge. Players must use their imagination, logic, combinatorial thinking and cooperation.
Every attraction hides a puzzle ! The puzzles are independent and not connected to each other through a story. The goal is for players to interact with the attractions and their surrounding areas !
Our game is completely covid19-free as it is an outdoor game!
Locations
Berlin escape game
You will visit:
Alexanderplatz

St Mary's church

Neptunbrunnen

Schloss bridge

Berlin cathedral

Gendarmenmarkt

Altes museum

Museum island

Brandenburg gate

Reichstag building and more
1.      Alexanderplatz – starting point of Berlin escape game
Alexanderplatz is one of the largest public squares within the central district of Berlin. It is also considered as a transport hub because of easy access to transport from this point. This public square has achieved its name after Alexander 1, who is very famous within the history of Russia. He is also referred to as simply Alex.
This spot is the largest transport hub because the three main subways of Berlin meet at this point. In addition,  it provides access to many bus lines, including the trains of specific regions. It is a crowded place because now and then people are travelling everywhere from the spot. You will likely come across Alexanderplatz While travelling in Berlin.
2.      St Mary's church
It is a famous church which is also called Marienkirche in German. Moreover, it is situated on the Karl-Liebknecht-Straße Present in Central Berlin. It is situated near the Alexanderplatz, which is why it is easy to access because there are many transportation lines travelling towards Saint Mary's Church.
3.      Neptunbrunnen
The Neptune is a famous fountain that is situated in Berlin. It was built in 1891, which is why it is historically important for the people of Berlin. Moreover, it was made after great thought and designed by the famous Reinhold Begas. In the centre of the fountain, Roman God Neptune is present, and around him, there are four women who are the symbol of Representation for the four main rivers of Prussia. These rivers were very important at the time of the origin of the fountain.
4.      Schloss Bridge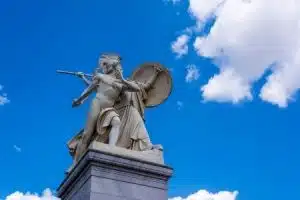 It is a bridge which is present in the central district of Berlin, Germany. It was built between the years of 1821 1824. The plan and construction of the bridge were designed by one of the famous German architects, Karl Friedrich Schinkel. In addition, the name of the bridge was inspired by the nearby City Palace. It is important because it marks one of the important Eastern ends of the famous Unter den Linden Boulevard.
5.      Berlin cathedral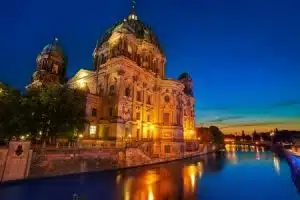 It is situated on Museum Island. It is one of the famous Protestant churches which also contain a dynastic tomb. It was started building in 1894 and get completed in the year 1905. Moreover, it was built on the order of the German Emperor, who was named William 2. The Berlin Cathedral is open to the public for specific hours. It is also an important tourist attraction.
6.      Gendarmenmarkt
It is the square situated in Berlin, Germany. There are many architectural buildings present at the location, including the Concert Hall of Berlin. There are two main French and German churches present at the same location. Within the centre of the square, there is a monument of a famous French poet Friedrich Schiller in the form of a statue.
7.      Altes museum
This Museum is of great importance in the history of Berlin. It is situated on Museum Island and also listed in the historic section of Berlin on the national level. It consists of all the historic monuments of Berlin from ancient times to Modern Times. You will come across a rich glimpse into the history and culture of Berlin by visiting the Museum.
8.      Museum Island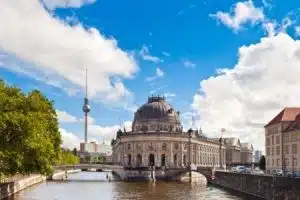 Museum Island is located on the Not the inside of the Spree Island, which is considered as the historical heart of Berlin City. It is also home to various other buildings; however, the Museum itself is very important because of the historical background. It is one of the main tourist attractions and sights within the capital of Germany. Each year a great number of tourists visit Museum Island because of its popularity.
9.      Brandenburg gate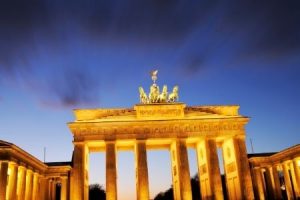 It is an 18th-century neoclassical monument situated in Berlin City. It was first built on the order of King Frederick William 2 Within the time of the Batavian Revolution. The construction was completed within the years of 1788 and 1791. It was designed by the famous architect of the royal Court named Carl Gotthard Langhans.
10.  Reichstag building – ending point of Berlin escape game
It is the historical edifice present in Berlin City. It was constructed for the purpose of housing the Imperial Diet of the German Empire. Moreover, it was opened in 1894; however, it was severely damaged later because of a massive fire. It was remodelled later, and it is one of the tourist attractions present in Berlin City.