Description
Introduction
Information
Important
Locations
Introduction
Geneva outdoor escape game
Geneva escape game! Let's go outdoors! What about playing an outdoor escape game in Geneva? You will have the chance to wander around the streets solving riddles! You will explore this amazing mega city in an interactive and unique way! Everything in your mobile phone, in your language and in a very cheap price! What a great chance to take some beautiful photos too!
Information
Can you solve the riddles and escape from Geneva? Geneva escape game
The mobile app provides :
Navigation and automatic help system with 3 levels of hints.
Total points and leaderboard.
Time is with you and not against you. Solve the riddles at your own pace.
You can pause your game any time and continue later or another day.
Each month, the no1 team of the leaderboard will win a free game for any city we provide.
Average duration:2 hours including total walking time of 60 minutes
Supported languages: English, Deutsch, Spanish, Italian, French , Dutch
Level of difficulty : Always hard 🙂 , but hints will always be there and the code of the riddle in order to be able to continue playing.
Important
What you need to know about Geneva escape game ?
No one will be waiting for you anywhere, it's just you and your smartphones!
You can start playing anytime, any day, every day! You can even pause your game and resume later or any other day within a year !
You can use one language per serial number. If your group is multilingual, you will need to buy more games if you need more languages.
The outdoor escape games provide total points and a leaderboard and are a bit more difficult than the city hunt + city tour.
There is no time limit for the game. You can complete it at any time at your own pace.
Our game is completely outdoor, so it depends on the weather. The game can continue on the same day or another day if it is interrupted.
Prefer to start the game in daylight, as the lack of light may make it difficult to solve puzzles. However, the game can still be played at night.
Children must be accompanied by an adult. It is a nice and very educational activity for them if an adult helps them solve the puzzles and explains them.
Puzzles do not require knowledge. Players must use their imagination, logic, combinatorial thinking and cooperation.
Every attraction hides a puzzle ! The puzzles are independent and not connected to each other through a story. The goal is for players to interact with the attractions and their surrounding areas !
Our game is completely covid19-free as it is an outdoor game!
Locations
You will visit:
Brunswick monument

Monument National

St Pierre

Old town

Musée d'Art et d'Histoire

Franz Liszt and Marie D'Agoult's House of Love

Reformation Wall

Victoria Hall and more
Geneva is a city that is mainly known for its participation in a lot of international organizations, and this is because this is the city that has the highest number of organizations in the world working here. However, when it comes to tourism, it has a lot of offers as well that we have discussed here.
Places you will visit in Geneva.
1. Notre Dame – starting point of Geneva escape game
The main Roman Catholic church in Geneva has a majestic building that has jaw-dropping looks from both outside and inside. This makes it a site that must not be missed while you are in Geneva. Additionally, the abundance of traditional restaurants like "L'Age d'Or" in the radius of the site makes it a perfect place to explore traditional food items.
2. Brunswick monument
The mausoleum that was built in the 19th century relates to the historical architecture of Geneva, and the amazing thing here is that it is the replica of the Scaliger family tomb from the 14th century.
3. Monument-National
This monument is located right in front of Serene Lake Geneva, and it is related to the political history of Switzerland. Along with exploring this site, you can also visit the Farmers Market and Carouse Market to explore the cultural type of markets' products.
4. St Pierre
This is a Cathedral in Geneva that is related to the 4th century, and it is accordingly built in gothic style, making it an attractive place for tourists. While you visit this historical site, you can also visit restaurants like La Favola that is known for the finest cuisines.
5. Old town
The maze of small streets in Geneva can be the place you can get lost while exploring. It is because the place is filled with galleries to explore the art and there are a lot of homey cafes that you can try.
6. Musée d'Art et d'Histoire
Museum of Art and History Geneva is the largest museum in many different ways. From the building to the internal and external views, everything is exceptionally beautiful. Additionally, this place also features a huge collection of artifacts related to the history of the place.
7. Franz Liszt and Marie D'Agoult's House of Love
This is the house of a music composer who was very famous during his time. The story of his life circulates his love life where he fell in love with a very famous author, and their house is now converted into a museum that is a very famous tourist attraction in Geneva.
8. Reformation Wall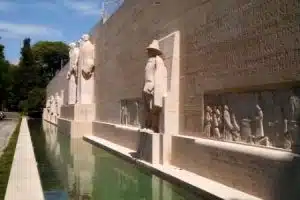 This wall that stretches for about 100 meters is a famous tourist attraction and an amazing picture point as well. It is all because of the huge statues on the wall. Apart from the wall, Lake Geneva and the iconic fountain here can also be visited at the same time.
9. Victoria Hall
Victoria Hall is a historical concert hall built at the end of the 19th century. Not only is this a house for the musical performance, but the art gallery here also has some exceptional artwork.
10. Bâtiment des Forces Motrices
Although this is a hydropower plant that may not seem very attractive for tourists, the architectural work is done, and the lights make it amazing. The building was originally made to maintain the water flow, but now it only serves as a landmark.
11. Tour de l'Île – ending point of Geneva escape game
This is an architectural site that speaks a lot about the history of Geneva. The main site here is the castle that was made on an island with a tower named the place. While you visit this place, you can have amazing views of the water body.
You might also be interested in Zurich, Basel, Bern or Lucerne or St Gallen or Lausanne