Introduction
Highlights
Information
Important
Locations
Introduction
Milan scavenger hunt and city tour
Milan scavenger hunt was created to offer you the best way to explore the city.
Milan is internationally recognised as one of the world's most important fashion capitals,
but it also has a wealth of interesting museums and things to see and do.
Milan offers all the advantages of a large city, but it is relatively small, thus making it perfect to visit, as tourists can get to most of the city's attractions and museums by foot.
Some of the city's most beautiful attractions include the Duomo di Milano, an impressive Opera House, a striking castle, ancient churches and a great variety of museums and art galleries.
Milan scavenger hunt is a nice way to explore the city !
Highlights
Explore Milan, playing our scavenger hunt and city tour!
What to expect
Uncover the highlights with an interactive smartphone app. Solve location-based riddles on this walking tour.
Visit 10 of the most important attractions in the city as you walk. Stop and find clues at each attraction to reveal your next destination.
Enjoy the challenge of using logic, imagination, observation, and team spirit to finish the game.
Feel the thrill of completing each riddle. Start or pause the tour whenever you want. See the city at your own pace.
Read interesting information and facts. Stop to snap pictures as you go. Reveal an exciting a puzzle at the exterior of each attraction.
Information
Includes
Mobile app and login credentials
Self guided tour
Navigation
Important information
Average duration: 2 hours including total walking time 1 hour
Supported languages: English, German, Spanish, Italian, French
Museum admission fees: Visits to museums and other attractions do not require a ticket, as the puzzles are related to
their outdoor areas. Admission is purely your choice.
Not suitable for…
Wheelchair users
People with mobility impairments
Unaccompanied children
What to bring
Weather-appropriate and comfortable clothing and shoes
Charged smartphone
Internet connection in case of the online-mobile application.
Important
What you need to know about Milan scavenger hunt ?
No one will be waiting for you anywhere, it's just you and your smartphones!
You can start playing anytime, any day, every day! You can even pause your game and resume later or any other day within a year !
You can use one language per serial number. If your group is multilingual, you will need to buy more games if you need more languages.
There is no time limit for the game. You can complete it at any time at your own pace.
Our game is completely outdoor, so it depends on the weather. The game can continue on the same day or another day if it is interrupted.
Prefer to start the game in daylight, as the lack of light may make it difficult to solve puzzles. However, the game can still be played at night.
Children must be accompanied by an adult. It is a nice and very educational activity for them if an adult helps them solve the puzzles and explains them.
Puzzles do not require knowledge. Players must use their imagination, logic, combinatorial thinking and cooperation.
Every attraction hides a puzzle ! The puzzles are independent and not connected to each other through a story. The goal is for players to interact with the attractions and their surrounding areas !
Our game is completely covid19-free as it is an outdoor game!
Locations
Milan scavenger hunt and city tour
You will visit:
Sforzesco castle

Teatro alla Scala

Gallerie d'Italia

Santa Maria delle Grazie

Duomo

Museo Nazionale della Scienza e della Tecnologia Leonardo da Vinci

Basilica di Sant'Ambrogio

Piazza Mercanti

Galleria Vittorio Emanuele II

Church of saint Maurice and more
1.      Sforzesco castle – starting point of Milan scavenger hunt and city tour
The Castello Sforzesco is situated in Milan, which is present in northern Italy. It was first built and introduced in the 15th century, which makes it quite ancient. The building process of Castello Sforzesco started on the order of Francesco Sforza, Duke of Milan. It came into being because of the remnants which took place in the 14th-century fortification.
It wasn't made the way it can be seen in the present form because it was renovated. The area was also enlarged.  In addition, the renovation and enlargement took place in the sixteenth and seventeenth centuries. At that time, it was considered as the citadels present in Europe. Even now, it is one of the most important buildings in Milan, North Italy, due to its history. It is also one of the tourist attractions for the people who visit Milan, North Italy every year.
2.      Teatro Alla Scala – ending point of Milan scavenger hunt and city tour
It is of great importance because of its location and the Opera services it is providing to the people. In addition, Italy is best known for Opera, which makes this building the center of attraction for the locals as well as the tourists. It has a history of its own because the theatre of the Opera house was first opened for public in 1778 on the third of August.
The original name of the Opera house was the Nuovo Regio Ducale Teatro alla Scala. This was the famous name from which the Opera house was known at that time. One of the famous performances that happened at this Opera House is Antonio Salieri's Europa riconosciuta.
3.      Gallerie d'Italia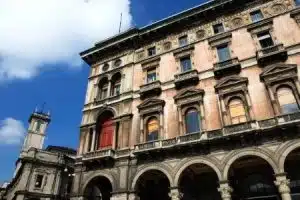 This is one of the famous Museums situated in Milan, Italy. It is of great importance because of the valuable Monuments, including the work of Italian architectures and people associated with art.
This Museum is famous for displaying the work of Italian people from their 19th and 20th centuries. It has great importance among the people of Italy, including the visitors who like to know about the culture and history of Italy. Moreover, the Museum has an elegant setting inside. It also looks spectacular from the outside, providing the visitor with a breathtaking view both externally and internally.
4.    Santa Maria delle Grazie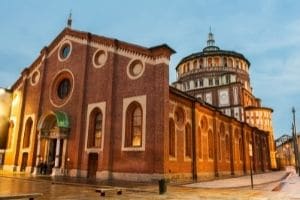 Santa Maria delle Grazie is a church and Dominican convent in Milan, northern Italy, and a UNESCO World Heritage Site. The church contains the mural of The Last Supper by Leonardo da Vinci, which is in the refectory of the convent.
5.      Duomo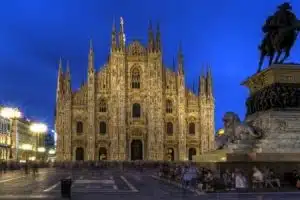 It is a charge of great importance because it is the largest Gothic Church Present in the whole world. Within Italy, it is the largest Church making it a home to several bishops. This place is used for religious purposes and also other locations that include religious touch.
6.    Museo Nazionale della Scienza e della Tecnologia Leonardo da Vinci
Museo Nazionale Scienza e Tecnologia Leonardo da Vinci in Milan is the largest science and technology museum in Italy, and is dedicated to Italian painter and scientist Leonardo da Vinci. It was opened on 5 February 1953 .
7.    Basilica di Sant'Ambrogio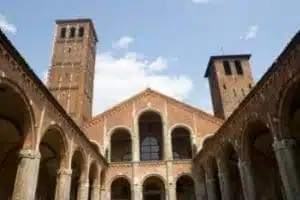 One of the most ancient churches in Milan, it was built by St. Ambrose in 379–386, in an area where numerous martyrs of the Roman persecutions had been buried. The first name of the church was in fact Basilica Martyrum.
8.    Piazza Mercanti
Piazza Mercanti is a central city square of Milan, Italy. It is located between Piazza del Duomo, which marks the centre of the modern city of Milan, and Piazza Cordusio, and it used to be the heart of the city in the Middle Ages. An amazing place to be and admire the italian architecture and history.
9.      Galleria Vittorio Emanuele II
The Galleria Vittorio Emanuele II is Italy's oldest active shopping gallery and a major landmark of Milan, Italy. Housed within a four-story double arcade in the center of town, the Galleria is named after Victor Emmanuel II, the first king of the Kingdom of Italy. It is the heart of shopping in Milan and located just after Duomo.