Introduction
Information
Important
Locations
Introduction
Paris outdoor escape game
Paris escape game! Let's go outdoors! What about playing an outdoor escape game in Paris? You will have the chance to wander around the streets solving riddles! You will explore this amazing mega city in an interactive and unique way! Everything in your mobile phone, in your language and in a very cheap price! What a great chance to take some beautiful photos too!
Information
Can you solve the riddles and escape from Paris? Paris escape game
The mobile app provides :
Navigation and automatic help system with 3 levels of hints.
Total points and leaderboard.
Time is with you and not against you. Solve the riddles at your own pace.
You can pause your game any time and continue later or another day.
Each month, the no1 team of the leaderboard will win a free game for any city we provide.
Average duration:2 hours including total walking time of 77 minutes
Supported languages: English, Deutsch, Spanish, Italian, French, Dutch
Level of difficulty : Always hard 🙂 , but hints will always be there and the code of the riddle in order to be able to continue playing.
Important
What you need to know about Paris escape game ?
No one will be waiting for you anywhere, it's just you and your smartphones!
You can start playing anytime, any day, every day!
You can even pause your game and resume later or any other day within a year !
You can use one language per serial number. If your group is multilingual, you will need to buy more games if you need more languages.
There is no time limit for the game. You can complete it at any time at your own pace.
Our game is completely outdoor, so it depends on the weather. The game can continue on the same day or another day if it is interrupted.
Prefer to start the game in daylight, as the lack of light may make it difficult to solve puzzles. However, the game can still be played at night.
Children must be accompanied by an adult. It is a nice and very educational activity for them if an adult helps them solve the puzzles and explains them.
Puzzles do not require knowledge. Players must use their imagination, logic, combinatorial thinking and cooperation.
Every attraction hides a puzzle ! The puzzles are independent and not connected to each other through a story. The goal is for players to interact with the attractions and their surrounding areas !
Our game is completely covid19-free as it is an outdoor game!
Locations
Paris escape game begins at Eiffel Tower and ends at Notre Dam
You will visit:
Eiffel Tower

Ponte Alexandre III

Pont de l'Alma

Petit Palais

Grand Palais

Champs-Élysées Gardens

Place de la Concorde

Louvre museum

Touilerie Gardens

Saint Germain- I'Auxerrois

Pont Neuf

Conciergerie

Saint Chapelle

Palais de Justice

Notre Dame
1.      Eiffel Tower – starting point of Paris escape game
If you are in France, you can never miss a visit to Eiffel Tower in Paris. It is surely one of the famous buildings in the world. You can go and take memorable pictures at Eiffel Tower. Many popular movie scenes are also shot here at the 980″ height of the tower.
2.      Ponte Alexandre III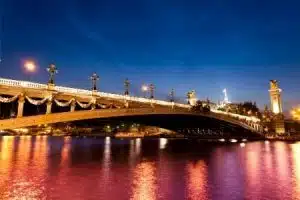 It is another excellent bridge for you if you are a history lover. It was named after Tsar Alexander III. If you have a couple photoshoots with views of the Eifel tower, this is the ideal place to do it. Many people go for their wedding photoshoot to this bridge. It has sculptures that add to its beauty. There is a total of four pillars of this amazing and strong bridge.
3.      Pont de l'Alma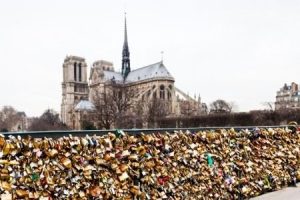 It is another historical place to visit for you if you are traveling to France. It was built in 1854 and had a connection with war too. There is a statue present in this place. It also has a connection with the Princess Diana accident. So, there is a lot to look forward to if you are visiting this place.
4.      Petit Palais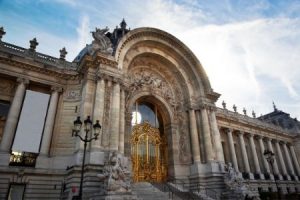 If you are an art lover traveling to France, this should be your first tourist destination. It is also known as the Paris Museum of Fine Arts. It's an excellent Museum, and it has some of the great pieces from the history of Paris and its greats.
5.      Grand Palais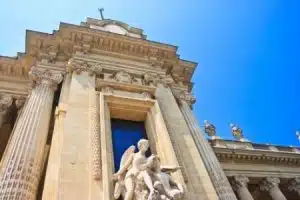 If you are in France and you want to do a lot of activities in one place, this place is for you. It has Exhibition Hall and Museum where you can view and enjoy different things. The interior and exterior of this place are full of architectural brilliance from the people of France.
6.      Champs-Élysées Gardens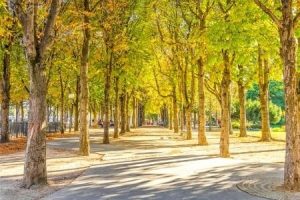 If you are a garden lover, you should really visit this place as it's one of the oldest parks in the city. It also hosted the oldest international expeditions in Paris. The trees and nature give a glowing feeling in this park. It has a total of 13.7 hectares of land. So, if you are looking for some peace, this place is for you.
7.      Place de la Concorde
It is also part of history. Thus, it is a square which is situated in the middle of the capital. It is a public square where people go and take pictures to get a feel of Paris.
8.      Louvre museum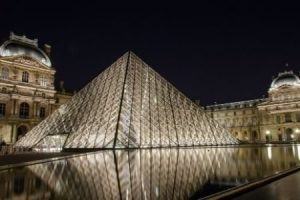 It is a historic monument in Paris which is also the largest museum in the world. Moreover, the main reason for its fame is because the portrait of the Mona Lisa resides in this museum. Besides that, it is home to artwork of famous artists from around the world.
9.      Touilerie Gardens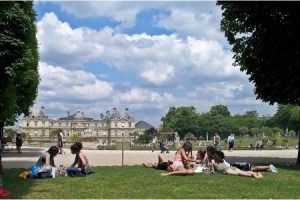 Famous as Place du Carrousel, this garden was a part of Touilerie palace. Moreover, it was enclosed by the 2 wings of Louvre which makes it more attractive. Activities and pay area makes it a major attraction. As well as, it has a picturesque appeal that attracts many photographers.
10.  Saint Germain- I'Auxerrois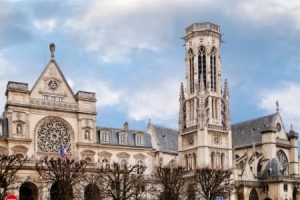 It is a Roman Catholic Church which is located in Palace du Louvre. Besides that, it was known as the church for the royalty. The architecture has a detailed work of art which makes it appealing. Moreover, it is among the few churches that celebrates Tridentine Mass.
11.  Pont Neuf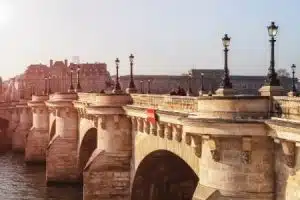 Pont Neuf is the oldest bridge which is still standing across the Seine river in Paris. However, it is among those bridges that do not support houses. It is a bridge paved with stones for protection of pedestrians from dust and mud.
12.  Conciergerie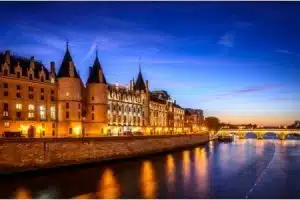 It was constructed as the part of de la Cite Palace in the 14th century. Thus, it is a representative and most outstanding buildings. Formally, it was used as a prison, but now law courts work here. The new parliaments function in the palace.
13.  Saint Chapelle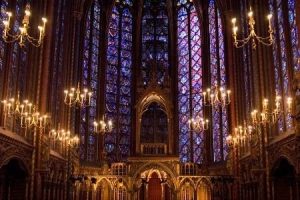 A gothic-style royal chapel which was the home of the Kings of France. Besides that, it is among the oldest surviving buildings of history. In the 19th century, restoration took place because the building was damaged because of French Revolution. Moreover, its beautiful exterior and stained glass interior make it a site to visit.
14.  Palais de Justice
It is a courthouse of Parsi, which is famous for residing in two important courts. These are the court of Cassation and the court of Appeal. Besides that, it is famous as the place where people can get justice. It is the busiest appellate court.
15.  Notre Dame – ending point of Paris escape game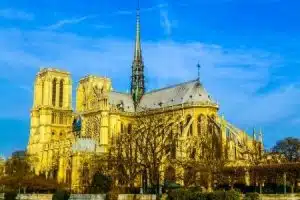 It is a medieval catholic cathedral. However, the cathedral is famous because of its middle age designs of gothic cathedrals that distinguish its antiquity, size, and artwork.