Description
Introduction
Highlights
Information
Important
Locations
Introduction
Sydney scavenger hunt and city tour
Sydney scavenger hunt was created to offer you the best way to explore an amazing city. Sydney, the capital of New South Wales, Australia. It is Australia's oldest and largest city. Sydney is built around a huge harbour and hosts many tourist attractions as well as a number of beaches, bays and a couple of national parks.
A great city and Sydney scavenger hunt the best way to discover it!
Highlights
Explore Sydney, playing our scavenger hunt!
What to expect
Uncover the highlights with an interactive smartphone app. Solve location-based riddles on this walking tour.
Visit 10 of the most important attractions in the city as you walk. Stop and find clues at each attraction to reveal your next destination.
Enjoy the challenge of using logic, imagination, observation, and team spirit to finish the game.
Feel the thrill of completing each riddle. Start or pause the tour whenever you want. See the city at your own pace.
Read interesting information and facts. Stop to snap pictures as you go. Reveal an exciting a puzzle at the exterior of each attraction.
Information
Includes
Mobile app and login credentials
Self guided tour
Navigation
Important information about Sydney scavenger hunt
Average duration: 2 hours including total walking time 68 minutes
Walking Time: 5.3 km 
Supported languages: English, German, French, Chinese, Japanese
Museum admission fees: Visits to museums and other attractions do not require a ticket, as the puzzles are related to
their outdoor areas. Admission is purely your choice.
Not suitable for…
Wheelchair users
People with mobility impairments
Unaccompanied children
What to bring
Weather-appropriate and comfortable clothing and shoes
Charged smartphone
Internet connection in case of the online-mobile application.
Important
What you need to know about Sydney scavenger hunt ?
No one will be waiting for you anywhere, it's just you and your smartphones!
You can start playing anytime, any day, every day! You can even pause your game and resume later or any other day within a year !
You can use one language per serial number. If your group is multilingual, you will need to buy more games if you need more languages.
There is no time limit for the game. You can complete it at any time at your own pace.
Our game is completely outdoor, so it depends on the weather. The game can continue on the same day or another day if it is interrupted.
Prefer to start the game in daylight, as the lack of light may make it difficult to solve puzzles. However, the game can still be played at night.
Children must be accompanied by an adult. It is a nice and very educational activity for them if an adult helps them solve the puzzles and explains them.
Puzzles do not require knowledge. Players must use their imagination, logic, combinatorial thinking and cooperation.
Every attraction hides a puzzle ! The puzzles are independent and not connected to each other through a story. The goal is for players to interact with the attractions and their surrounding areas !
Our game is completely covid19-free as it is an outdoor game!
Locations
Sydney scavenger hunt and city tour
Ending location: Harbour bridge
You will visit:
St. Andrew's Cathedral

Town Hall

Queen Victoria Building

St Mary's Cathedral

Queen's square

Museum of Sydney

Customs House

Opera House

Harbour bridge and more…
Darling Harbour – starting point of Sydney scavenger hunt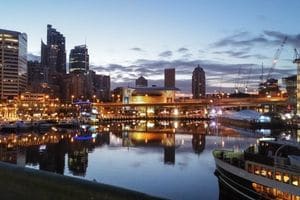 St. Andrew's Cathedral
So, this is a beautiful cathedral church in Australia's Anglican Church. Well, this is one of the major Gothic-styled buildings in Sydney. The exterior of the cathedral has a mellow brown color that is adding more to the rich texture. While the interior of the St. Andrew's Cathedral comes up with a Perpendicular Gothic style's harmonious composition.
Even though the cathedral is smaller comparatively but definitely a well-executed building that must be on your bucket list.
Town Hall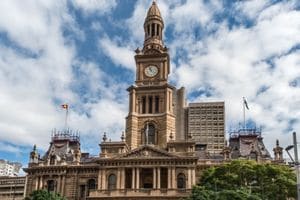 The Town Hall of Sydney is a beautiful landmark of the late 19th century. This has been built within prior Old Sydney Burial Ground. While local sandstone has been used in its construction in the style of Victorian Second Empire. Most importantly, this beautiful Town Hall has a lavishly ornamented composition with fanciful roofs and a focal tower.
Overall, it is a beautiful composite construction of brick and stone that can make you wow.
Queen Victoria Building
Queen Victoria Building aka QVB is a late 19th-century building. Architect George McRae was the designer of this building. However, the construction of this Romanesque Revival was completed in 1893 and 1898. Ritchie Brothers; a popular steel and metal company has built the domes of the Queen Victoria Building.
Previously, it has been used for different purposes. However, currently, after the renovation of the building, the City of Sydney is owning this building. Fortunately, it is open for visitors to visit.
St Mary's Cathedral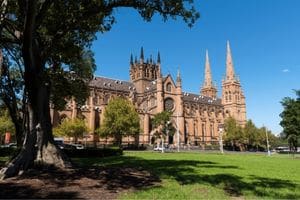 This cathedral is a sign of the catholic church's beginning in Australia. At present this has become a striking landmark developed in neo-gothic style. Additionally, this is now Archbishop of Sydney's seat. The model of the building is similar to Lincoln Cathedral. While the imposing façade of the cathedral reflects Notre-Dame style.
Most importantly, you can find stained glass windows inside the cathedral that cast beautiful light patterns. Overall, this is a worth-visiting place for every visitor.
Queen's square
So, here is an amazing public square in Sydney. At King Street's junction, you can find this square. The Square has named in the honor of respected Queen Victoria. However, Lachlan Macquarie planned the location of the Queen's square. As this is a public square, so more often political and individual protests can be seen here.
Museum of Sydney
This is a modern museum which has built around the very first Government House of Australia. However, the museum is celebrating characters and people that have shaped the soul and character of the city. Over time, it has become the center of the social and administrative life of the city.
However, you can visit this museum to explore the stories of Sydney from its beginning to the present.
Customs House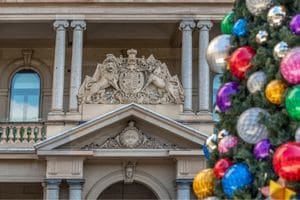 This is another heritage-listed space of museum situated in the Circular Quay. This Customs house has served for multiple purposes previously. However, this is a double-story building. Mortimer Lewis has designed its architecture. It also features 13 expensive and large windows in its façade for a clearer view of all the shipping activities happening there. The building is still standing in excellent condition and attracts numerous visitors here daily.
Opera House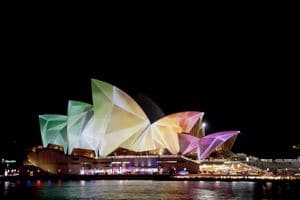 Opera House can be one of the very interesting things to come to mind whenever you think of Sydney. It is because this World heritage-listed building is truly stunning. However, you can find it illuminating when you will visit it at night.
Harbour bridge – ending point of Sydney scavenger hunt
This is another iconic symbol of the city. Most importantly, this bridge is also one of the climbable bridges of the world. You can easily climb the bridge by having the right gears. While the views around the bridge while climbing are truly exceptional.