Barcelona is a romantic city! No wonder, with all the narrowed streets in the beautiful old town of El Gótico, the cities beach front, a delicious cuisine and so many romantic restaurants and bars it is considered one of the top romantic cities in the world.
Top 10 romantic restaurants in Barcelona
World City Trail, the most interactive way to explore Barcelona has collected the top 10 romantic restaurants in the city after visiting 632 different places.
Pepa Pla
? Address: Carrer d'Aribau, 41, 08011 Barcelona Spain
? Phone: +34 936 11 18 85
Slightly off the radar, this cozy wine bar used to be a book shop for many years. It is really amazing how it transformed into one of the best romantic restaurants in Barcelona city.
Many elements from that time have been beautifully preserved, such as the book shelves on the walls that are now filled with wine bottles, the colorful floor tiles and the exposed brick walls.
The friendly staff is happy to share the fascinating secrets that the place holds.
Looking at the menu you will see an array of dishes to share, perfect for an intimate evening. The menu has 15-20 options with 3 or 4 daily specials not on the menu.
The ingredients are local and the dishes are a nudge to the classics, but with plenty of innovation and surprises.
Dishes to try
If the mussels with vermouth and orange are on the menu make sure you order them. And save room for dessert! The brioche with chocolate, raspberry and meringue is mind-blowing, as is the pistachio tiramisu that is the talk of the town for those who are in the know.
? Address: Passatge de Pere Calders, 6, 08015 Barcelona, Spain
? Phone: +34 936 59 55 83
What used to be a car mechanic's shop is now a gorgeous space where a cool Brooklyn vibe has swept in, with a few Moroccan accents. So different, very attractive and sets a tone for the evening. The food is deliciously Italian, and the menu changes every couple of months to display seasonal ingredients. Make sure to order cocktails too, they're great.
Dishes to try
The carpaccio starter, the octopus starter, the beet root gnocchi and the quail. The menu changes quite frequently so don't necessary expect these dishes to appear on your menu.
? Address: Bruc, 79, 08009 Barcelona Spain
? Phone: +34 938 09 92 74
The door to this Japanese restaurant looks rather anonymous, and inside you will find a mere 15 seats, all along the bar that surrounds the talented chefs. Make sure you go for the tasting menus, it's a wonderful experience.
Dishes to try
Exquisitely prepped squid, turbot, red prawn, tuna, fatty tuna, spicy tuna, unagi and more with phenomenal freshly ground wasabi.
? Address: Carrer de Les Cabres, 13, 08001 Barcelona, Spain
? Phone: +34 931 14 69 39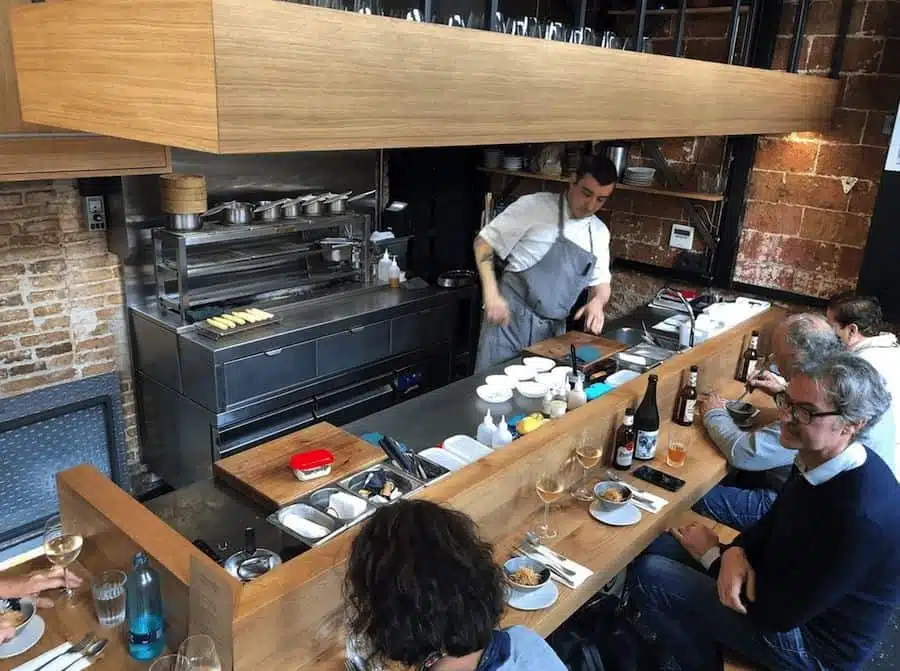 Looking for a very unique experience to celebrate something special? Direkte Boqueria has only 11 seats (all of them around the chefs), and two different tasting menus to choose from. For a few hours you're taken on a magical journey with local and Asian flavors. It is unforgettable.
Dishes to try
Foie Gras Kakigori, the Grilled Beef Head, the Grilled Eggplant with Yogurt and Smoked Eel, and the Yogurt, Mango, Passion Fruit, and Mezcal for dessert.
? Address: C/Jorge Manrique S/N, 08035 Barcelona, Spain
? Phone: +34 934 28 03 01
A fantastic choice when you want to have that rural masía experience and at the same time want to visit a romantic restaurant in Barcelona. This large old building is covered with vines, and has a large garden with huge trees, chicken, and a few tables and chairs should you prefer sitting outside on a sunny day. Inside it's decorated with vintage furniture and old farm objects. Families gather here to celebrate birthdays and even weddings take place here.
Dishes to try
The most popular dishes in such places is usually from meat, but Can Travi Nou slightly depart from the standards, here come for the lobster with chickpeas, cod with garlic foam, rice with rabbit and artichokes. They serve on grilled steaks of veal and lamb ribs. A snack is served octopus, grebeshki, blood sausage and anchovies. From November to April, fried onions kalsots. And the local desserts, which allocated a separate menu, just blows your head.
? Address: Carrer Hospital, 104, 08001 Barcelona Spain
? Phone: +34 934 61 56 69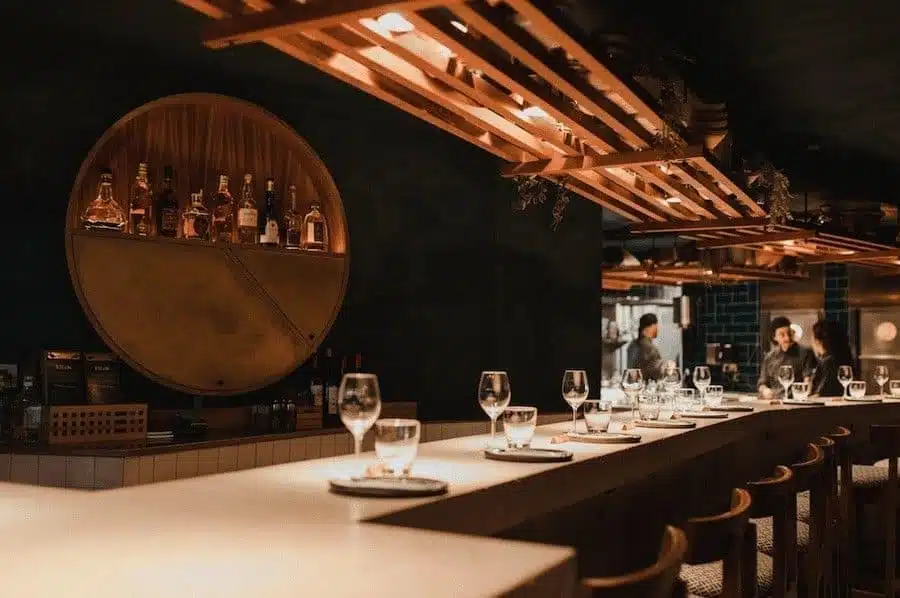 This exotic Raval outpost is a wonderfully charming bar and a romantic restaurant that has it all: brunch, cocktails, and dinner, in two different variations. Chaka, the downstairs bar and restaurant, is casual, while the upstairs gastro bar Khan is an intriguing surprise with tasting menus.
Dishes to try
The food menu in Chaka consists of dishes to share, following the theme of exotic flavors from around the world: aguachile from Mexico, Yam Neua from Thailand, Piaju with Piri-Piri from Mozambique, Zeiton Parvadeh from Iran and much more.
? Address: Carrer de Montsio, 3, 08002 Barcelona Spain
? Phone: +34 933 02 41 40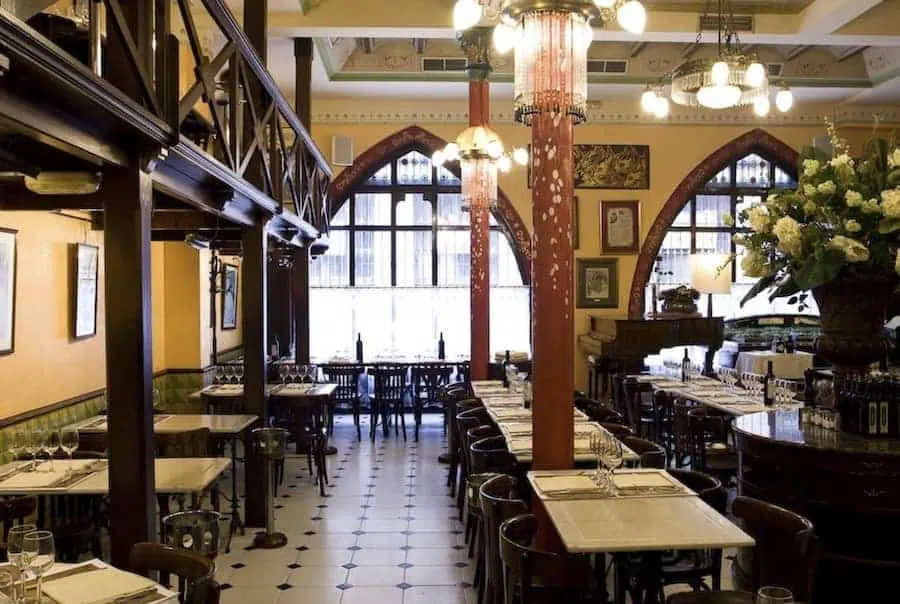 Whilst twisting through the winding streets of Barri Gòtic, you might just come across the fabulous building that houses the 4 Cats restaurant.
Built by Puig I Cadafalch, one of Gaudí's contemporaries, it is famous as the place Pablo Picasso used to frequent. With an exquisite modernist interior and boho chic decor, you'll be enchanted before the food has come.
Dishes to try
Menu choices include either tapas or a la carte, so you can come for something lighter or the main event. In true Catalan style, there's an emphasis on great seafood, cheeses, good wine and elegance. There are also some delightful surprises, like mini doughnut tapas filled with roasted chicken and caesar sauce. There are also the best patatas bravas in town- dished up in their own quirky way, on fancy patterned tiles!
? Address: Avenida de las Drassanes, 6-8 Piso 24, 08001 Barcelona Spain
? Phone: +34 936 31 35 90
The perfect place when you are looking for something unique. This romantic restaurant in Barcelona has 360-degree views of the city, they are truly unbeatable. It is located by the sea, in a tall building that rises 24 floors, just next to Las Ramblas.
Dishes to try
Seafood is in focus on the menu at Marea Alta. You will find raw dishes, seafood stews made with local recipes, but also innovative and exciting items such as the grilled oysters that we devoured. Grilling and smoking are the main techniques used here, and they certainly use them well.
? Address: Calle Diputacio, 201, 08011 Barcelona Spain
? Phone: +34 934 53 23 52
One of the best romantic restaurants in Barcelona. Most tables are far from each other so you get plenty of privacy, and the tables are big so you don't feel cramped. Their sommelier is amazing, and they bring you a BOOK with all of their wines (they also do beer pairings and have a huge set of beers available). The food is very local and very comforting.
Dishes to try
Try the tuna tartare with gazpacho ice-cream, served with tiny pops of red caviar. The Catalan foam cream desert is so light, yet full of flavour and contrasting textures. Last but not least do not omit to indulge yourself with the barley risotto which comes with the duck.

Gula Bar
? Address: Carrer del Dr. Rizal, 20, 08006 Barcelona Spain
? Phone: +34 932 17 05 47
This cozy, cool romantic restaurant in Barcelona is lovely for a date ! Their menu consists of many great dishes to share.
The interior decoration is already promising. The big letters in the back spelling out Gula sets the tone, as does the bar by the large windows by the entrance. The lighting is perfect, not too bright to be annoying and not too dark so you can't see what you are eating.
Dishes to try
In essence, the menu is split into 3 sections: tapas, 'sandwich tapas', and small dishes. Everything in delicious. Amongst others try the codfish croquettes, the oxtail toast sandwich, the mutton empanadas, the calamari sandwich, the beef taco, or the picanha.