Best hotels in Vienna : Finding them can be a tough task, as during the recession in 2008/2009 lots of hotels had to close.
No 1 Choice for best Hotel in Vienna is Hotel Imperial, Kaerntner Ring 16, Vienna
Tel: 00 1 844-631-0595
Price: From 416€ (1 room, 2 adults)
There's a true sense of occasion arriving at the palatial Hotel Imperial, the fairest of all Vienna's grand hotels, built for the Prince of Württemberg in 1863. Here you can experience a slice of royal life and Michelin-starred dining right on the city's monumental Ringstrasse boulevard.
One of the best hotels in Vienna with luxury hotel experience .
This is what people who stayed in the hotel have said
John
"The Imperial on the Ring is convenient to all Vienna. Impeccable service. Capable concierges. Luxury all the way. No complaints except bathroom floors need heaters. Cafe for breakfast is quick and efficient"
Kenny
Outstanding hotel!!. We arrived at 2pm to be greeted by the best friendly reception staff I've ever encountered. They saw from my son's passport that it was his birthday, we were upgraded to a suite, and about 3 minutes later a bottle of champagne arrived! We later dined in the hotel restaurant, excellent. ONE OF THE BEST HOTEL STAYS OF MY LIFE.
Tel: +43 1 24188
Price: From 199€ (1 room, 2 adults)
Our no 2 choice for best Hotels in Vienna, suited for families
In the shimmering, postmodern Haas Haus, Do & Co makes a spectacular leap between old and new Vienna, with front-row views of St Stephen's Cathedral, a happening lounge-bar gazing out over the city, urban-chic design, flawless service and phenomenal food. It's an all-round class act. One of the best hotels in Vienna .
Ikram A
"Probably our holiday highlight for 2019! Hotel with the great location, close to shopping and good restaurants. Spacious and comfortable room. Very friendly staff. Great excitement and really enjoyable stay."
Matthias F
"The hotel is in very condition, and for the right reasons is part of the design hotel group – nice interiors, functional and quiet rooms, good beds and amenities, nice roof terrace restaurant , good service … and great location for a stay in town."
Tel: +43 1 5121320
Price: From 290€ (1 room, 2 adults)
Our number 3 choice for best hotel because of the nice location
Sharing the same square as the Albertina, Opera House and Sacher Hotel, this property is a favourite among the hotel offerings in the city centre. It is remarkable what happens to a youth hostel in the hands of Sir Terence Conran. The transformation has succeeded on every level.
Reviews
Yvonne D
Stayed for 3 nights and absolutely loved it! Beautiful design hotel. Perfect location, close to all the sights. Wonderful staff – everyone was friendly & courteous & made us very welcome. Comfortable and clean rooms with fantastic free wine, water & soft drinks! Impeccable attention to detail. Would love to stay again. Highly recommended.
Travelcc24
"Perfect location, lovely rooms, impeccable staff …. what else is there to say? The hotel is also attached to a very nice restaurant, which is very practical for breakfast (although there are many coffeehouses also in the area). The only very small drawback is that there is no real lobby… but the positives of this hotel experience far outweigh that detail.
We very enthusiastically recommend this boutique-type hotel."
Tel: +43 1 58744820
Price: From 93€ (1 room, 2 adults)
Our number 4 choice for best hotels is suited for business travelers
"Embrace Vienna's rich musical heritage at this graceful, imaginatively designed boutique hotel, facing Theater an der Wien, where Beethoven once lived while composing his opera Fidelio. The rooms are unique and the welcome is incredibly warm, with free afternoon tea and weekend chamber music concerts."
Reviews
Hamed
"A nice small hotel near to the citycenter and near to the nachmark very clean and quiet friendly staff breakfast was good you can walk around to find many shops in kartner street and mariahilfer street."
Kelly P
"Great stay in Vienna at Hotel Beethoven. The hotel was centrally located and walking distance to most main attractions. It was also close to public transportation when places were not walking distance. Staff was very friendly and helpful. Breakfast was great!"
Tel: +43 1 227401234
Price: From 333€ (1 room, 2 adults)
If you are into luxury our no 5 choice for best hotel is the way to go.
In Vienna's heart on Am Hof square, Park Hyatt occupies the former HQ of the Bank of Austria. The opulent marble and chandelier-lit interiors manage the delicate act of fusing historic character with contemporary design. With a gold-kissed spa, season-driven cuisine and flawless service, it's five-star all the way.
Reviews
Lefev
"We stayed in a beautiful room decorated in fine Viennese decor and with perfect lighting as well as storage space. We felt completely at home in the room and did not want to leave! The restroom was floor to ceiling marble, including the tub, so we felt like true Viennese royalty as we relaxed after long nights at a Viennese ball. The Park Hyatt is the perfect property to really explore Vienna and absorb the city's finest luxury offerings! Will definitely be back on our next trip!"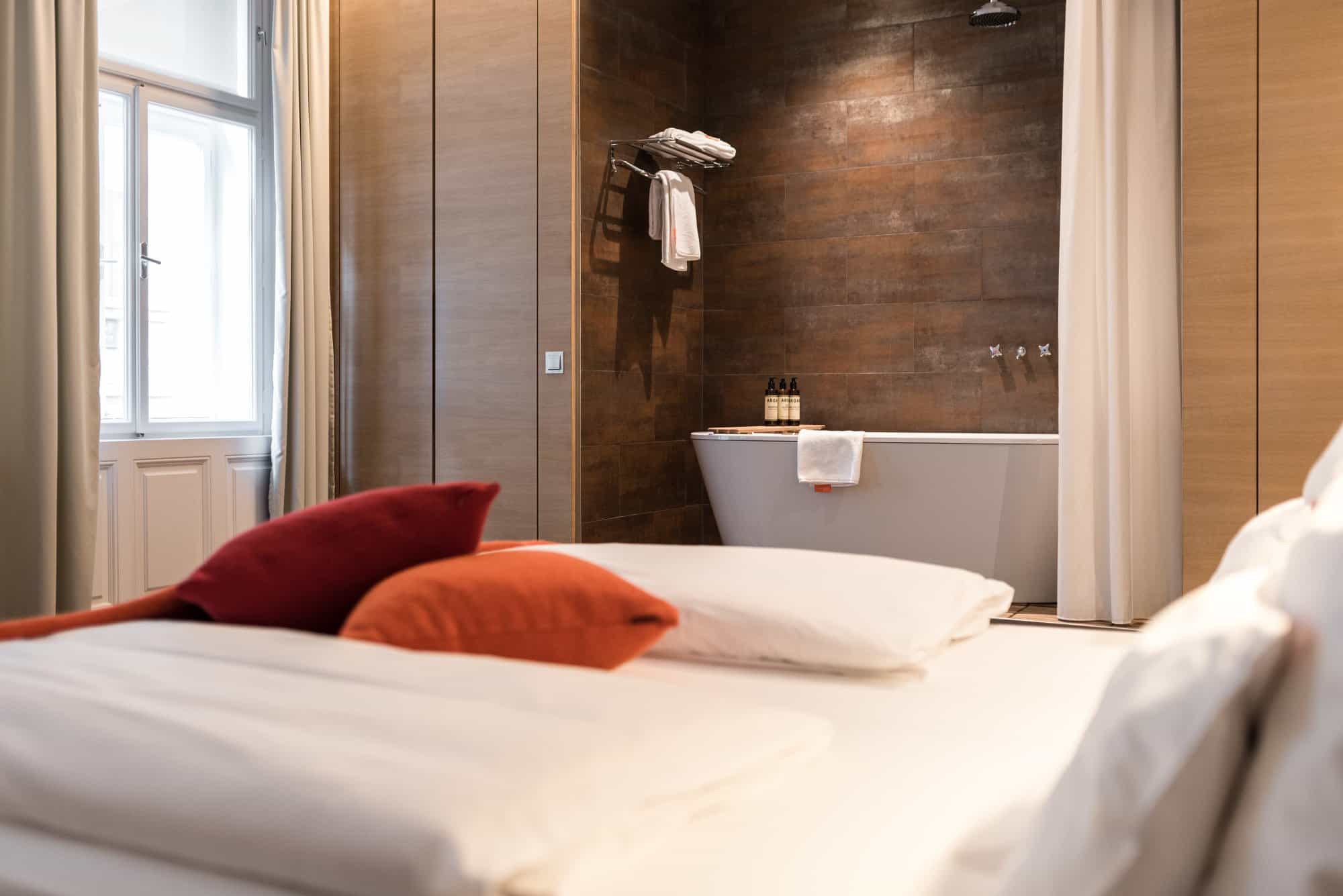 Tel: +43 1 9611960
Price: From 179€ (1 room, 2 adults)
Best hotel in Vienna for people who like modern design , this one sentence whould be enough to describe it
Inside this stylish hotel you'll find a world of contemporary design, artwork and quirky details. Beds are big and dressed in crisp linen; breakfasts organic and plentiful. Also one of the best hotels in Vienna .
Reviews
Christophe C
"Wonderful boutique hotel very central and manned by extremely friendly and efficient staff members. Rooms are comfortable and very clean. The breakfast is definitely a plus. The hotel is located at walking distance from many major sight seeing places like St. Stephen's church, the KHM, Albertina, Spanish Riding School just to name a few. It feels homey like a pied-à-terre in Vienna."
Handling P
"If you like top quality hotels but not the multinational sterile corporate's – then this is perfect. In terms of grandeur or facilities it will be beaten by others, but in terms of a small, interesting, friendly, comfortable, good value hotel this is as good as it gets. Interesting rooms, friendly and helpful staff, perfect cooked to order breakfast, good location, clean quiet and comfortable. Perfect in every way – just so long as your top priority is not trying to impress others on instafacetwitter!"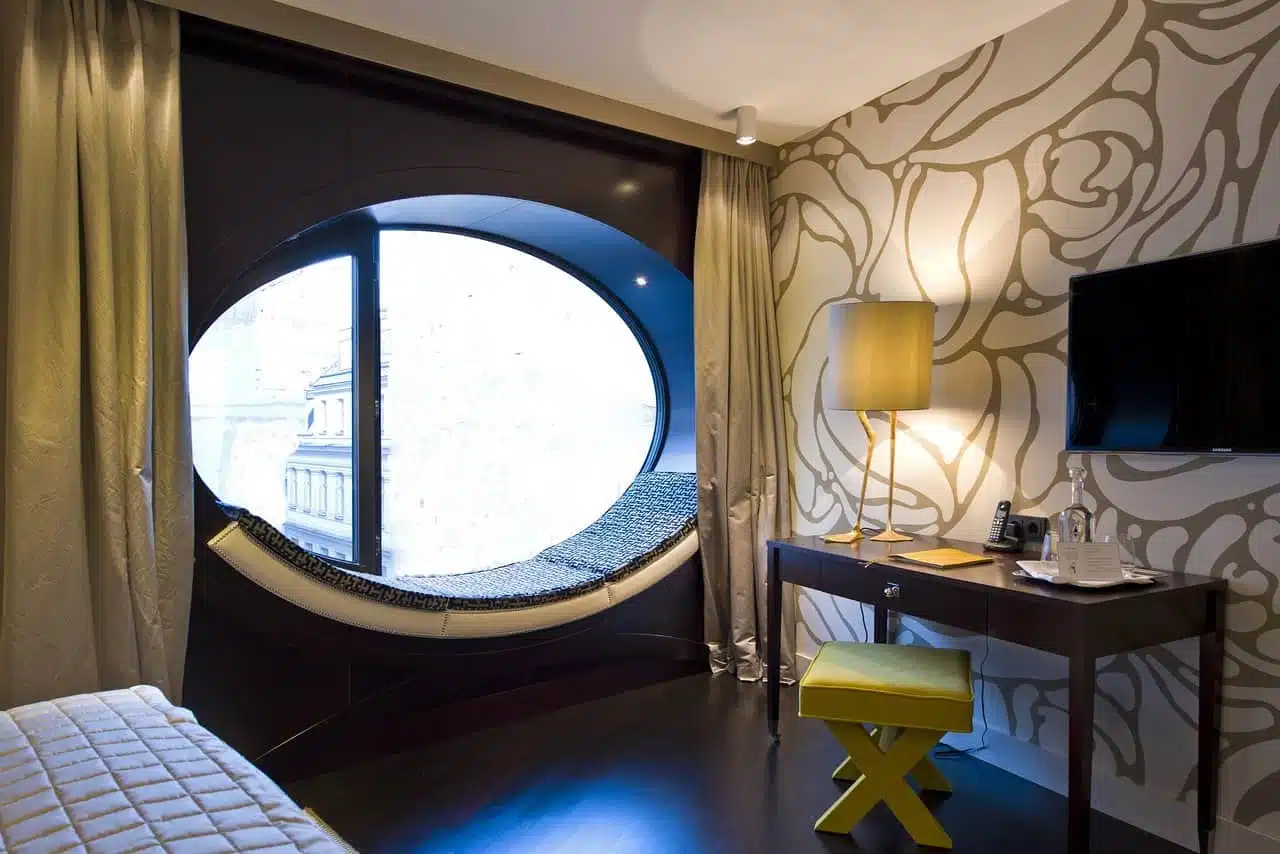 Tel: +43 1 5322250
Price: From 120€ (1 room, 2 adults)
No 7 in our best Vienna hotel list, is in the most convenient location
In the beating heart of Vienna's first district, this architecturally innovative boutique hotel hides a subtly glamorous interior replete with Wiener Werkstätte-inspired designs.
It's a swish, urban escape for sightseeing as well as sunset cocktail sipping on the roof terrace that peeks cheekily across to Stephansdom.
Reviews
travelbug4887
"This hotel is close to everything! We walked to everything we wanted to see, and had great dining options nearby. The owner also makes fantastic wine, especially the red. The rooms are lovely and even have round windows big enough to sit in and people watch."
michale1985
"We stayed at Topaz hotel. Very kind and thoughtful staff. beautiful room, specious bathroom. Great location. Very recommended!
Breakfast is very good – tasteful big selection..
After breakfast the hotel has complementary coffee,tea and snacks all day, it's very nice :)"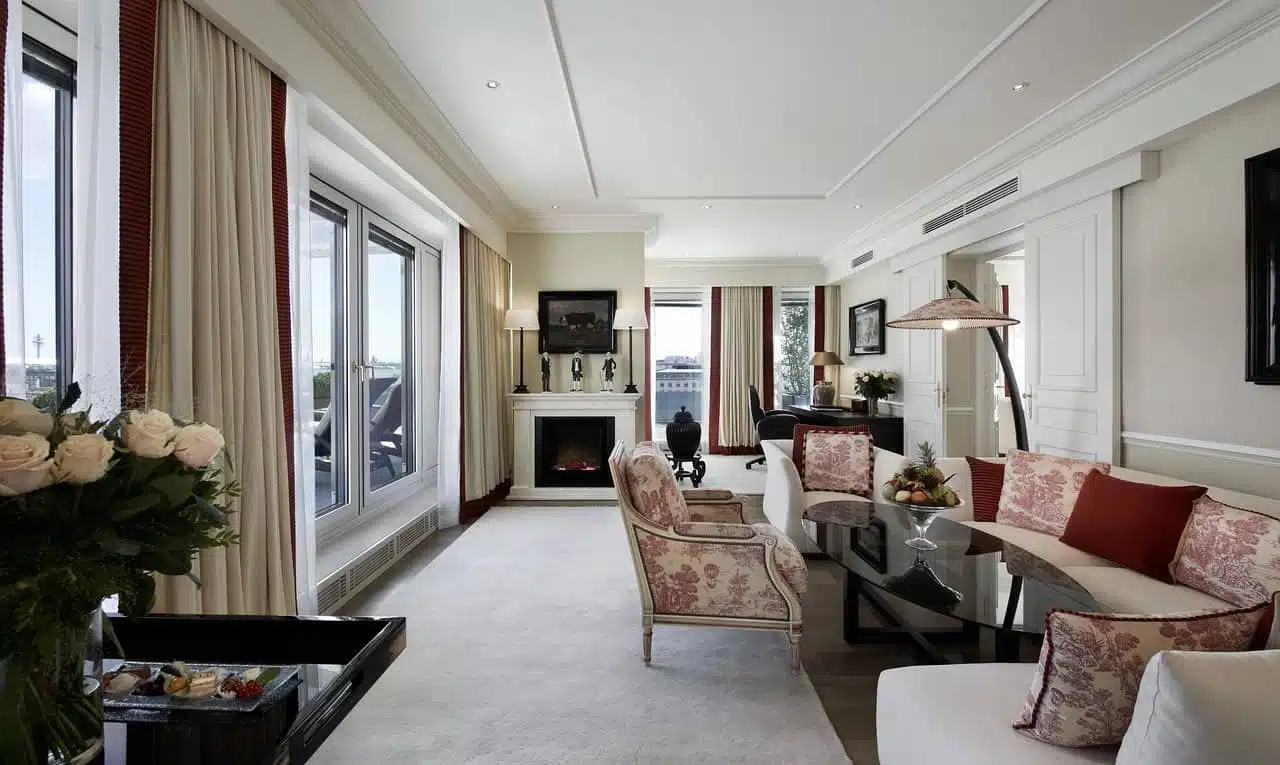 Our last hotel in the Best Vienna Hotel list is for people who stay longer and want the local point of view
Tel: +43 1 514560
Price: From 327€ (1 room, 2 adults)
This cool hotel in a cool neighbourhood offers a different, more local Vienna experience than a city-centre stay. The award-winning restaurant is popular with guests and non-guests alike, and there's plenty of stylish lounge space in which to recline with a glass of something Austrian and soak up the casual-chic vibe.
Reviews
Jonathan L
"What a wonderful experience at this expertly managed, historic and iconic property. It has everything that one could want in a city property! Great service – including daily refreshed amenities. The breakfast is excellent; dinners at different venues great.HIGHLY RECOMMENDED!"
TravelMaven42
"The hotel Sacher is the most beautiful hotel in Vienna. The restaurants and bar are exquisitely appointed and, at Christmas, even more special. The service is a bit clunky at times but the staff aims to please. For example, they have a "Culinary Service" desk which can only help you find restaurants within the hotel and the bartenders won't rush to make you a drink even if the place is packed. That said, it's worth the money to stay here. Ideal location too."
This was a good list including the best hotels in Vienna . From now on is your choice !
If you are looking for the best thing to do in Vienna, try our city game and explore the city playing and learning!