Description
Introduction
Information
Important
Locations
Introduction
Vienna outdoor escape game
Vienna escape game! Let's go outdoors! What about playing an outdoor escape game in Vienna? You will have the chance to wander around the streets solving riddles! You will explore this amazing mega city in an interactive and unique way! Everything in your mobile phone, in your language and in a very cheap price! What a great chance to take some beautiful photos too!
Information
Can you solve the riddles and escape from Vienna? Vienna escape game
The mobile app provides :
Navigation and automatic help system with 3 levels of hints.
Total points and leaderboard.
Time is with you and not against you. Solve the riddles at your own pace.
You can pause your game any time and continue later or another day.
Each month, the no1 team of the leaderboard will win a free game for any city we provide.
Average duration:2 hours including total walking time of 60 minutes
Supported languages: English, Deutsch, Spanish, Italian, French, Dutch
Level of difficulty : Always hard 🙂 , but hints will always be there and the code of the riddle in order to be able to continue playing.
Important
What you need to know about Vienna escape game ?
No one will be waiting for you anywhere, it's just you and your smartphones!
You can start playing anytime, any day, every day! You can even pause your game and resume later or any other day within a year !
You can use one language per serial number. If your group is multilingual, you will need to buy more games if you need more languages.
The outdoor escape games provide total points and a leaderboard and are a bit more difficult than the city hunt + city tour.
There is no time limit for the game. You can complete it at any time at your own pace.
Our game is completely outdoor, so it depends on the weather. The game can continue on the same day or another day if it is interrupted.
Prefer to start the game in daylight, as the lack of light may make it difficult to solve puzzles. However, the game can still be played at night.
Children must be accompanied by an adult. It is a nice and very educational activity for them if an adult helps them solve the puzzles and explains them.
Puzzles do not require knowledge. Players must use their imagination, logic, combinatorial thinking and cooperation.
Every attraction hides a puzzle ! The puzzles are independent and not connected to each other through a story. The goal is for players to interact with the attractions and their surrounding areas !
Our game is completely covid19-free as it is an outdoor game!
Locations
You will visit:
University of Vienna
Anker clock
St.Stephen's cathedral
Peterskirche
Hofburg
Naturhistorisches museum
Vienna State Opera
Albertina museum
Johan Strauss Monument and more
1.University of Vienna – starting point of Vienna escape game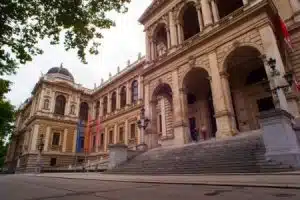 The University of Vienna is in Vienna City, which is present in Austria. Well, it is one of the oldest universities of the Germans that contain a lot of books in the German language related to every subject. It was first founded in 1365 by a German duke whose name was Duke Rudolph IV. It is one of the most precious libraries the people situated in Austria.
In Addition, It is also the building of importance for the people worldwide, which is why it is one of the most populated tourist attractions for the people who have love towards books. Well, You can find a huge collection of German history at the University of Vienna. Every year the total enrollment of students in the library is a huge number.
2.Anker clock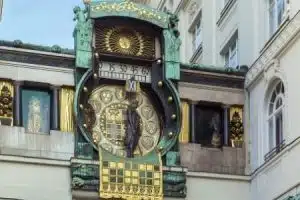 Anker Clock is a Historical Landmark in the Vienna, Austria. It is the historic clock that was made in 1914 to expand Anker Insurance Company's Headquarters.
Above all, they have built this beautiful art in the form of a clock which is of great importance even now for the people of Austria and all regions. It is both a symbol of art and architecture in German history because it is beautifully made and the oldest monuments present in Vienna, Austria.
3.St.Stephen's cathedral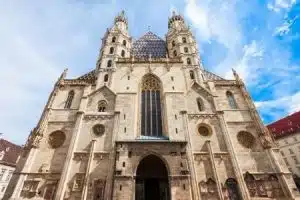 It is considered the seat of the Archbishop of Vienna, Who is named Christoph Cardinal Schönborn, OP. It can be referred to as mother church of Roman Catholic, which is named as Archdiocese of Vienna However, it is the most important generals for the people of Austria due to its architecture and historical importance.
Well, it was built in 1147, making it quite old and ancient for Austria and the entire Greek culture. The height of Saint Stephen's Cathedral is 136 m. However, the architecture style used for building the Saint Stefan Cathedral is Gothic architecture and Romanesque architecture.
4.Peterskirche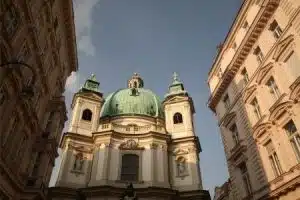 The Peterskirche is a Roman Catholic Church which is situated in Vienna, Austria. It is a Baroque Roman Catholic parish church that is of great importance to the people of Vienna, Austria, and the people of other localities because of its history and traditional importance. However, in the 1970 Archbishop of Vienna, Franz Cardinal König took a great initiative by transferring it to the priests of the Opus Dei. It was enhanced more according to religious practices.
5.Hofburg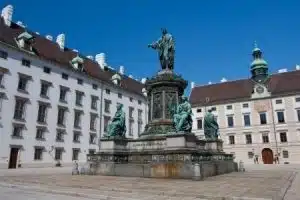 It is the official place of residence and works for the President of Australia. It is of great importance because most of the official work of Austria is held in Hofburg. Well, it was built in the 13th century, making it quite an old building; however, it is of great importance to the Royal families, especially those in government. It is situated in the middle of Vienna, Austria making it easily reachable.
6.Naturhistorisches museum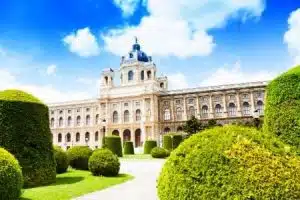 It is the national Museum situated in Vienna, Austria. Well,  it has all the components of the natural history of the whole of Austria, making it of great importance. It is an important national Museum not only in Austria but also worldwide.
So, most of the people are attracted to this Museum due to its access to the natural history of ancient times. In Addition, it is appealing to those people who have an interest in history and culture. It also provides a wider glimpse of nature.
7.Vienna State Opera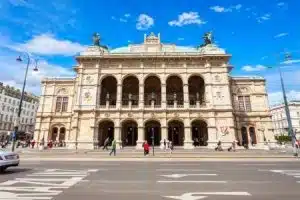 Well, It is a major building for the people of Austria due to its great importance. It was built from 1861 and it took almost 8 years. This is a opera house which is unique and it has its own importance due to history associated with it.
8.Albertina museum
It is also one of the most important Museums situated in Vienna, Austria. It consists of almost 65,000 drawings making it very special for Austria and the entire world.  In Addition, it also has 1 million old master prints. You can get access to modern graphic work. Millions of photographs and architectural drawings make it special and unique at all times.
9.Johan Strauss Monument – ending point of Vienna escape game
and city tour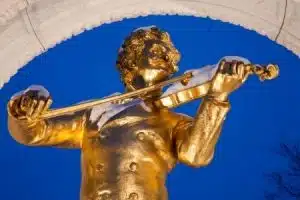 Johann Strauss was a famous musician who is also considered a legend in Austrian culture. People of Austria have great love and relevance to the musician, which is why the musician's bronze statue is gilded in gold, being a monument for the locals and tourists.
You might also be interested in Salzburg, Bratislava or Budapest
Only logged in customers who have purchased this product may leave a review.