Introduction
Highlights
Information
Important
Locations
Introduction
Salzburg scavenger hunt and city tour
Salzburg scavenger hunt and city tour was created to offer you the best way to explore one of the most beautiful cities in the world. Salzburg is unique – in every regard. Anyone who has ever immersed themselves in the magic of the world-famous City of Mozart can never escape it again.
The harmonious interplay of landscape and architecture, art and culture, as well as traditional and modern, all within a surprisingly small area, merely adds to the special charm of this place.
Highlights
Explore Salzburg, playing our scavenger hunt and city tour!
What to expect
Uncover the highlights with an interactive smartphone app. Solve location-based riddles on this walking tour.
Visit 10 of the most important attractions in the city as you walk. Stop and find clues at each attraction to reveal your next destination.
Enjoy the challenge of using logic, imagination, observation, and team spirit to finish the game.
Feel the thrill of completing each riddle. Start or pause the tour whenever you want. See the city at your own pace.
Read interesting information and facts. Stop to snap pictures as you go. Reveal an exciting a puzzle at the exterior of each attraction.
Information
Includes
Mobile app and login credentials
Self guided tour
Navigation
Important information about Salzburg scavenger hunt
Average duration: 2 hours including total walking time 31 minutes
Walking Distance: 2.5 km
Supported languages: English, German, Spanish, Italian, French, Dutch
Museum admission fees: Visits to museums and other attractions do not require a ticket, as the puzzles are related to
their outdoor areas. Admission is purely your choice.
Not suitable for…
Wheelchair users
People with mobility impairments
Unaccompanied children
What to bring
Weather-appropriate and comfortable clothing and shoes
Charged smartphone
Internet connection in case of the online-mobile application.
Important
What you need to know about Salzburg scavenger hunt ?
No one will be waiting for you anywhere, it's just you and your smartphones!
You can start playing anytime, any day, every day! You can even pause your game and resume later or any other day within a year !
You can use one language per serial number. If your group is multilingual, you will need to buy more games if you need more languages.
There is no time limit for the game. You can complete it at any time at your own pace.
Our game is completely outdoor, so it depends on the weather. The game can continue on the same day or another day if it is interrupted.
Prefer to start the game in daylight, as the lack of light may make it difficult to solve puzzles. However, the game can still be played at night.
Children must be accompanied by an adult. It is a nice and very educational activity for them if an adult helps them solve the puzzles and explains them.
Puzzles do not require knowledge. Players must use their imagination, logic, combinatorial thinking and cooperation.
Every attraction hides a puzzle ! The puzzles are independent and not connected to each other through a story. The goal is for players to interact with the attractions and their surrounding areas !
Our game is completely covid19-free as it is an outdoor game!
Locations
Salzburg scavenger hunt and city tour
Ending location: Fortress Hohensalzburg
You will visit:
Andräkirche

Mozart Residence

Pferdeschwemme

Mozart's Birthplace

Residenzplatz

Salzburg Cathedral

Stift St. Peter Salzburg

Kapitelschwemme

Fortress Hohensalzburg and more
Andräkirche – starting point of Salzburg scavenger hunt
Andräkirche aka St. Andrew's Church is attracting tourists with its striking towers. This distinctive place you can easily find on the historic district's right side. Even more, the sacred spaces of the church also host Salzburger Advent.
While the interior of this church consists of the current modified pietistic style, with few accent features. However, the interior has the high altar, Virgin Mary, and the crucifix in domination along with figures of other saints. Even more, fourteen modern paintings have enhanced the décor further.
Mozart Residence
All around Salzburg, you can spot Mozart's fame and influence in significance. Even though, the family was born in a small house. However, they moved to Mozarts Wohnhau later. The building faced destruction in the second world war.
Most importantly, the building gets its reconstruction as close to the original as possible. However, currently, it is open for visitors as a museum which is a must-visit for every Mozart fan.
Pferdeschwemme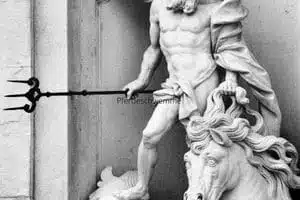 Pferdeschwemme aka the horse pond was a specific place in the river. In this place horses and other draft, animals had led after work to water and clean them. Even more, in summers horse ponds used to be the place to cool heated horses.
However, Pferdeschwemme is commonly designed very artistically and used by training facilities only to improve horses' condition. You can also visit the Pferdeschwemme in Salzburg to know more about the things in this regard.
Mozart's Birthplace
This is the birthplace of Wolfgang Amadeus Mozart. However, now it is one of the top places to visit in the city especially if you love classical music. Well, the major highlights of this place are the rooms of the Mozart family and a museum. This museum has various exciting mementos such as portraits, young Mozart's violin, and his compositions' original scores.
Even more, the birthplace also hosts various engaging exhibitions to introduce Mozart's family members and their lives.
Residenzplatz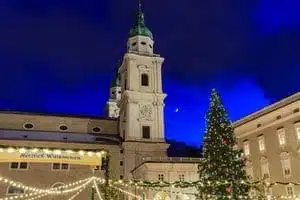 In the heart of the Old Town, you can find Residenzplatz. It is one of the largest squares of the city. Even more, the Residenzbrunnen is the major focal point here for the visitors. This marble's masterpiece dates back to 1661. Additionally, it is the finest and largest fountain you can find in this area.
Most importantly, it is super easy to start your tour to Salzburg's most amazing attractions from here.
Salzburg Cathedral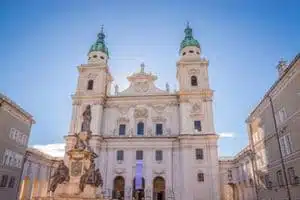 Here is one of the finest examples of Baroque-style architecture in the city. This church is situated in an enclosed square just next to St. Peter's Abbey and Salzburg Residenz. Even though the cathedral has been demolished and rebuilt multiple times. However, still it stands as an iconic and striking architectural piece in Salzburg.
Additionally, the cathedral has a simple design, but the interior of it is completely magnificent and attractive.
Stift St. Peter Salzburg
This church is dedicated to St. Peter. It dates back to 696 and has been constructed over the remains of old Christian by Saint Ruper. Since then, it still stood in some forms. However, the architecture of the cathedral has changed over time to suit multiple fashions of each era. While currently, it possesses a combo of Renaissance and Romanesque styles.
Kapitelschwemme
This is a beautiful baroque style horse well located at the Kapitelplatz Square in Salzburg's old town. At first gaze, it looks very similar to the mini version of the Fontana di Trevi present in Rome. This is the major reason why many of the tourists throw their coins in this well too. The well dates back to the 17th century.
Fortress Hohensalzburg – ending point of Salzburg scavenger hunt and city tour
Fortress Hohensalzburg aka Salzburg Castle sits in a dominating position on Festungsberg Hill's top. The fortress has been the main power hive for the Salzburg's rulers since the 1000's.
Since its inception, this fortress has undergone various transformations and expansions. The striking exterior of the building still makes it stand out.