Introduction
Highlights
Information
Important
Locations
Introduction
Stockholm scavenger hunt and city tour
Stockholm scavenger hunt and city tour was created to offer you the best way to explore this beautiful city.
Stockholm is simultaneously urban and close to nature; water is an ever-present feature in this city where lake and sea meet. Parks and green areas abound, and the distinctive white archipelago of Stockholm,  boats travel to the islands all year long. The atmosphere is open and welcoming, and diversity and innovation are encouraged.
Enjoy this beautiful city in a fun and informative way you won't forget ! Stockholm is a city you are going to fell in love with and Stockholm scavenger hunt an ideal way to explore this city.
Highlights
Explore Stockholm, playing our scavenger hunt and city tour!
What to expect
Uncover the highlights with an interactive smartphone app. Solve location-based riddles on this walking tour.
Visit 10 of the most important attractions in the city as you walk. Stop and find clues at each attraction to reveal your next destination.
Enjoy the challenge of using logic, imagination, observation, and team spirit to finish the game.
Feel the thrill of completing each riddle. Start or pause the tour whenever you want. See the city at your own pace.
Read interesting information and facts. Stop to snap pictures as you go. Reveal an exciting a puzzle at the exterior of each attraction.
Information
Includes
Mobile app and login credentials
Self guided tour
Navigation
Important information about Stockholm scavenger hunt
Average duration: 2 hours including total walking time 1 hour
Supported languages: English, German, Spanish, Italian, French, Dutch
Museum admission fees: Visits to museums and other attractions do not require a ticket, as the puzzles are related to
their outdoor areas. Admission is purely your choice.
Not suitable for…
Wheelchair users
People with mobility impairments
Unaccompanied children
What to bring
Weather-appropriate and comfortable clothing and shoes
Charged smartphone
Internet connection in case of the online-mobile application.
Important
What you need to know about Stockholm scavenger hunt ?
No one will be waiting for you anywhere, it's just you and your smartphones!
You can start playing anytime, any day, every day! You can even pause your game and resume later or any other day within a year !
You can use one language per serial number. If your group is multilingual, you will need to buy more games if you need more languages.
The outdoor escape games provide total points and a leaderboard and are a bit more difficult than the city hunt + city tour.
There is no time limit for the game. You can complete it at any time at your own pace.
Our game is completely outdoor, so it depends on the weather. The game can continue on the same day or another day if it is interrupted.
Prefer to start the game in daylight, as the lack of light may make it difficult to solve puzzles. However, the game can still be played at night.
Children must be accompanied by an adult. It is a nice and very educational activity for them if an adult helps them solve the puzzles and explains them.
Puzzles do not require knowledge. Players must use their imagination, logic, combinatorial thinking and cooperation.
Every attraction hides a puzzle ! The puzzles are independent and not connected to each other through a story. The goal is for players to interact with the attractions and their surrounding areas !
Our game is completely covid19-free as it is an outdoor game!
Locations
Stockholm scavenger hunt and city tour
You will visit:
City Hall
Normalhojdpunkten
Riddarholm church
Nobel Museum
Obelisk at castle hill
Royal palace
Gustav Adolfs torg
St Jacobs Kyrka
National Museum
Gilded crown
1.City Hall – starting point of Stockholm scavenger hunt and city tour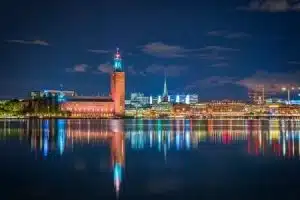 Starting from this beautiful place which is also the building of the Municipal Council of this city, you can end up at the nearby short. Make sure to get the internal view of the city hall as this gigantic place has a stunning interior.
Not only this, but the exterior looks amazing and even more amazing in the night lights. There is a lot to explore about this building which includes its tower that is 106 meters tall. The golden hall is also worth viewing with its 18 million tiles of gold mosaic.
2.Normalhojdpunkten
While you are passing by the alley known as the Schering Rosenhanes, there will be a stone in the wall with a metallic door on it. Well, this is the spot that you will never want to miss., it is because of its historic importance.
This is the official ordnance datum of Sweden, and in the older times, it was used as the reference point for making maps. While passing by the alley, you can always stop at some local vendors for exploring the traditional items and food.
3.Riddarholm church
This is a site in Sweden that not only looks stunning from inside and outside as well. But it holds specific value for the history of the place. As this church is located near the Royal Palace on the island of Riddarholmen, this church is the final resting place for most monarchs of Sweden.
4.Nobel Museum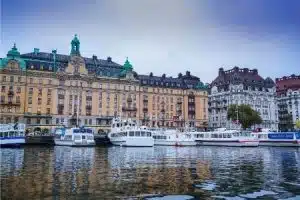 While the usual museums in the world show historic artifacts, the main idea of this museum is a bit different. Here the main aim is to spread knowledge about the sciences and culture of the place, most of the time there are exhibitions about the things that changed from the 20th century to the 21st century.
Not only are the artifacts used here, but short films and computers are also a mode of spreading knowledge. Interestingly enough, the architecture of this place is also stunning.
5.Obelisk at castle hill
In the old town of Stockholm, there is a monument right next to the Royal Palace. This is known as the Obelisk. The interesting thing is that this place will take you back to the 19th century. By visiting this place, you cannot only visit the place and learn about the historical architecture and the deeds of this place during the war, but you can also stop by the old town market for some cultural feasts.
6.Royal palace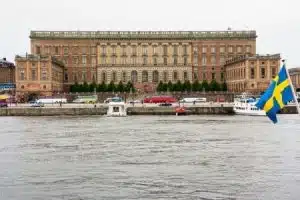 If you get a chance to visit Stockholm., this is the place that you will never want to miss. It is because this is one of the biggest and the most beautiful palaces in the whole of Europe. Not only is this palace the residence of the King, but the interesting thing is that this is open for the public to visit and explore throughout the year.
The grand building portrays amazing historic architecture. As it is located right next to some sailing yachts, you can also make them a part of your trip while you get to visit the Royal Palace.
7.Gustav Adolfs Torg
Not only is this site worth visiting because of its amazing historic architecture and the statue at the front that can be an amazing picture background. It is an amazing destination for your trip because it is located right in the center of the city.
This means that you can explore any part of the city while you are here, and the most important thing is the traditional food. There are several restaurants that serve cultural and traditional foods here.
8.St Jacobs Kyrka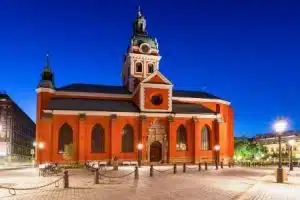 The first thing that you will note about this place is that it is called by different names. Some call it Jacob's church, while others call it the jam's church. Well, this is nothing to get confused about because this is a purely lingual problem and nothing else. Visiting this church will be an amazing experience in itself because it takes you back to the 17th century.
9.National Museum
The Sweden National Museum is located in the city of Stockholm, and it does not only hold historical artifacts, but the building itself is historical. While the building takes you to the end of the 18th century, the artifacts, paintings, and other things that you see here will be belonging to the 17th century.
10.Gilded crown – ending point of Stockholm scavenger hunt and city tour
A 165 meters long bridge that connects Stockholm to Blasieholmen provides amazing views over the water at both ends. An amazing thing about it is that there is a Gilded Crown on the bridge. This is one of the most popular tourist attractions and an amazing location to end your scavenger hunt trip as well.
You might also be interested in Oslo, Copenhagen, Reykjavik or Helsinki