Introduction
Highlights
Information
Important
Locations
Introduction
Colmar scavenger hunt and city tour
Colmar scavenger hunt and city tour was created to offer you the best way to explore a beautiful city of France.
Picturesque half-timbered houses, romantic canals, flower-laden windowsills, a labyrinth of cobblestone lanes and delicious food: come to Colmar, one of the quaintest cities in Alsace, and enjoy its art of living!
Highlights
Explore Colmar, playing our scavenger hunt !
What to expect
Uncover the highlights with an interactive smartphone app. Solve location-based riddles on this walking tour.
Visit 10 of the most important attractions in the city as you walk. Stop and find clues at each attraction to reveal your next destination.
Enjoy the challenge of using logic, imagination, observation, and team spirit to finish the game.
Feel the thrill of completing each riddle. Start or pause the tour whenever you want. See the city at your own pace.
Read interesting information and facts. Stop to snap pictures as you go. Reveal an exciting a puzzle at the exterior of each attraction.
Information
Includes
Mobile app and login credentials
Self guided tour
Navigation
Important information about Colmar scavenger hunt
Average duration: 2 hours including total walking time 33 minutes
Walking Distance: 2.7 km
Supported languages: English, German, French, Italian, Spanish, Dutch
Museum admission fees: Visits to museums and other attractions do not require a ticket, as the puzzles are related to their outdoor areas. Admission is purely your choice.
Not suitable for…
Wheelchair users
People with mobility impairments
Unaccompanied children
What to bring
Weather-appropriate and comfortable clothing and shoes
Charged smartphone
Internet connection in case of the online-mobile application.
Important
What you need to know about Colmar scavenger hunt ?
No one will be waiting for you anywhere, it's just you and your smartphones!
You can start playing anytime, any day, every day! You can even pause your game and resume later or any other day within a year !
You can use one language per serial number. If your group is multilingual, you will need to buy more games if you need more languages.
There is no time limit for the game. You can complete it at any time at your own pace.
Our game is completely outdoor, so it depends on the weather. The game can continue on the same day or another day if it is interrupted.
Prefer to start the game in daylight, as the lack of light may make it difficult to solve puzzles. However, the game can still be played at night.
Children must be accompanied by an adult. It is a nice and very educational activity for them if an adult helps them solve the puzzles and explains them.
Puzzles do not require knowledge. Players must use their imagination, logic, combinatorial thinking and cooperation.
Every attraction hides a puzzle ! The puzzles are independent and not connected to each other through a story. The goal is for players to interact with the attractions and their surrounding areas !
Our game is completely covid19-free as it is an outdoor game!
Locations
Colmar scavenger hunt and city tour
Ending location: Bartholdi museum
You will visit:
Unterlinden Museum

Théâtre Municipal

Parc du Champ de Mars

The Roesselmann Fountain

Little Venice

The Fishmonger District

Ancienne Douane

Église Saint-Matthieu

Musée Bartholdi

and more
St.Martin's Church – starting point of Colmar scavenger hunt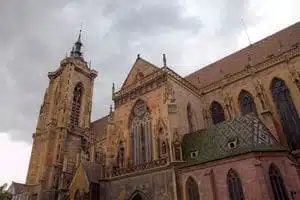 Unterlinden Museum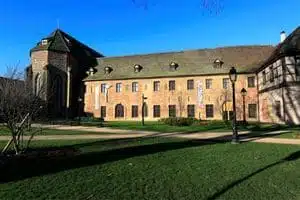 This is one of the most exceptional museums of Colmar. It boasts an extensive assortment of artworks from the 13th century. The building itself is pretty noteworthy. It contains a well-preserved double-arcaded cloister. The museum has also expanded its galleries in 2015 with adjoining buildings occupying former municipal baths of the city.
You can now find a diverse artwork range here. However, Isenheim Chapel is the major highlight of the museum.
Overall, it's a must-visit place for anyone in Colmar.
Théâtre Municipal
Theatre Municipal de Colmar is a popular theater situated in Colmar in the Haut Rhin's French. department. It has circular rooms designed in the Italian theater's design. It also includes three galleries. The theater located in the Rue Kleber just next to the Unterlinden Museum.
Originally, the theater's building was constructed in 1849 in replacement of the Unterlinden convent's old part. The exterior of the building displays French style with 5 bays while the interior boasts Boulangé. It attracts about 30,000 attendants yearly.
Parc du Champ de Mars
Unlike other European cities, Colmar France doesn't boast the main square for people to hang out. However, people enjoy hanging out in one of the most amazing parks of Colmar that's Parc du Champ de Mars.
This is one of the most popular places to relax and enjoy with friends in the city. So, you can simply find a lot of people enjoying themselves there. In the shops around here, you can also find some of the tastiest food in Colmar.
The Roesselmann Fountain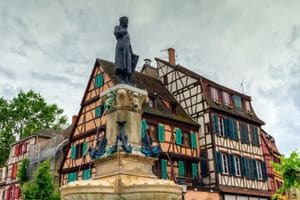 This is another amazing Auguste Bartholdi statue that was sculpted in 1888. This is a bronze statue above the fountain that represents Jean Roesselmann, the public judge. He has a prominent position in Colmar's history. It is because Auguste Bartholdi passed away while defending the Colmar against Strasbourg's Bishop. He is also one of the first heroes of the Colmar.
The Germans took away the statue in 1943. However, it was reinstalled here after restoration in 1945. It is now placed on a white stone monument containing four fishes around for decoration. Overall, it's beautiful to see.
Little Venice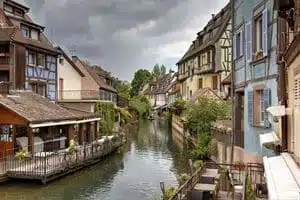 No matter what's your visit duration to Colmar France, Little Venice here is a must-visit place for everyone. It's a stretch of beautiful half-timbered buildings with a canal. Overall, this is one of the most picturesque places to visit in Colmar. Walking along the canal, you will feel like you have stepped into a fairytale. It is because the place is truly magnificent with rustic homes in sherbet color.
The Fishmonger District
Well, the old Fishmonger District is the place where fishermen used to live centuries ago. The fishermen used to be a powerful entity in Colmar's history. However, at present this historic area of the city has become another vestige of the ancient professions of the town.
Ancienne Douane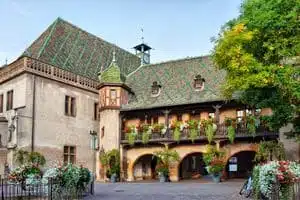 This destination has a very strategic position just near the Place du Marché-aux-Fruits. This is a 15th-century building aka Ancienne Douane. It was once a political and economic center of Colmar. However, at present, the area is neighbored by the merchant houses that are half-timber with a fountain in the center.
Currently, the plaza often hosts wine tastings, fairs, and festivals. So visiting it can be a treat itself for you.
Église Saint-Matthieu
This church has served as a Protestant house of worship of Colmar. Just like Dominican Church, its building boasts an austere style that's common for mendicant orders of Alsace. Franciscans constructed it in early 1292. However, the construction completed after a century.
Most recently, the building has been used for Protestant worship. Additionally, it also boasts a venue for concerts due to its beautiful acoustics.
Musée Bartholdi – ending point of Colmar scavenger hunt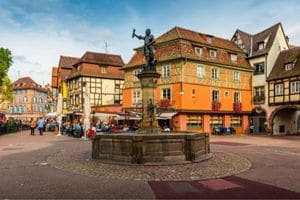 Frederic-Auguste is the most famous son of Colmar. The city now has a museum dedicated to the sculptures of Frederic-Auguste in the home where he was born.
He is popular as a creator of the Statue of Liberty. Along with that, he has also made large-scaled other sculptures throughout his career.
However, the three-story Musée Bartholdi includes sketches and models of his major artworks. So, it's a must-visit place for anyone who has an interest in the artist and his magnificent work.
Instead of Colmar scavenger hunt, you might be also interested in Paris, Strasbourg , Basel or Lyon?