Description
Introduction
Information
Important
Locations
Introduction
Heidelberg outdoor escape game
Heidelberg escape game! Let's go outdoors! What about playing an outdoor escape game in Heidelberg? You will have the chance to wander around the streets solving riddles! You will explore this amazing city in an interactive and unique way! Everything in your mobile phone, in your language and in a very cheap price! What a great chance to take some beautiful photos too!
Information
Can you solve the riddles and escape from Heidelberg? Heidelberg escape game
The mobile app provides :
Navigation and automatic help system with 3 levels of hints.
Total points and leaderboard.
Time is with you and not against you. Solve the riddles at your own pace.
You can pause your game any time and continue later or another day.
Each month, the no1 team of the leaderboard will win a free game for any city we provide.
Average duration of Heidelberg escape game :2 hours including total walking time of 30 minutes
Supported languages: English, Deutsch, Spanish, Italian, French, Dutch
Level of difficulty : Always hard 🙂 , but hints will always be there and the code of the riddle in order to be able to continue playing.
Important
What you need to know about Heidelberg escape game ?
No one will be waiting for you anywhere, it's just you and your smartphones!
You can start playing anytime, any day, every day! You can even pause your game and resume later or any other day within a year !
You can use one language per serial number. If your group is multilingual, you will need to buy more games if you need more languages.
The outdoor escape games provide total points and a leaderboard and are a bit more difficult than the city hunt + city tour.
There is no time limit for the game. You can complete it at any time at your own pace.
Our game is completely outdoor, so it depends on the weather. The game can continue on the same day or another day if it is interrupted.
Prefer to start the game in daylight, as the lack of light may make it difficult to solve puzzles. However, the game can still be played at night.
Children must be accompanied by an adult. It is a nice and very educational activity for them if an adult helps them solve the puzzles and explains them.
Puzzles do not require knowledge. Players must use their imagination, logic, combinatorial thinking and cooperation.
Every attraction hides a puzzle ! The puzzles are independent and not connected to each other through a story. The goal is for players to interact with the attractions and their surrounding areas !
Our game is completely covid19-free as it is an outdoor game!
Locations
Heidelberg escape game
Ending location: Karlsplatz
You will visit:
House for giant

Kurpfälzisches Museum

Universitätsplatz

Jesuitenkirche

Marktplatz

Brückenaffe

Old Bridge Heidelberg

Kornmarkt

Karlsplatz

Altstadt and more
·        House for giant – starting point of Heidelberg escape game
Heidelberg is a city that has a lot of castles because of its rich architectural history. So, there are a lot of castle ruins and historical sites, and it is what this city is famous for. While
There is no better place than this one to start exploring Heidelberg. This location was built in the early 18th century days as is shown by the architectural style of the building. It was used as a palace for a long time and since the 20th century, it has become the University of Heidelberg.
·        Kurpfälzisches Museum
This museum of art and archeology was built in the 1870s and it contains a lot of artifacts related to artists and historians of Heidelberg as well as some other parts of Germany.
·        Universitätsplatz
It is known as the university square that came into being in 1928. This landmark in Heidelberg is a place that has a lot of diversity as each side has different things to explore. However, one boundary of the square has the university buildings, and it is the reason it is known as the university square.
·        Jesuitenkirche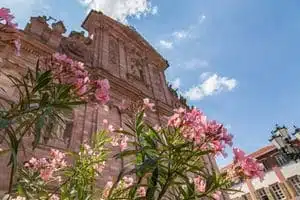 It is the largest church present in Heidelberg, and it not only has a stunning exterior, but the interior looks amazing as well. The whitewashed interior looks like no other building. Now known as the main catholic church, it was built in 1275 which took more than 4 decades to complete.
·        Marktplatz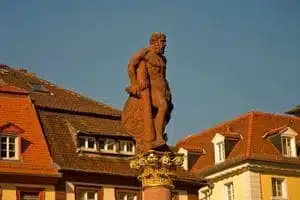 Buying traditional and cultural items from Heidelberg cannot be more fun than this. This place is the market square in Heidelberg where you can explore some new as well as old shops. Along with shopping, you can also stop by for some cultural feasts from the local sellers.
·        Brückenaffe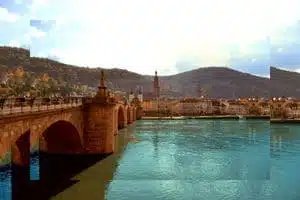 A bronze statue that dates back to the 15th century can be the perfect background for your pictures from the trip. It used to be a stone structure in the early days, and it was made to demonstrate that the Bishop has no power. This statue also gives an idea of self-reflection to the people of Heidelberg.
·        Old Bridge Heidelberg
So, now you have had a lot of architectural and historic exploring and it is the right time for some scenic beauty. This bridge can be the right spot for that. The bridge that was built back in 1788 is still one of the most visited places in Heidelberg.
·        Kornmarkt
When you visit the old town of Heidelberg you have to visit this square to see what the old town looks like. This place dates back to the 13th century and the square has some important buildings in its surroundings including the town hall, Prinz Carl building, Graimberg Palace, and more. So, by visiting this place you can explore all of these places.
·        Karlsplatz
It is a place that was laid down in 1805 and in 1978 the fountain present in the square was made. This public place not only has amazing historical importance, but the architectural beauty of the place speaks for itself as well.
·        Altstadt – ending point of Heidelberg escape game
Last but not least, Altstadt brings you to the Castle and it starts from Sofienstrasse. It is an old town that has a university in the middle as well and there are a lot of old buildings as well some old shops running down the families. While exploring this place you can visit the old Theodor Bridge as well.