Krakow hunt + city tour
4 € - 12 €
Description
Introduction
Highlights
Information
Important
Locations
Introduction
Krakow scavenger hunt and city tour
Krakow scavenger hunt and city tour was created to offer you the best way to explore a beautiful city of Poland.
Overflowing with legends, priceless historical architecture and art, as well as fabulous leisure and entertainment options, Poland's historical capital,  whose centre has been a UNESCO World Heritage Site for over 40 years, captivates and enchants visitors at first sight. It's really not hard to see why… 
Krakow scavenger hunt is a nice and unique way to explore this historical city.
Highlights
Explore Krakow, playing our scavenger hunt !
What to expect
Uncover the highlights with an interactive smartphone app. Solve location-based riddles on this walking tour.
Visit 10 of the most important attractions in the city as you walk. Stop and find clues at each attraction to reveal your next destination.
Enjoy the challenge of using logic, imagination, observation, and team spirit to finish the game.
Feel the thrill of completing each riddle. Start or pause the tour whenever you want. See the city at your own pace.
Read interesting information and facts. Stop to snap pictures as you go. Reveal an exciting a puzzle at the exterior of each attraction.
Information
Includes
Mobile app and login credentials
Self guided tour
Navigation
Important information about Krakow scavenger hunt
Average duration: 2 hours including total walking time 40 minutes
Supported languages: English, German, French, Italian, Spanish, Polish, Dutch
Museum admission fees: Visits to museums and other attractions do not require a ticket, as the puzzles are related to
their outdoor areas. Admission is purely your choice.
Not suitable for…
Wheelchair users
People with mobility impairments
Unaccompanied children
What to bring
Weather-appropriate and comfortable clothing and shoes
Charged smartphone
Internet connection in case of the online-mobile application.
Important
What you need to know about Krakow scavenger hunt ?
No one will be waiting for you anywhere, it's just you and your smartphones!
You can start playing anytime, any day, every day! You can even pause your game and resume later or any other day within a year !
You can use one language per serial number. If your group is multilingual, you will need to buy more games if you need more languages.
There is no time limit for the game. You can complete it at any time at your own pace.
Our game is completely outdoor, so it depends on the weather. The game can continue on the same day or another day if it is interrupted.
Prefer to start the game in daylight, as the lack of light may make it difficult to solve puzzles. However, the game can still be played at night.
Children must be accompanied by an adult. It is a nice and very educational activity for them if an adult helps them solve the puzzles and explains them.
Puzzles do not require knowledge. Players must use their imagination, logic, combinatorial thinking and cooperation.
Every attraction hides a puzzle ! The puzzles are independent and not connected to each other through a story. The goal is for players to interact with the attractions and their surrounding areas !
Our game is completely covid19-free as it is an outdoor game!
Locations
Krakow scavenger hunt and city tour
You will visit:
Town hall
The Cloth Hall
St. Mary's Basilica
St. Florian's Gate
Kraków Barbican
Plac Szczepański
Saints Peter and Paul Church
Wawel Cathedral
Wawel Royal Castle
Smok Wawelski and more…
Townhall – starting point of Krakow scavenger hunt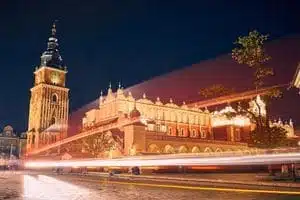 Also known as Ratusz is a town hall in Krakow, demolished in 1820. It has the construction of bricks in 1316. However, it used to be an administrative hub of the city. Also, it has served from the 14th to earlier 19th century as a seat of the great council mayor and magistrate.
Still, the building is housing multiple main offices of the city.
The Cloth Hall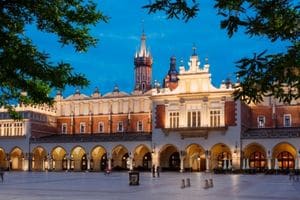 This is one of the key symbols of the city existed since the 1200s in some form. However, the Renaissance monument that you can find in the Main Square's center at present is from the 1500s.
Most importantly, the Cloth Hall is still a marketplace. So, this can be your very first gift-buying place in Krakow.
St. Mary's Basilica – Krakow scavenger hunt
The building has built on the foundation of a previous church. However, the current Mary's Basilica is a Gothic Wonder of the brickwork that dates back to the earlier 14th century. The construction of the building was completed in 1484. However, a German sculptor Veit Stoss carved the church for more than 7 years with lime-wood sculpted drawings.
St. Florian's Gate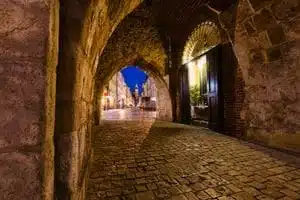 You can find St. Florian's Gate at Florinska Street's top. You can walk around the ancient medieval walls of the Florian's Gate that line a part of the Old Town. Most importantly, walking on the top of these walls is pretty quick, and affordable. It can let you have an interesting view down to St. Mary's Basilica.
Kraków Barbican – Krakow scavenger hunt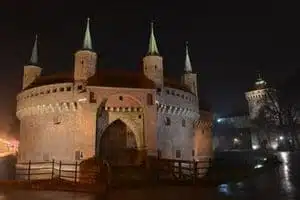 So, the Krakow Barbican is a defensive fort with a round structure. The Barbican sits just outside the Old Town. You can simply have a walk on the loop of the interior. Most importantly, visiting this fort is commonly covered with the same ticket as visiting Florian's Gate. So, if you have visited the walls of Florian's Gate, you can also walk inside the fort to know more about it.
Plac Szczepański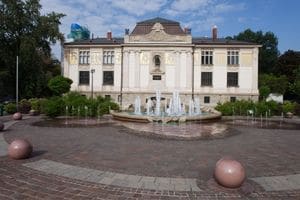 This is a beautiful square in Krakow, located between Św. Tomasz, and Planty. The establishment of this square dates back to the earlier 19th century. It was constructed after the medieval church of St. Stephen's demolition. Most importantly, paying a visit to this square is also important because it has numerous historical buildings in the surrounding. So, visiting all of these prominent destinations would become easier for you.
So, you can simply start your tour to Krakow from this square.
Saints Peter and Paul Church
St. Peter and Paul Church completed within 20 years only. The building dates back to the beginning of the 17th century. Both inside and outside, the church is completely a work of Italians. The design of the façade is from dolomite. It also contains the statues of saints in the church's niche. This church also has had Foucault's Pendulum. This has hung there since 1949.
Wawel Cathedral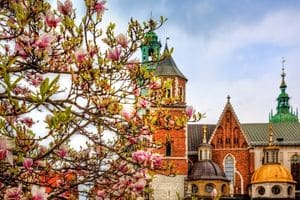 This is a place of coronation and burial of various Polish national heroes, cultural figures, and monarchs. The present building of the cathedral dates back to the 14th century. Due to various burial Royal Chapels, the building has taken various captivating styles.
Wawel Royal Castle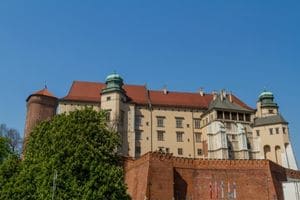 This castle is a monument of immense national importance. The castle boasts of the architecture of virtually every style from Baroque to Romanesque. From the 13th century to the 17th century, the Castle has also been used as the King of Poland's seat. While, Castle got damaged in the 1650s, by the Swedish invasion.
It currently occupies a marvelous armory and treasury. So, you must visit the Castle to see these.
Smok Wawelski (Wawel Dragon) – ending point of Krakow scavenger hunt
Also known as Dragon of Wawel Hill, or Wawel Dragon is a popular dragon in Krakow. This monument is based on the famous dragon tale who lived in a cave in Wawel Hill's foot along the Vistula River. However, you can still find the dragon at the entrance of the cave that breath fires. While it dates back to 1972. You can also find the bones hanging with chains and assumed to date back to the ice age.
You might also be interested in Warsaw
Only logged in customers who have purchased this product may leave a review.