Warsaw hunt+city tour
4 € - 12 €
Description
Introduction
Highlights
Information
Important
Locations
Introduction
Warsaw scavenger hunt and city tour
Warsaw scavenger hunt and city tour was created to offer you the best way to explore the capital of both the Mazovia province and of Poland itself, this is a truly extraordinary city.
Situated right in the heart of Europe, at the intersection of Europe's east-west and north-south transport routes, Warsaw is major economic, academic, cultural and tourist hub with a dazzling array of historical sites and tourist attractions that captivates everyone who visits.
Warsaw scavenger hunt is surely the best way to explore the city!
Highlights
Explore Warsaw, playing our scavenger hunt and city tour!
What to expect
Uncover the highlights with an interactive smartphone app. Solve location-based riddles on this walking tour.
Visit 10 of the most important attractions in the city as you walk. Stop and find clues at each attraction to reveal your next destination.
Enjoy the challenge of using logic, imagination, observation, and team spirit to finish the game.
Feel the thrill of completing each riddle. Start or pause the tour whenever you want. See the city at your own pace.
Read interesting information and facts. Stop to snap pictures as you go. Reveal an exciting a puzzle at the exterior of each attraction.
Information
Includes
Mobile app and login credentials
Self guided tour
Navigation
Important information about Warsaw scavenger hunt
Average duration: 2 hours including total walking time 1 hour
Supported languages: English, German, Spanish, Italian, French, Russian, Polish, Ukrainian
Museum admission fees: Visits to museums and other attractions do not require a ticket, as the puzzles are related to
their outdoor areas. Admission is purely your choice.
Not suitable for…
Wheelchair users
People with mobility impairments
Unaccompanied children
What to bring
Weather-appropriate and comfortable clothing and shoes
Charged smartphone
Internet connection in case of the online-mobile application.
Important
What you need to know about Warsaw scavenger hunt ?
No one will be waiting for you anywhere, it's just you and your smartphones!
You can start playing anytime, any day, every day! You can even pause your game and resume later or any other day within a year !
You can use one language per serial number. If your group is multilingual, you will need to buy more games if you need more languages.
There is no time limit for the game. You can complete it at any time at your own pace.
Our game is completely outdoor, so it depends on the weather. The game can continue on the same day or another day if it is interrupted.
Prefer to start the game in daylight, as the lack of light may make it difficult to solve puzzles. However, the game can still be played at night.
Children must be accompanied by an adult. It is a nice and very educational activity for them if an adult helps them solve the puzzles and explains them.
Puzzles do not require knowledge. Players must use their imagination, logic, combinatorial thinking and cooperation.
Every attraction hides a puzzle ! The puzzles are independent and not connected to each other through a story. The goal is for players to interact with the attractions and their surrounding areas !
Our game is completely covid19-free as it is an outdoor game!
Locations
Warsaw scavenger hunt and city tour
You will visit:
New town market
Krasinski palace
Barbican
Old town market
Royal castle
National Opera
Unknown soldier monument
Saxon garden
Obelisk Drogowskaz
and more
New town market – starting point of Warsaw scavenger hunt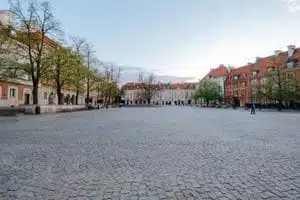 New Town Market is the main square of the city's new town. It dates back to before 1408 and is considered as Warsaw New Town's main square. Initially, it had a rectangular shape. However, a wooden hall built here in the 15th century along with the residential buildings in the square's center. After the town hall was damaged by fire in 1544, it gets reconstructed with bricks.
Krasinski palace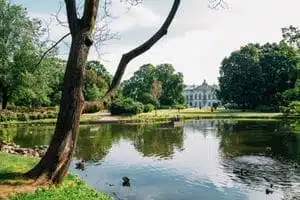 Also known as the Palace of the Commonwealth, is a beautiful baroque palace in Warsaw. Originally, it dates back to 1677–83. However, it also damaged heavily in the second world war. So, reconstruction work took place in the 20th century. It has been used as a seat of the treasury commission for years. However, currently, it is a part of the special collections of the Polish National Library.
Barbican
This is the last remnant of the extensive network of fortifications, gates, and walls used to surround the city, once. It dates back to 1540. While the designer of this landmark was Jan Baptist; an Italian Renaissance architect. It has also used for the defensive purpose as well in 1656 during Swedish Invasion.
However, just like other landmarks in Warsaw, Barbican also got destroyed during the second world war. Therefore, its reconstruction took place in the 1950s. The present design has its base on 17th-century impressions.
Old town market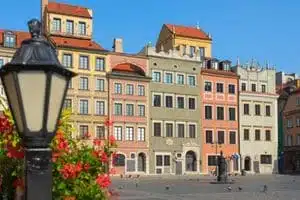 Before the creation of the New Town market in the 18th century, the old town marketplace was the center of commercial life in the city. Even more, the old town market is the most historic part of the entire old town. It has tall baroque and Renaissance merchant houses in the surrounding boasting spectrum of colors. Most importantly, all these buildings are post-war replicas. While the mermaid fountain in the center of the square holds a special place in the city.
Royal castle
At the Old Town's southern entrance, you can find the façade of Baroque and Mannerist style castle. This Royal castle has faced 2 demolitions. While the last reconstruction of this building occurred in the 1980s. since then, it has turned into a museum where you can see the 16th-century King's apartments and other popular landmarks of the city.
Even more, it also contains a collection of paintings by Rembrandt, van Dyck, Gainsborough, and Joos van Cleve from the 16th to 18th centuries.
National Opera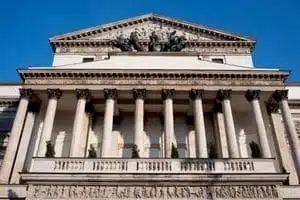 National Opera aka the granddaddy of all the Polish Opera houses located in the city. Originally, it dates back to 1833. Most importantly, it has been providing top-class spectacular productions since its inception. Even more, this National Opera doesn't only deal with classical opera. Instead, you can also check out other concerts as well from Tuesday to Sunday here.
Unknown soldier monument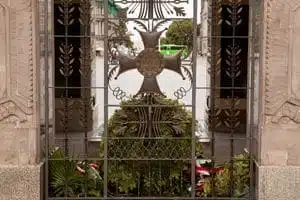 This is a tomb of unknown soldiers who have fought for Poland. It dates back to 1925. While, the monument housing the tomb belonged to Saxon Palace, once. However, the tomb is watched by the Honour Guard Battalion Representatives of the Polish Armed Forces. The guards changed here at every hour's stroke.
Saxon garden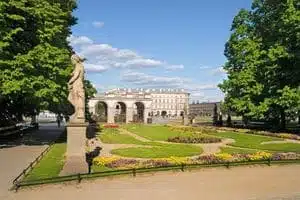 This beautiful garden opened its gates in 1727 for the public. With that, it became one of the very first public parks in the world. The Park has landscaped for Saxon Palace in the 17th century that lost in World War II. It has developed in the Versailles style. However, in the 19th century it turned into an English-style landscape.
Obelisk Drogowskaz – ending point of Warsaw scavenger hunt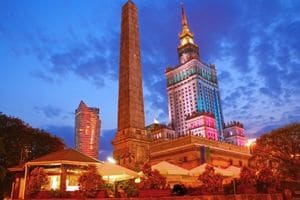 Obelisk Drogowskaz is a beautiful but hidden gem of Warsaw. It is a tall, narrow tapering, the 4-sided monument that has a pyramid-like shape at its end. Originally, its builders used to call it tekhenu. However, later Greek started to use term Obelisk to describe this historical monument.
Only logged in customers who have purchased this product may leave a review.