Description
Introduction
Highlights
Information
Important
Locations
Introduction
Munich scavenger hunt and city tour
Munich scavenger hunt and city tour was created to offer you the best way to explore the Capital of the state of Bavaria and lies near the foot of the German Alps.
Munich is Germany's second most popular destination after Berlin, and has something to offer to everyone, be it culture, hi-tech, parks and greenery, night-life. Also Munich is rich of architecture, beer gardens ans shopping!
Highlights
Explore Munich, playing our scavenger hunt and city tour!
What to expect
Uncover the highlights with an interactive smartphone app. Solve location-based riddles on this walking tour.
Visit 10 of the most important attractions in the city as you walk. Stop and find clues at each attraction to reveal your next destination.
Enjoy the challenge of using logic, imagination, observation, and team spirit to finish the game.
Feel the thrill of completing each riddle. Start or pause the tour whenever you want. See the city at your own pace.
Read interesting information and facts. Stop to snap pictures as you go. Reveal an exciting a puzzle at the exterior of each attraction.
Information
Includes
Mobile app and login credentials
Self guided tour
Navigation
Important information about Munich scavenger hunt
Average duration: 2 hours including total walking time 1 hour
Supported languages: English, German, Spanish, Italian, French, Dutch, Polish
Museum admission fees: Visits to museums and other attractions do not require a ticket, as the puzzles are related to
their outdoor areas. Admission is purely your choice.
Not suitable for…
Wheelchair users
People with mobility impairments
Unaccompanied children
What to bring
Weather-appropriate and comfortable clothing and shoes
Charged smartphone
Internet connection in case of the online-mobile application.
Important
What you need to know about Munich scavenger hunt ?
No one will be waiting for you anywhere, it's just you and your smartphones!
You can start playing anytime, any day, every day! You can even pause your game and resume later or any other day within a year !
You can use one language per serial number. If your group is multilingual, you will need to buy more games if you need more languages.
There is no time limit for the game. You can complete it at any time at your own pace.
Our game is completely outdoor, so it depends on the weather. The game can continue on the same day or another day if it is interrupted.
Prefer to start the game in daylight, as the lack of light may make it difficult to solve puzzles. However, the game can still be played at night.
Children must be accompanied by an adult. It is a nice and very educational activity for them if an adult helps them solve the puzzles and explains them.
Puzzles do not require knowledge. Players must use their imagination, logic, combinatorial thinking and cooperation.
Every attraction hides a puzzle ! The puzzles are independent and not connected to each other through a story. The goal is for players to interact with the attractions and their surrounding areas !
Our game is completely covid19-free as it is an outdoor game!
Locations
Munich scavenger hunt and city tour
Ending location: Isartor
You will visit:
Caroline's Plaza

Odeonsplatz

Max Joseph Platz

Frauenkirche

St Michael

Marienplatz

Asamkirche

Victualsmarket

Isartor

and more
Caroline's Plaza
Caroline's square is a circular, broad square surrounded by grand houses with colorful flowers in summer. This pays respect to the 30,000 Bavarian troops who were a part of the ill-fated Russian conquest of Napoleon. It consists of metal plates and Leo von Klenze was the designer of this landmark.
Odeonsplatz
For anyone who wants to spend more time in Altstadt, Odeonsplatz is a must-visit. It is because this central plaza is one of the prominent landmarks of the city. Most importantly, it contains historically significant and interesting attractions also.
Even more, two of the major thoroughfares of Munich Briennerstraße and Ludwigstraße also begin at this plaza. Besides that, this plaza is also home to the Field Marshals' Hall and Theatinerkirche. Theatinerkirche is a beautiful and magnificent Italian baroque church. While Residenz is the major highlight of the plaza, it's a palace that's now open for public visits.
Overall, a visit to Odeonsplatz is worth considering in Munich.
Max Joseph Platz
This is a large square in central Munich named after Maximilian Joseph king. It also serves as the royal avenue Maximilianstraße's western starting point. This square was built with National Theatre Munich's erection at its east side and was opened in 1818.
Still, the architecture of Max Joseph Platz is attractive for visitors here.
Frauenkirche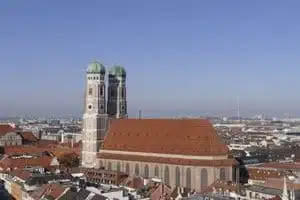 The Frauenkirche in Munich is another prominent landmark here that is towering over the rest of the city. Frauenkirche dates back to the 15th century. The landmark took 20 years to complete. However, some of its features were postponed because of a money problem. However, it serves as the cathedral for Munich's Archdiocese and is also home to the archbishop. It can hold up to 20,000 worshipers.
The cathedral is also popular because of the Dukes of Bavaria's resting place and its bells.
St Michael
This is the largest Renaissance church completed in 1957. It has a high-vaulted barrel roof in the nave. While, the triumphal arch's pattern at the entrance continues in the arches of the side chapels, arches, and galleries. While the alter is three-story and contains an altarpiece from 1587.
This church has a historical significance because the House of Wittelsbach's 41 members is buried here.
Marienplatz
This is another important square in Munich that draws thousands of visitors daily. People mainly come here to visit New Town Hall that's dating back to 1874. The City Hall has also built in the Gothic Revival style. It features multiple Wittelsbach rulers on its main façade. While on the lower level, you can spot statues of 4 Bavarian kings.
This highly ornate attraction is a magnet for visitors in itself. However, Glockenspiel's thrice-daily performance is what draws most of the tourists here.
Asamkirche
The Asamkirche aka Asam Church; built in the 18th-century middle by Cosmas Damian Asam and Egid Quirin Asam. Both brothers built this church as a private place of worship for them. However, later it opened for the city's residents due to increasing public interest.
Egid was a sculptor and architect. While Cosmas painted frescoes. This beautiful church boasts late Baroque style.
The Christmas eve service here is always an unforgettable experience. It is because the church looks amazing in candlelight.
Victuals market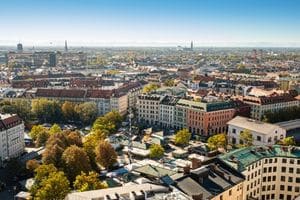 Just next to the Marienplatz, you can find Victuals market in Munich's city center. Many of the vendors in the market have a family history of shops here and making it a longstanding tradition. However, many locals visit this market to shop for fresh produces.
You can also visit to buy some homemade baked items, soups, herbs, and nuts here. Overall, it's a must-visit place for foodies.
Isartor – ending point of Munich scavenger hunt
The Isartorplatz aka Isartor is one of the remaining historical gates of Munich. It also hosts famous comedian Karl Valentin's hilarious legacy. Most importantly, it features a giant red wine punch bowl and a back-to-front clock.
It also spares the square with the same name as the famous shopping street.