Hamburg hunt+city tour
4 € - 12 €
Description
Introduction
Highlights
Information
Important
Locations
Introduction
Hamburg scavenger hunt and city tour
Hamburg scavenger hunt and city tour was created to offer you the best way to explore one of the most beautiful cities in Germany.
The biggest port, the most media companies, the biggest nightclub district, the biggest warehouses, the most famous musicals -Hamburg is a city of superlatives. The world is at home in Hamburg. For centuries, trade and shipping have ensured a cosmopolitan climate in this city on the water.
Hamburg is a must visit city and our Hamburg scavenger hunt the best way to explore it!
Highlights
Explore Hamburg, playing our scavenger hunt and city tour!
What to expect
Uncover the highlights with an interactive smartphone app. Solve location-based riddles on this walking tour.
Visit 10 of the most important attractions in the city as you walk. Stop and find clues at each attraction to reveal your next destination.
Enjoy the challenge of using logic, imagination, observation, and team spirit to finish the game.
Feel the thrill of completing each riddle. Start or pause the tour whenever you want. See the city at your own pace.
Read interesting information and facts. Stop to snap pictures as you go. Reveal an exciting a puzzle at the exterior of each attraction.
Information
Includes
Mobile app and login credentials
Self guided tour
Navigation
Important information about Hamburg scavenger hunt
Average duration: 2 hours including total walking time 64 minutes
Walking Distance: 4.9 km
Supported languages: English, German, Spanish, Italian, French, Dutch, Polish
Museum admission fees: Visits to museums and other attractions do not require a ticket, as the puzzles are related to
their outdoor areas. Admission is purely your choice.
Not suitable for…
Wheelchair users
People with mobility impairments
Unaccompanied children
What to bring
Weather-appropriate and comfortable clothing and shoes
Charged smartphone
Internet connection in case of the online-mobile application.
Important
What you need to know about Hamburg scavenger hunt ?
No one will be waiting for you anywhere, it's just you and your smartphones!
You can start playing anytime, any day, every day! You can even pause your game and resume later or any other day within a year !
You can use one language per serial number. If your group is multilingual, you will need to buy more games if you need more languages.
There is no time limit for the game. You can complete it at any time at your own pace.
Our game is completely outdoor, so it depends on the weather. The game can continue on the same day or another day if it is interrupted.
Prefer to start the game in daylight, as the lack of light may make it difficult to solve puzzles. However, the game can still be played at night.
Children must be accompanied by an adult. It is a nice and very educational activity for them if an adult helps them solve the puzzles and explains them.
Puzzles do not require knowledge. Players must use their imagination, logic, combinatorial thinking and cooperation.
Every attraction hides a puzzle ! The puzzles are independent and not connected to each other through a story. The goal is for players to interact with the attractions and their surrounding areas !
Our game is completely covid19-free as it is an outdoor game!
Locations
Hamburg scavenger hunt and city tour
Starting location:Townhall
Ending location:Hohe Bridge
You will visit:
St. Peter's Church
Chilehaus
St. Nikolai Memorial
St. Catherine's Church
International Maritime Museum
Kesselhaus Hamburg
Speicherstadtmuseum
Steinerner Orientteppich
Hohe Brücke and more
Town Hall – starting point of Hamburg scavenger hunt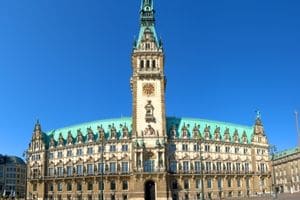 St. Peter's Church
Start exploring Hamburg with the St Peter's Church. It is one of the many formal cathedrals in Hamburg and its construction time was at the end of the 12th century. The church has a very attractive building that is 132 meters high providing it a unique look. Like most of the historical churches, it also has a Gothic Architectural style. This church can be the perfect choice for an image background from your trip to Hamburg.
Chilehaus
To continue exploring Hamburg you can visit Chilehaus which is an office building in Hamburg. The building is made of 10 stories, and it is an exceptional example of the architectural style of the 1920s. It is another building that provides stunning scenic beauty when you are in Hamburg.
St. Nikolai Memorial
You can call it somewhat of a multifunctional location making it a valuable part of your Hamburg exploration trip. It is a church, but it is now a renovated museum as well that holds artifacts related to world war 2. The church was dates back to the 12th century. It is also has the Gothic Revival Architectural style.
St. Catherine's Church
Hamburg has a lot of important churches and the St. Catherine's Church is among the 5 most principal Lutheran Churches. Like all other locations, the beauty lies here in the architectural design of this building as well.
The combination of Brick design and Gothic architecture makes a perfect combination. The building dates to the 13th century and it is the second oldest building in Hamburg that has been the preserve
International Maritime Museum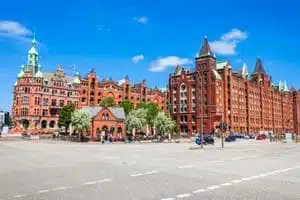 A private museum located in the HafenCity quarter holds an amazing collection of artifacts. It mainly has Peter Tamm's collection of uniforms, model ships, maritime art, and construction plans which add to a total of more than 40,000 items.
Apart from all of these things, there are more than a million photographs present here. Although it is a beautiful sight, it is not among the oldest as it was dates to 2008.
Kesselhaus Hamburg
Kesselhaus has been a UNESCO World Heritage site since 2015. It used to be a boiler that was the powerhouse for Speicherstadt. This building made in 1886 from red bricks is an important tourist attraction. The reason for it being a famous tourist attraction is that it has a very highly detailed model of the HafenCity which is made on a scale of 1:500 in an 8 by 4-meter form factor.
Speicherstadtmuseum
This museum in Hamburg is unique as compared to other museums. The reason is that unlike the artifacts it contains the goods and most importantly the tools which were collected from the warehouse companies.
A huge part of the collection of presents here comes from the coffee traders so you will be seeing a lot of those things. If you are up for exploring it from the inside, then it can be a good time, otherwise the external beauty is amazing as well.
Steinerner Orientteppich
The name translates to "Oriental Carpet made of Stone" and it is a recent artwork created that is worth seeing. It dates to 2019 and it is present on the Wilhelminenbrücke bridge. It is a Frank Raendchen's creation.
This is the location where you need to pause for the moment and look at its beauty. Moreover, you can get the sights of the places being upfront for some stunning scenic beauty.
Hohe Brücke – ending point of Hamburg scavenger hunt
The name of this location translates as "High Bridge". It is a bridge that spans to the old town in Hamburg, and it is 24 meters wide. The bridge itself has a pretty amazing history as it dates back in the 12th century. The interesting part is that the scenic beauty here is exceptional.
You might also be interested in Berlin, Munich or Copenhagen
Only logged in customers who have purchased this product may leave a review.