Description
Introduction
Information
Important
Locations
Introduction
Lisbon outdoor escape game
Lisbon escape game! Let's go outdoors! What about playing an outdoor escape game in Lisbon? You will have the chance to wander around the streets solving riddles! You will explore this amazing city in an interactive and unique way! Everything in your mobile phone, in your language and in a very cheap price! What a great chance to take some beautiful photos too!
Information
Can you solve the riddles and escape from Lisbon? Lisbon escape game
The mobile app provides :
Navigation and automatic help system with 3 levels of hints.
Total points and leaderboard.
Time is with you and not against you. Solve the riddles at your own pace.
You can pause your game any time and continue later or another day.
Each month, the no1 team of the leaderboard will win a free game for any city we provide.
Average duration:2 hours including total walking time of 60 minutes
Supported languages: English, Deutsch, Spanish, Italian, French, Portuguese, Dutch
Level of difficulty : Always hard 🙂 , but hints will always be there and the code of the riddle in order to be able to continue playing.
Important
What you need to know about Lisbon escape game ?
No one will be waiting for you anywhere, it's just you and your smartphones!
You can start playing anytime, any day, every day! You can even pause your game and resume later or any other day within a year !
You can use one language per serial number. If your group is multilingual, you will need to buy more games if you need more languages.
The outdoor escape games provide total points and a leaderboard and are a bit more difficult than the city hunt + city tour.
There is no time limit for the game. You can complete it at any time at your own pace.
Our game is completely outdoor, so it depends on the weather. The game can continue on the same day or another day if it is interrupted.
Prefer to start the game in daylight, as the lack of light may make it difficult to solve puzzles. However, the game can still be played at night.
Children must be accompanied by an adult. It is a nice and very educational activity for them if an adult helps them solve the puzzles and explains them.
Puzzles do not require knowledge. Players must use their imagination, logic, combinatorial thinking and cooperation.
Every attraction hides a puzzle ! The puzzles are independent and not connected to each other through a story. The goal is for players to interact with the attractions and their surrounding areas !
Our game is completely covid19-free as it is an outdoor game!
Locations
You will visit:
Miraduro de Sao Pedro Alcantara
Foz palace
Rossio square
Sao Roque church
Luis de Camoes square
Teatro Sao Carlos
Praca do comercio
Lisbon cathedral – ending point
and more
Miraduro de Sao Pedro Alcantara – starting point of Lisbon escape game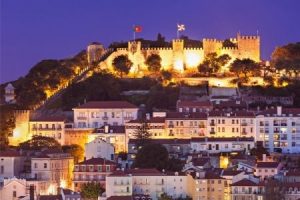 While you are in Lisbon, there is no place better than this to start your trip. Well, this is because of the beauty of this point in the city. Additionally, there is a map of the city entirely made with tiles that can give you an overview of everything that you are going to see ahead.
Not only this but there is a geometric garden here that contains a lot of busts from the Greco-Roman mythology which will provide some history exploring as well.
Foz Palace
When you get to the southeast of the city, there will be a Parka dos Restauradores. This is the square that is surrounded by a lot of buildings. However, out of all of those buildings, the best one is the Foz Palace. This is the building that will take you to the 18th century days.
Here not only the exterior is remarkable, but the interior has stunning views as well. Do not miss the chance to visit the local shops here.
Rossio square
This is one of the main and one of the biggest squares in Lisbon. This place takes you back to the 13th century days. It was under usage for popular events, revolts, celebrations, and such things in the older times. However, now things have changed, and it is one of the most popular tourist attractions in Lisbon.
Sao Roque church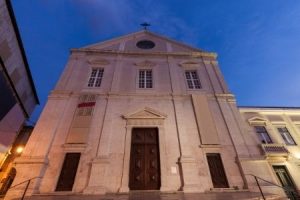 If you are up for some stunning views, then this is the best place for you. While the church looks okay from the outside, its real beauty lies on the inside. It is because this church has a stunning interior decoration. This decoration will make your jaw drop for sure.
One of the many reasons for this is that the interior takes you back to the 17th-century themes. An interesting thing about this church is that the main design of the church is "auditorium-church" which makes it unique from the inside.
Luis de Camoes square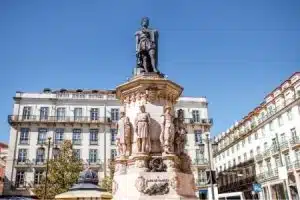 Apart from all the squares in Lisbon, this holds a lot of historic value for the people of Lisbon. At the same time, this is one of the most attractive tourist attractions. This is because this square has a bronze statue of the national poet. Under that statute, there are 8 smaller statues of the other popular personalities who historically link to the literature of this location.
Teatro São Carlos
This is an opera house that dates back to the late 18th century. The reason for the building of this opera house is that the older Tejo Opera House was got under destruction in the earthquake, so this was a replacement. Talking about the interior of the building, it has a sober façade. Well, the views of the building are exceptional from the inside and the outside as well.
Praca do comercio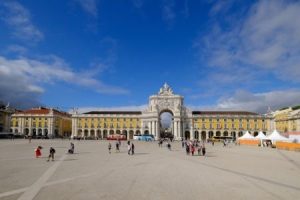 This is going to be the part of your trip where you will be exploring the most. It is because here everything is present in the best manner. The veers, the architecture, the public, and most importantly the shops and the locals here.
So, while you are enjoying the views of the harbor you can get something local or traditional to eat. This place also has the statue of King Jose that was made in the late 18th century.
Lisbon cathedral – ending point of Lisbon escape game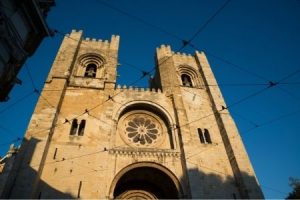 You can call this one of the oldest places that you will make a part of your Lisbon exploring tour. It is because this place will take you back to the 12th century days. Being a national monument, this building has gone through renovation several times. This means that you can experience how beautiful this building and area are.
You might also be interested in Porto
Only logged in customers who have purchased this product may leave a review.