Description
Introduction
Information
Important
Locations
Introduction
Madrid outdoor escape game
Madrid escape game! Let's go outdoors! What about playing an outdoor escape game in Madrid? You will have the chance to wander around the streets solving riddles! You will explore this amazing mega city in an interactive and unique way! Everything in your mobile phone, in your language and in a very cheap price! What a great chance to take some beautiful photos too!
Information
Can you solve the riddles and escape from Madrid? Madrid escape game
The mobile app provides :
Navigation and automatic help system with 3 levels of hints.
Total points and leaderboard.
Time is with you and not against you. Solve the riddles at your own pace.
You can pause your game any time and continue later or another day.
Each month, the no1 team of the leaderboard will win a free game for any city we provide.
Average duration:2 hours including total walking time of 60 minutes
Supported languages: English, Deutsch, Spanish, Italian, French, Dutch
Level of difficulty : Always hard 🙂 , but hints will always be there and the code of the riddle in order to be able to continue playing.
Important
What you need to know about Madrid escape game ?
No one will be waiting for you anywhere, it's just you and your smartphones!
You can start playing anytime, any day, every day! You can even pause your game and resume later or any other day within a year !
You can use one language per serial number. If your group is multilingual, you will need to buy more games if you need more languages.
The outdoor escape games provide total points and a leaderboard and are a bit more difficult than the city hunt + city tour.
There is no time limit for the game. You can complete it at any time at your own pace.
Our game is completely outdoor, so it depends on the weather. The game can continue on the same day or another day if it is interrupted.
Prefer to start the game in daylight, as the lack of light may make it difficult to solve puzzles. However, the game can still be played at night.
Children must be accompanied by an adult. It is a nice and very educational activity for them if an adult helps them solve the puzzles and explains them.
Puzzles do not require knowledge. Players must use their imagination, logic, combinatorial thinking and cooperation.
Every attraction hides a puzzle ! The puzzles are independent and not connected to each other through a story. The goal is for players to interact with the attractions and their surrounding areas !
Our game is completely covid19-free as it is an outdoor game!
Locations
Madrid escape game begins at Museo Nacional del Prado and ends at Royal palace
You will visit:
Museo Nacional del Prado
Puerta Felipe IV
El Retiro Park
Puerta de Alcalá
National Archaeological Museum
Cibeles Fountain
plaza del sol
Plaza Mayor
Mercado San Miguel
Plaza de Oriente
Royal Palace
Royal Theatre
1.Museo Nacional del Prado – starting point of Madrid escape game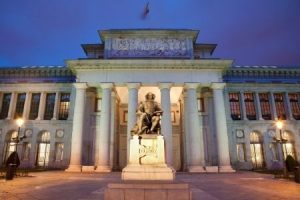 This is one of the world's largest museums. It has more than 3000 paintings on display. Also, it contains the work from famous artists, including Murillo, El Greco, Titian, Rubens, and more.
2.Puerta Felipe IV
This monumental gateway was designed in1690 by Melchor de Bueras. However, it has moved to the present location in 1880. To know more about its design and style, you must plan a visit to it.
3.El Retiro Park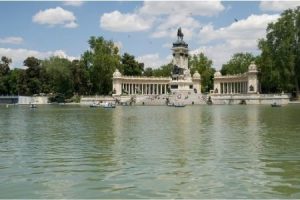 This beautiful park covering above 125 hectares is a worth-visiting park in Madrid. It is also comprising 15,000+ trees which make it a perfect green oasis in the city's heart.
4.Puerta de Alcalá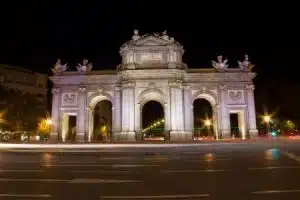 Standing under granite arches of Puerta de Alcala, this is the most iconic landmark of Madrid. It was built in 1778. However, the tremendous height and elegant Baroque architecture make it a popular tourist attraction.
5.National Archaeological Museum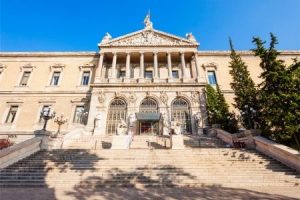 Do you want to find more about the ancient civilizations that inhibited the Iberian Peninsula from an early age? Visit the National Archaeological Museum. It is because the museum is featuring multiple collections of Spanish monarchs.
6.Cibeles Fountain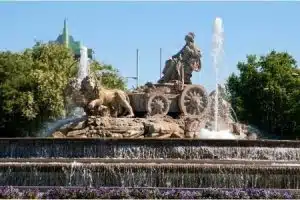 This is one of the most influential landmarks of the city, which can let you admire the architecture of the 18th century. The White marble fountain is serving as an iconic Madrid city symbol. You can even walk around the fountain square to admire impressive buildings here as well.
7.Plaza del sol
This has been the center scene of various historical events. However, the most popular of these are Spanish resistance to Napoleon. Also, the second Republic was announced here.
However, this is still the liveliest square to visit in Madrid.
8.Plaza Mayor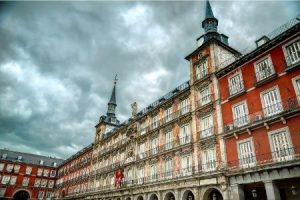 This was the beating heart of the city's cultural life, once. However, currently, it hosts various bullfights, tournaments, event execution, and markets. So, you can visit the place to experience the buzzing street life of Spain here.
9.Mercado San Miguel
Even though Mercado San Miguel was built in 1913 originally, however, renovated massively in 2009. It is still attracting numerous tourists with its popular tapas. However, there is a lot more to try here for visitors.
10.Plaza de Oriente
Admire the Royal Palace of Madrid from Plaza de Oriente. This plaza houses multiple gardens decorated beautifully with numerous varieties of plants. However, the lined limestone statues make it more spectacular.
11.Royal Palace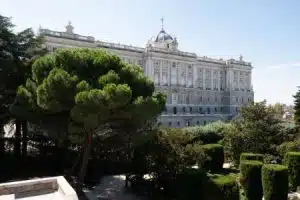 The Royal Palace is a massive building to explore with more than 2,000 extravagantly decorated rooms. This building is still one of the finest buildings in Madrid, which has a lot to offer for its visitors.
12.Royal Theatre
This is the major opera house of Madrid. The Royal Theater was founded in 1818. However, it was inaugurated in 1850.
Later, in 1988 it underwent a major refurbishment. However, at present, it is one of the large theaters in Europe that is hosting numerous large productions. Visitors can even enjoy a guided tour of the theater to explore more.
13. Church of Santa Teresa y San José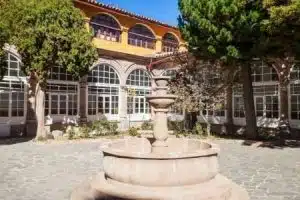 This is a catholic church and also known as the National Temple of Santa Teresa y San Jose. This has served as a parish church, a religious community residence, and also a nursing home. It was firstly built-in 1916. However, the building of this church is still marvelous and worth a visit.
14. Plaza de España
This tourist attraction is near the major attractions of the city. However, Miguel de Cervantes here is making your visit to this tourist attraction worthwhile. This architect-designed statue is of the architect itself and gives a spectacular view.
15. Temple of Debod – ending point of Madrid escape game
This Egyptian temple is pretty impressive and dating back to the 2nd century. Even though Madrid has the reconstructed building of the temple, but it has kept the original orientation of the building. To understand the meaning of its construction and know more about its history, you must visit the place.
You might also be interested in Barcelona, Toledo, Palma de Mallorca