Description
Introduction
Highlights
Information
Locations
Introduction
Venice outdoor escape game
Venice escape game! Let's go outdoors! What about playing an outdoor escape game in Venice ? You will have the chance to wander around the streets solving riddles! You will explore this amazing mega city in an interactive and unique way! Everything in your mobile phone, in your language and in a very cheap price! What a great chance to take some beautiful photos too!
Highlights
Can you solve the riddles and escape from Venice ? Venice escape game
The mobile app provides :
Navigation and automatic help system with 3 levels of hints.
Total points and leaderboard.
Time is with you and not against you. Solve the riddles at your own pace.
You can pause your game any time and continue later or another day.
Each month, the no1 team of the leaderboard will win a free game for any city we provide.
Average duration:2 hours including total walking time of 60 minutes
Supported languages: English, Deutsch, Spanish, Italian, French,Portuguese
Level of difficulty : Always hard 🙂 , but hints will always be there and the code of the riddle in order to be able to continue playing.
Information
What you need to know about Venice escape game ?
No one will be waiting for you anywhere, it's just you and your smartphones!
You can start playing anytime, any day, every day! You can even pause your game and resume later or any other day within a year !
You can use one language per serial number. If your group is multilingual, you will need to buy more games if you need more languages.
The outdoor escape games provide total points and a leaderboard and are a bit more difficult than the city hunt + city tour.
There is no time limit for the game. You can complete it at any time at your own pace.
Our game is completely outdoor, so it depends on the weather. The game can continue on the same day or another day if it is interrupted.
Prefer to start the game in daylight, as the lack of light may make it difficult to solve puzzles. However, the game can still be played at night.
Children must be accompanied by an adult. It is a nice and very educational activity for them if an adult helps them solve the puzzles and explains them.
Puzzles do not require knowledge. Players must use their imagination, logic, combinatorial thinking and cooperation.
Every attraction hides a puzzle ! The puzzles are independent and not connected to each other through a story. The goal is for players to interact with the attractions and their surrounding areas !
Our game is completely covid19-free as it is an outdoor game!
Locations
You will visit:
Campo San Polo

Rialto Bridge

Campo S. Salvador

Teatro La Fenice

St. Mark's Square

Saint Mark's Basilica

Doge's Palace

Chiesa di San Zaccaria

San Giorgio dei Greci and more…
Losing yourself in the charm of Venice is the main reason to visit this floating city. However, there are numerous must-visit attractions here that you need to consider.So, here we go with the places you will visit in Venice.
1.Basilica S.Maria Gloriosa dei Frari – starting point of Venice escape game
This is an impressive church of Gothic style. It is a building from the 14th century. However, the exterior of this church is minimal. It is because Franciscans wanted to depict their beliefs of living with poverty through its architecture. At the same time, the interior of this church is a completely different story.
Also, here you can see the work of famous Italian artists, which makes this church a must-see attraction here.
2.Campo San Polo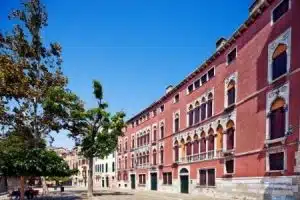 This is the largest Campo you can visit in Venice. At the same time, it is the second-largest Campo in Republic Square. Originally, dedicated to agriculture and grazing. However, it was paved entirely in 1493. At the same time, this is still the most popular carnival venues famous for open-air concerts and screenings during the film festival of Venice.
3.Rialto Bridge
This is one of the oldest and also the most lavishing bridge across Venice's Grand Canal. To enjoy the spectacular views and beath the crowd at Rialto Bridge, you must visit it earlier. Visiting this bridge at your leisure will never disappoint you.
4.Campo S. Salvador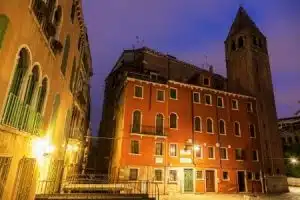 This is a Holy church in Venice. The first consecration of it happened in 1177 by Pope Alexander II. However, the present building of the church is by Giorgio Spavento. However, the façade of this church is by Giuseppe Sardi and was constructed in 1663.
Overall, this Campo contains multiple interesting things from architecture to history. So, you must plan a visit to it.
5.Teatro La Fenice
Blown to the Teatro La Fenice is an amazing experience to have. Also, you don't have to be an opera enthusiast to visit this Teatro. It is because this is one of the most important yet impressive venues to visit here, due to its impressive history in arts.
6.St. Mark's Square
Three of the major sites of Venice are located in this square. Most importantly, the Square itself is pretty majestic. The wooden platforms here are set to let the visitors move around. However, numerous restaurants and cafes are here as well. All of these things make this square a perfect place to take in the local culture and relax.
7. Saint Mark's Basilica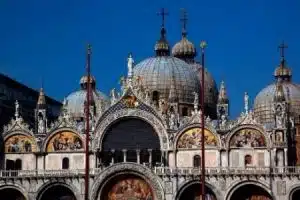 The St. Mark Basilica is undoubtedly a jewel in the crown of Venice. With the intricate facades, stunning mosaics, and multi-leveled domes, it is definitely a marvel of the architecture of Italo-Byzantine. Overall, this Basilica is worth your visit.
8.Doge's Palace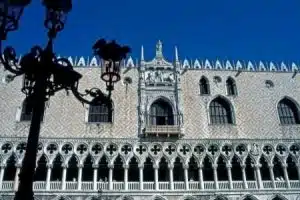 The wow factor of the Doge's Palace is in the majestic marble exterior of it. Tourists love to see classical art's aficionados and history buffs here. However, once you are here, the magical atmosphere and impressive classical art are something you will never want to leave.
9.Chiesa di San Zaccaria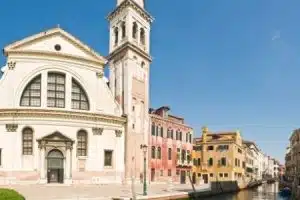 This is a beautiful site that's a combo of Renaissance and gothic style architecture. However, this church is dedicated to the author of the Bible. In contrast, the walls of the church are covered with artwork and lit up with giant gothic windows. This is pretty uncommon in the gothic architectural style.
Overall, this is the best place to visit in Venice to experience a unique mixture of art and architecture.