Venice scavenger hunt and city tour
Venice scavenger hunt  and city tour was created to offer you the best way to explore one of the most beautiful cities in the world.The romantic city of Venice is located in the Veneto region of Italy — one of the northernmost states. This ancient and historically important city was originally built on 100 small islands in the Adriatic Sea. Instead or roads, Venice relies on a series of waterways and canals. One of the most famous areas of the city is the world-renowned Grand Canal thoroughfare, which was a major centre of the Renaissance.
Explore Venice, playing our scavenger hunt and city tour!
It is an outdoor activity combining playing, walking and learning!
As a result, we created the best walk of the city, so you can learn everything about it and it's most important attractions.
You will solve riddles and move from one attraction to the other! Don't worry, using our in app navigation system, you will never get lost.
For the hard riddles, an automatic help system will help you move on!
Exploring Venice playing our scavenger hunt was never more fun!
Take photos, discover hidden gems and narrow streets!
This is the best activity for families, friends, couples, students! Finally, for the escape room lovers also!
Give Venice escape game a try!
Cost:  Each game costs 25 Euros, up to 4-5 players.
Average duration: 2 hours including total walking time 1 hour
Supported languages: English, German, Spanish, Italian, French, Chinese, Portugese
Museum admission fees: Visits to museums and other attractions of Venice do not require a ticket. The puzzles are related to
their outdoor areas. Admission is purely your choice.
You will visit:
Campo San Polo
Rialto Bridge
Campo S. Salvador
Teatro La Fenice
St. Mark's Square
Saint Mark's Basilica
Doge's Palace
Chiesa di San Zaccaria

San Giorgio dei Greci and more…
Losing yourself in the charm of Venice is the main reason to visit this floating city. However, there are numerous must-visit attractions here that you need to consider.So, here we go with the places you will visit in Venice.
1.Basilica S.Maria Gloriosa dei Frari – starting point of Venice scavenger hunt and city tour
This is an impressive church of Gothic style. It is a building from the 14th century. However, the exterior of this church is minimal. It is because Franciscans wanted to depict their beliefs of living with poverty through its architecture. At the same time, the interior of this church is a completely different story.
Also, here you can see the work of famous Italian artists, which makes this church a must-see attraction here.
2.Campo San Polo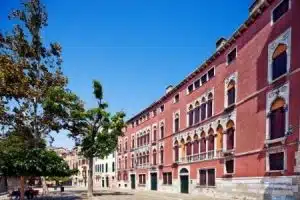 This is the largest Campo you can visit in Venice. At the same time, it is the second-largest Campo in Republic Square. Originally, dedicated to agriculture and grazing. However, it was paved entirely in 1493. At the same time, this is still the most popular carnival venues famous for open-air concerts and screenings during the film festival of Venice.
3.Rialto Bridge
This is one of the oldest and also the most lavishing bridge across Venice's Grand Canal. To enjoy the spectacular views and beath the crowd at Rialto Bridge, you must visit it earlier. Visiting this bridge at your leisure will never disappoint you.
4.Campo S. Salvador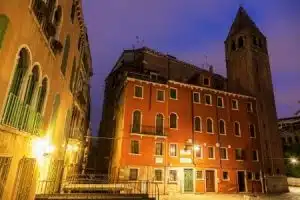 This is a Holy church in Venice. The first consecration of it happened in 1177 by Pope Alexander II. However, the present building of the church is by Giorgio Spavento. However, the façade of this church is by Giuseppe Sardi and was constructed in 1663.
Overall, this Campo contains multiple interesting things from architecture to history. So, you must plan a visit to it.
5.Teatro La Fenice
Blown to the Teatro La Fenice is an amazing experience to have. Also, you don't have to be an opera enthusiast to visit this Teatro. It is because this is one of the most important yet impressive venues to visit here, due to its impressive history in arts.
6.St. Mark's Square
Three of the major sites of Venice are located in this square. Most importantly, the Square itself is pretty majestic. The wooden platforms here are set to let the visitors move around. However, numerous restaurants and cafes are here as well. All of these things make this square a perfect place to take in the local culture and relax.
7. Saint Mark's Basilica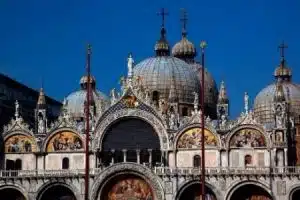 The St. Mark Basilica is undoubtedly a jewel in the crown of Venice. With the intricate facades, stunning mosaics, and multi-leveled domes, it is definitely a marvel of the architecture of Italo-Byzantine. Overall, this Basilica is worth your visit.
8.Doge's Palace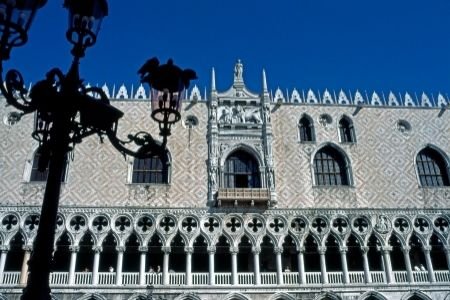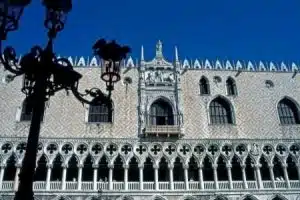 The wow factor of the Doge's Palace is in the majestic marble exterior of it. Tourists love to see classical art's aficionados and history buffs here. However, once you are here, the magical atmosphere and impressive classical art are something you will never want to leave.
9.Chiesa di San Zaccaria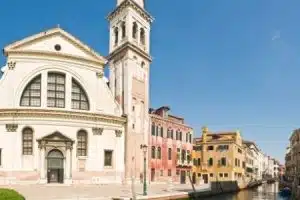 This is a beautiful site that's a combo of Renaissance and gothic style architecture. However, this church is dedicated to the author of the Bible. In contrast, the walls of the church are covered with artwork and lit up with giant gothic windows. This is pretty uncommon in the gothic architectural style.
Overall, this is the best place to visit in Venice to experience a unique mixture of art and architecture.
You might also be interested in Rome, Florence or Milan