Description
Introduction
Information
Important
Locations
Introduction
Bologna outdoor escape game
Bologna escape game! Let's go outdoors! What about playing an outdoor escape game in Bologna ? You will have the chance to wander around the streets solving riddles! You will explore this amazing city in an interactive and unique way! Everything in your mobile phone, in your language and in a very cheap price! What a great chance to take some beautiful photos too!
Information
Can you solve the riddles and escape from Bologna ? Bologna escape game
The mobile app provides :
Navigation and automatic help system with 3 levels of hints.
Total points and leaderboard.
Time is with you and not against you. Solve the riddles at your own pace.
You can pause your game any time and continue later or another day.
Each month, the no1 team of the leaderboard will win a free game for any city we provide.
Average duration:1.5 hours including total walking time of 30 minutes
Supported languages: English, Deutsch, Spanish, Italian, French, Dutch
Level of difficulty : Always hard 🙂 , but hints will always be there and the code of the riddle in order to be able to continue playing.
Important
What you need to know about Bologna escape game ?
No one will be waiting for you anywhere, it's just you and your smartphones!
You can start playing anytime, any day, every day! You can even pause your game and resume later or any other day within a year !
You can use one language per serial number. If your group is multilingual, you will need to buy more games if you need more languages.
The outdoor escape games provide total points and a leaderboard and are a bit more difficult than the city hunt + city tour.
There is no time limit for the game. You can complete it at any time at your own pace.
Our game is completely outdoor, so it depends on the weather. The game can continue on the same day or another day if it is interrupted.
Prefer to start the game in daylight, as the lack of light may make it difficult to solve puzzles. However, the game can still be played at night.
Children must be accompanied by an adult. It is a nice and very educational activity for them if an adult helps them solve the puzzles and explains them.
Puzzles do not require knowledge. Players must use their imagination, logic, combinatorial thinking and cooperation.
Every attraction hides a puzzle ! The puzzles are independent and not connected to each other through a story. The goal is for players to interact with the attractions and their surrounding areas !
Our game is completely covid19-free as it is an outdoor game!
Locations
You will visit:
The Two Towers

Biblioteca Salaborsa

Santa Maria della Vita

Salina Palace

Basilica dei protomartiri San Vitale

Piazza Minghetti

Basilica of San Domenico

Oratorio dello Spirito Santo

Chiesa del Santissimo Salvatore and more…
1.      The Two Towers – starting point of Bologna escape game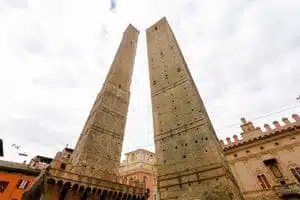 The Two Towers is an amazing option to enjoy panoramic views of the city. Once Bologna was a popular city of towers with more than 100 tall towers in it. These tall buildings used to dominate the skyline. However, only 20 of these tall buildings remain at present. However, Two Towers are the most famous among these. You can climb up to these towers to enjoy amazing views around.
2.      Biblioteca Salaborsa
This is the major public library of the city. Even though the public library's central offices have moved to Palazzo d'Accursio's northern portions in 2001. However, the still library is attracting numerous visitors to it daily. Most importantly, you can also see archaeological sites via the crystal floor of the library in its center. Even more, from the basement floor, ancient ruins are still accessible, where you can see more information about these.
3.      Santa Maria della Vita – Bologna scavenger hunt
This is a Roman Catholic church that features late baroque style architecture. It is located near Piazza Maggiore in central Bologna. The present church construction dates back to the late 17th century with the design instructions of Giovanni Battista Bergonzoni. However, the façade has added after 1905.
Overall, the building is still well-preserved and worth your visit.
4.      Salina Palace
This is a Renaissance architecture situated on Piazza Santo Stefano in the Bologna's center. This palace is popular by the circular niche it has with busts on the façade. However, 16th century's Senatorial family's descendants are still owning this building. Even more, Andrea da Formigine was the designer of this landmark.
5.      Basilica dei protomartiri San Vitale
The church of Saint Vitale dates back to the 4th century. It is preserving the sarcophagi of two historical martyrs. The church suffered devastation during the 10th century. However, it was then rebuilt in the first year of the 11th century by the Benedictines.
Even more, its restorations have also carried in 1880 and also in the first few decades of the 20th century.
6.      Piazza Minghetti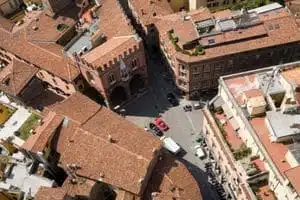 This is a beautiful square you can fin in Bologna's center. Piazza is dedicated to Marco Minghetti, who was an Italian historical rights politician. It opens up between some buildings of nineteenth-twentieth-century. It dates back to the late 19th century and Ernesto Balbo Bertone was the designer of this square.
It is just next to various historical buildings, so visiting Piazza Minghetti is a must for you.
7.      Basilica of San Domenico – Bologna scavenger hunt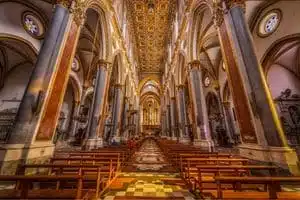 This basilica took centuries to complete. However, the marble tomb enshrining the remains of San Domenico is enough reason to visit this place. Most importantly, the art treasure of this place doesn't end here. You can even visit the church every first and second Saturday of the month for a guided tour.
8.      Oratorio dello Spirito Santo
Also known as Oratory of the Spirito Santo, is a catholic worship building in Bologna's historic center. It dates back to the mid-15th century church of San Giovanni Battista's celestine fathers decided to build a smaller church. Initially, the church was dedicated to Madonna but called Holy Spirit by the people there.
The Spirito Santo has a beautiful façade attracting many to the place every day.
9.      Chiesa del Santissimo Salvatore – ending point of Bologna escape game
Santissimo Salvatore is a Roman Catholic church of Baroque style, located in central Bologna. This church dates back to the 12th century. Once it has used to host Santa Maria di Reno's Canons Regular monks. However, the current state of this church has been constructed under the Barnabite priest's instructions. While, Tommaso Martelli; an architect, assisted in the design of this church. The church has eight chappals, 4 on each side. The façade also contains three statues of copper.
You might also be interested in Rome, Florence or Milan or Venice or Verona or Siena