Description
Introduction
Information
Important
Locations
Introduction
Edinburgh outdoor escape game
Edinburgh escape game! Let's go outdoors! What about playing an outdoor escape game in Edinburgh? You will have the chance to wander around the streets solving riddles! You will explore this amazing mega city in an interactive and unique way! Everything in your mobile phone, in your language and in a very cheap price! What a great chance to take some beautiful photos too!
Information
Can you solve the riddles and escape from Edinburgh? Edinburgh escape game
The mobile app provides :
Navigation and automatic help system with 3 levels of hints.
Total points and leaderboard.
Time is with you and not against you. Solve the riddles at your own pace.
You can pause your game any time and continue later or another day.
Each month, the no1 team of the leaderboard will win a free game for any city we provide.
Average duration:2 hours including total walking time of 60 minutes
Supported languages: English, Deutsch, Spanish, Italian, French, Dutch
Level of difficulty : Always hard 🙂 , but hints will always be there and the code of the riddle in order to be able to continue playing.
Important
What you need to know about Edinburgh escape game ?
No one will be waiting for you anywhere, it's just you and your smartphones!
You can start playing anytime, any day, every day! You can even pause your game and resume later or any other day within a year !
You can use one language per serial number. If your group is multilingual, you will need to buy more games if you need more languages.
The outdoor escape games provide total points and a leaderboard and are a bit more difficult than the city hunt + city tour.
There is no time limit for the game. You can complete it at any time at your own pace.
Our game is completely outdoor, so it depends on the weather. The game can continue on the same day or another day if it is interrupted.
Prefer to start the game in daylight, as the lack of light may make it difficult to solve puzzles. However, the game can still be played at night.
Children must be accompanied by an adult. It is a nice and very educational activity for them if an adult helps them solve the puzzles and explains them.
Puzzles do not require knowledge. Players must use their imagination, logic, combinatorial thinking and cooperation.
Every attraction hides a puzzle ! The puzzles are independent and not connected to each other through a story. The goal is for players to interact with the attractions and their surrounding areas !
Our game is completely covid19-free as it is an outdoor game!
Locations
You will visit:
Royal Scottish Academy

Esplanade

Edinburgh Castle

The Hub

Grassmarket

Greyfriars

St Giles

Cannongate

Burns Monument

Calton Hill and more
1.Scott Monument – starting point of Edinburgh escape game
It is present at the princess Street Gardens. It is also considered as one of the second largest monuments to one of the famous writers. It is associated with literature and history, which makes it famous for the Scottish locals as well as the arrest.
The monument is also called the Victorian Gothic monument, which is associated with a Scottish author Sir Walter Scott. It is of great importance because of its history. You will also become aware of the Scottish culture visiting the Scott monument. It is at the height of 60 meters which is often visited by tourists now and then. It is one of the most iconic landmarks present in the history of Scotland.
2.Royal Scottish Academy
This building is of great importance because it's one of the National buildings famous for various purposes. The Basic purpose that it serves is that it is called the Academy of Art on a national level where most of the students come to learn all about art and literature.
It was first founded in the year 1826, which makes it very old and one of the best in the entire country. This is the main reason it is given priority on a National basis. It is an independent body of artists where they can learn and create art according to their style and convenience.
3.Esplanade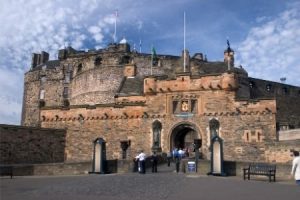 This is a long, wide-open area which is the best place to have a long walk. The area is situated along the water. It is special for its scenic view and historical background because this area was once used for protecting the city wall of Scotland. It is outside the city of Scotland, so it also plays a role of an entrance. It is a large open leveled area where you can have a view of the entire surrounding.
4.Edinburgh Castle
This castle has a historical background which makes it historically important not only to the locals but also to others that are visiting Scotland every year. It is a very dominating building present in Scotland which also has importance on an archaeological basis. The Rock present in this area is considered as one from the Stone Age, giving this castle a huge hype.
5.The Hub
This building is situated in the center of Edinburgh, which is important for holding public art and cultural festivals. It is quite a tall building which is why it can be seen from the surrounding places very clearly. It is famous because the local festivals held there are convenient for all the local people. It is also one of the entertainment Sites for tourists because of its various festivals.
6.Grassmarket
It is also a historic marketplace situated in the city of Edinburgh, Scotland. It is also used for event space within the city. Most of the events are organized at the grass market on a larger scale.
7.Greyfriars
It is one of the first Churches built in the Edinburgh city of Scotland after the reformation. In entire Scotland, it is also one of the largest churches after the reformation. It is one of the oldest Churches, which is why it is of great importance to the people of Scotland.
8.St Giles
This is the famous Cathedral which is also situated in the city of Edinburgh, Scotland. It is used for religious purposes and is also visited by most of the people and visitors. It is also called the High Kirk of Edinburgh.
9.Canongate
It is situated in the Capital city of Scotland, which is called Edinburg. It is a street presence in the famous city of Scotland. It is also called a district in the city of Edinburgh, Scotland, which has great importance from local and tourist point of you.
10.Burns Monument
Robert Burns was one of the famous poets and lyricists of Scotland. People consider him iconic because of his best work and the huge efforts he has put in the field of Scottish literature. Burns monument is a circular building which is made up of Stone standing tall in the memory of Robert Burns. It is famous for people who have a love for Scottish literature and poetry.
11.Calton Hill – ending point of Edinburgh escape game
This is a peaceful area in the city of Edinburgh, Scotland. It has some National monuments and galleries where the famous work of Scottish artists is displayed.