Description
Introduction
Information
Important
Locations
Introduction
Siena outdoor escape game
Siena escape game! Let's go outdoors! What about playing an outdoor escape game in Siena ? You will have the chance to wander around the streets solving riddles! You will explore this amazing city in an interactive and unique way! Everything in your mobile phone, in your language and in a very cheap price! What a great chance to take some beautiful photos too!
Information
Can you solve the riddles and escape from Siena ? Siena escape game
The mobile app provides :
Navigation and automatic help system with 3 levels of hints.
Total points and leaderboard.
Time is with you and not against you. Solve the riddles at your own pace.
You can pause your game any time and continue later or another day.
Each month, the no1 team of the leaderboard will win a free game for any city we provide.
Average duration:1.5 hours including total walking time of 30 minutes
Supported languages: English, Deutsch, Spanish, Italian, French, Dutch
Level of difficulty : Always hard 🙂 , but hints will always be there and the code of the riddle in order to be able to continue playing.
Important
What you need to know about Siena escape game ?
No one will be waiting for you anywhere, it's just you and your smartphones!
You can start playing anytime, any day, every day! You can even pause your game and resume later or any other day within a year !
You can use one language per serial number. If your group is multilingual, you will need to buy more games if you need more languages.
The outdoor escape games provide total points and a leaderboard and are a bit more difficult than the city hunt + city tour.
There is no time limit for the game. You can complete it at any time at your own pace.
Our game is completely outdoor, so it depends on the weather. The game can continue on the same day or another day if it is interrupted.
Prefer to start the game in daylight, as the lack of light may make it difficult to solve puzzles. However, the game can still be played at night.
Children must be accompanied by an adult. It is a nice and very educational activity for them if an adult helps them solve the puzzles and explains them.
Puzzles do not require knowledge. Players must use their imagination, logic, combinatorial thinking and cooperation.
Every attraction hides a puzzle ! The puzzles are independent and not connected to each other through a story. The goal is for players to interact with the attractions and their surrounding areas !
Our game is completely covid19-free as it is an outdoor game!
Locations
You will visit:
Baptistery of St John

Palazzo Piccolomini

Loggia del Papa

Tower of Mangia

Pubblico Palace

Pinacoteca Nazionale di Siena

Santa Maria della Scala

Facciatone and more
Duomo di Siena – starting point of Siena escape game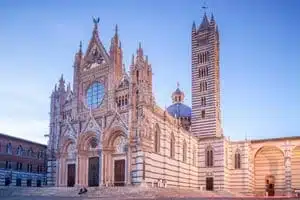 ·        Baptistery of St John
Siena is a city that is mainly known for its art, architectural beauty, and most importantly its museums
It is not only important because of being a religious building in Italy of high importance but it is a historical site as well. Its construction was started in the mid-11th century and the building is made in a Romanesque architectural style which brings a unique vibe. With a lot of architectural beauty, this is surely the best place to start exploring Siena.
·        Palazzo Piccolomini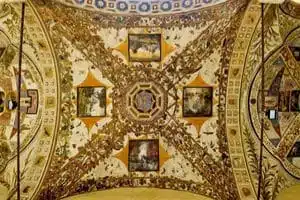 Your second major stop in Siena is going to be this palace that dates back to the 15th century. It was opened to the public in 1963 and the building has some stunning views because of its Renaissance architectural style. If you are up for architectural exploration in Italy, then it counts as one of the main sites to visit.
·        Loggia del Papa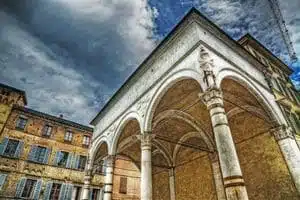 It is another historical building dating back to the 15th century. Another common thing about this building is that it is made in the Renaissance architectural style, but it is still unique because it is an open-air arcade. This location can be your perfect picture background because of its architectural beauty.
·        Tower of Mangia – Siena scavenger hunt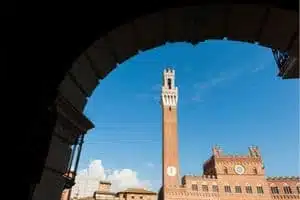 The construction of this tower was completed in 1348 which took almost a decade and the tower with the building accompanying it provides some stunning views of the place. At the time when it was built, it used to be the tallest secular tower in the whole of medieval Italy.
·        Pubblico Palace – Siena scavenger hunt
It is known as the Town Hall in Siena which was built in the late 13th century. It had an important political history from the time it was built. The Palace was the seat for 9 elected officials for performing executive functions including the judicial manners as well. The building itself is made in a gothic architectural style.
The attractive part about its exterior is that the tower and the top two stories are made with the red brick exterior while the lowest story is made from stone in grey tone.
·        Pinacoteca Nazionale di Siena
You might be waiting to visit some amazing museums in Siena and your wait is finally over. This is a national Museum in Siena that was inaugurated in 1932. This museum is dedicated to the historical art of the region, so it contains paintings from the late medieval and Renaissance eras from the Italian Artists. Apart from the artifacts it has, the interior of this building looks stunning as well.
·        Santa Maria Della Scala
It is another amazing museum in Siena. In the earlier days, it used to be a civil hospital. The hospital was dedicated to the poor and abandoned children and the revenue model of this hospital was supported by donations primarily. However, now the building is used as a museum containing several artifacts.
The attractive part about the building is that it has been constructed in a Roman Catholic architectural style that looks amazing from the inside as well as the outside.
·        Facciatone – ending point of Siena escape game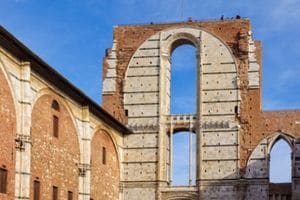 Facciatone is an observation point that is the best place to end your exploration trip to Siena. This point is present on the top of an unfinished church façade, so it contains views of Piazzas as well as towers that are centuries old.
You might also be interested in Rome, Florence or Milan or Venice or Verona