Introduction
Information
Important
Locations
Introduction
Valletta outdoor escape game
Valletta escape game! Let's go outdoors! What about playing an outdoor escape game in Valletta? You will have the chance to wander around the streets solving riddles! You will explore this amazing ,medieval city in an interactive and unique way! Everything in your mobile phone, in your language and in a very cheap price! What a great chance to take some beautiful photos too!
Information
Can you solve the riddles and escape from Valletta? Valletta escape game
The mobile app provides :
Navigation and automatic help system with 3 levels of hints.
Total points and leaderboard.
Time is with you and not against you. Solve the riddles at your own pace.
You can pause your game any time and continue later or another day.
Each month, the no1 team of the leaderboard will win a free game for any city we provide.
Average duration:2 hours including total walking time of 45 minutes
Supported languages: English, Deutsch, Spanish, Italian, French, Dutch
Level of difficulty : Always hard 🙂 , but hints will always be there and the code of the riddle in order to be able to continue playing.
Important
What you need to know about Valletta escape game ?
No one will be waiting for you anywhere, it's just you and your smartphones!
You can start playing anytime, any day, every day!
You can even pause your game and resume later or any other day within a year !
You can use one language per serial number. If your group is multilingual, you will need to buy more games if you need more languages.
There is no time limit for the game. You can complete it at any time at your own pace.
Our game is completely outdoor, so it depends on the weather. The game can continue on the same day or another day if it is interrupted.
Prefer to start the game in daylight, as the lack of light may make it difficult to solve puzzles. However, the game can still be played at night.
Children must be accompanied by an adult. It is a nice and very educational activity for them if an adult helps them solve the puzzles and explains them.
Puzzles do not require knowledge. Players must use their imagination, logic, combinatorial thinking and cooperation.
Every attraction hides a puzzle ! The puzzles are independent and not connected to each other through a story. The goal is for players to interact with the attractions and their surrounding areas !
Our game is completely covid19-free as it is an outdoor game!
Locations
Valletta escape game begins at St. Publius and ends at St.Paul's cathedral
You will visit:
Sa maison garden

St Publius

Triton fountain

Upper Barakka gardens

St Catherine of Italy

St John cathedral

Great siege square

National library

St George square

St Paul cathedral
Sa Maison Garden – starting point of Valletta escape game
To start the exploration, you can always visit the Sa Maison Garden. It is the right place where you can start exploring the city without having to deal with the busyness of the city. As it is a capital city it is hard to find any place that is not busy, and this garden makes the right choice to start. It has some of the best plantations so walking around in the garden can be very soothing.
St Publius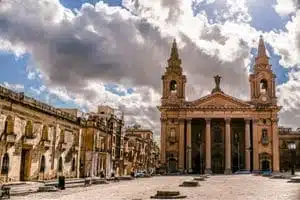 This is a site you must explore as it is highly related to the history of Malta. St. Publius is also famous as the Maltese Saint of the first century and he is also famous as the first bishop of Malta making this place highly important for the locals. While there are some event celebrations here, the thing of your interest is going to be the architectural beauty of this place. It can be an amazing background for your images.
Triton fountain
Time to see something in action. The fountain itself is one of the best things to see in Valletta. It is present outside of the City Gate of the city. Well, it has been built amazingly as 3 bronze sculptures are holding a huge basin that is the base of the fountain.
The fountain was constructed as well as designed in the mid-20th century. While it is one of the most popular tourist attractions in the city it was used as the site for national celebrations for a long time
Upper Barrakka gardens
Another place that provides you with some time to spend away from the busy city streets. This is the garden that is even more beautiful than the previous one as it has amazing plantations. On top of everything, it has a great view of the harbor which brings a unique vibe to the place. If you are looking for the history of this garden, it dates back to the mid-16th century.
St Catherine of Italy
This is a historic Roman Catholic church that must be a part of your visit as it still serves as a church in Malta. The church was opened in the 16th century. It portrays Roman architecture.
St John cathedral
Another stunning Roman Catholic Church must be visited while you are in Valletta. This church is dedicated to St John the Baptist. It was dates to the last quarter of the 16th century. The designer of the church was a Maltese architect who also designed some other important sites in Malta.
Great siege square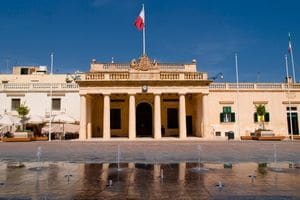 If there is one place that has stunning architectural beauty in Valletta, then it is this Square. This holds rich historical value for the place as the buildings and the bronze sculptures symbolize faith, fortitude, and Civilization. The place gets even more attractive in the evening with better lighting.
National library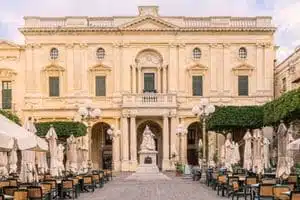 It is a reference and research library located in Valletta and it is one of the best assets of Malta. The library not only holds a lot of knowledge, but it is also a historic site to visit that dates back to the 18th century.
St George square
What is now a tourist attraction was to be the home to the storied president's palace. Not only this but it was home to some other neoclassical and decorative buildings. It is another site that can be an amazing background for your travel pictures.
St Paul cathedral – ending point of Valletta escape game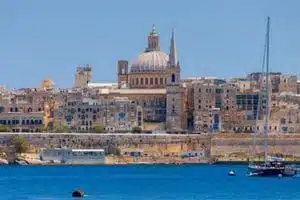 Although it is not the main cathedral in Valletta, it still has the status of a cathedral, and it is officially the Pro-cathedral church of St. Paul. The building dates back in the mid-19th century and has amazing architectural beauty.