Introduction
Highlights
Information
Important
Locations
Introduction
Valletta scavenger hunt and city tour
Valletta scavenger hunt and city tour was created to offer you the best way to explore this beautiful city!
The Fortress City, Citta' Umilissima, "a city built by gentlemen for gentlemen" is Malta's capital city: a living, working city, the administrative and commercial heart of the Islands.
Valletta is named after its founder, the respected Grand Master of the Order of St. John, Jean Parisot de la Valette. The magnificent fortress city grew on the arid rock of Mount Sceberras peninsula, which rises steeply from two deep harbours, Marsamxett and Grand Harbour. Started in 1566, Valletta was completed, with its impressive bastions, forts and cathedral, in the astonishingly short time of 15 years, even more remarkable is considering the fact that mechanical tools did not exist at the time and the whole city was built entirely by hand.
Highlights
Explore Valletta, playing our scavenger hunt and city tour!
What to expect
Uncover the highlights with an interactive smartphone app. Solve location-based riddles on this walking tour.
Visit 10 of the most important attractions in the city as you walk. Stop and find clues at each attraction to reveal your next destination.
Enjoy the challenge of using logic, imagination, observation, and team spirit to finish the game.
Feel the thrill of completing each riddle. Start or pause the tour whenever you want. See the city at your own pace.
Read interesting information and facts. Stop to snap pictures as you go. Reveal an exciting a puzzle at the exterior of each attraction.
Information
Includes
Mobile app and login credentials
Self guided tour
Navigation
Important information about Valletta scavenger hunt
Average duration: 2 hours including total walking time 1 hour
Supported languages: English, German, Spanish, Italian, French, Dutch
Museum admission fees: Visits to museums and other attractions do not require a ticket, as the puzzles are related to
their outdoor areas. Admission is purely your choice.
Not suitable for…
Wheelchair users
People with mobility impairments
Unaccompanied children
What to bring
Weather-appropriate and comfortable clothing and shoes
Charged smartphone
Internet connection in case of the online-mobile application.
Important
What you need to know about Valletta scavenger hunt ?
No one will be waiting for you anywhere, it's just you and your smartphones!
You can start playing anytime, any day, every day! You can even pause your game and resume later or any other day within a year !
You can use one language per serial number. If your group is multilingual, you will need to buy more games if you need more languages.
There is no time limit for the game. You can complete it at any time at your own pace.
Our game is completely outdoor, so it depends on the weather. The game can continue on the same day or another day if it is interrupted.
Prefer to start the game in daylight, as the lack of light may make it difficult to solve puzzles. However, the game can still be played at night.
Children must be accompanied by an adult. It is a nice and very educational activity for them if an adult helps them solve the puzzles and explains them.
Puzzles do not require knowledge. Players must use their imagination, logic, combinatorial thinking and cooperation.
Every attraction hides a puzzle ! The puzzles are independent and not connected to each other through a story. The goal is for players to interact with the attractions and their surrounding areas !
Our game is completely covid19-free as it is an outdoor game!
Locations
Valletta scavenger hunt and city tour
You will visit:
Sa maison garden

St Publius

Triton fountain

Upper Barakka gardens

St Catherine of Italy

St John cathedral

Great siege square

National library

St George square

St Paul cathedral
Sa Maison Garden – starting point of Valletta scavenger hunt and city tour
To start the exploration, you can always visit the Sa Maison Garden. It is the right place where you can start exploring the city without having to deal with the busyness of the city. As it is a capital city it is hard to find any place that is not busy, and this garden makes the right choice to start. It has some of the best plantations so walking around in the garden can be very soothing.
St Publius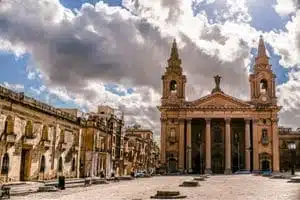 This is a site you must explore as it is highly related to the history of Malta. St. Publius is also famous as the Maltese Saint of the first century and he is also famous as the first bishop of Malta making this place highly important for the locals. While there are some event celebrations here, the thing of your interest is going to be the architectural beauty of this place. It can be an amazing background for your images.
Triton fountain
Time to see something in action. The fountain itself is one of the best things to see in Valletta. It is present outside of the City Gate of the city. Well, it has been built amazingly as 3 bronze sculptures are holding a huge basin that is the base of the fountain.
The fountain was constructed as well as designed in the mid-20th century. While it is one of the most popular tourist attractions in the city it was used as the site for national celebrations for a long time
Upper Barrakka gardens
Another place that provides you with some time to spend away from the busy city streets. This is the garden that is even more beautiful than the previous one as it has amazing plantations. On top of everything, it has a great view of the harbor which brings a unique vibe to the place. If you are looking for the history of this garden, it dates back to the mid-16th century.
St Catherine of Italy
This is a historic Roman Catholic church that must be a part of your visit as it still serves as a church in Malta. The church was opened in the 16th century. It portrays Roman architecture.
St John cathedral
Another stunning Roman Catholic Church must be visited while you are in Valletta. This church is dedicated to St John the Baptist. It was dates to the last quarter of the 16th century. The designer of the church was a Maltese architect who also designed some other important sites in Malta.
Great siege square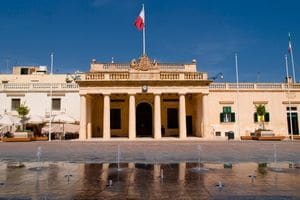 If there is one place that has stunning architectural beauty in Valletta, then it is this Square. This holds rich historical value for the place as the buildings and the bronze sculptures symbolize faith, fortitude, and Civilization. The place gets even more attractive in the evening with better lighting.
National library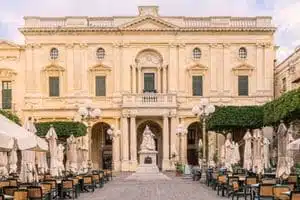 It is a reference and research library located in Valletta and it is one of the best assets of Malta. The library not only holds a lot of knowledge, but it is also a historic site to visit that dates back to the 18th century.
St George square
What is now a tourist attraction was to be the home to the storied president's palace. Not only this but it was home to some other neoclassical and decorative buildings. It is another site that can be an amazing background for your travel pictures.
St Paul cathedral – ending point of Valletta scavenger hunt and city tour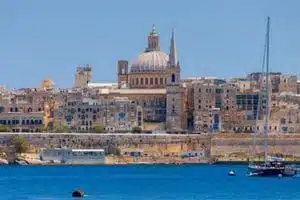 Although it is not the main cathedral in Valletta, it still has the status of a cathedral, and it is officially the Pro-cathedral church of St. Paul. The building dates back in the mid-19th century and has amazing architectural beauty.