Introduction
Highlights
Information
Important
Locations
Introduction
Chania treasure hunt and city tour
Chania treasure hunt was created to offer you the best way to explore this beautiful city. Chania is the former capital city of Crete, a place where different civilizations have flourished throughout the centuries.
Wandering around the Old Town's maze-like alleys with the beautiful Venetian mansions, the fountains and the elaborate churches will help you discover well-preserved historical monuments.
Highlights
Explore Chania, playing our treasure hunt and city tour!
What to expect
Uncover the highlights with an interactive smartphone app. Solve location-based riddles on this walking tour.
Visit 10 of the most important attractions in the city as you walk. Stop and find clues at each attraction to reveal your next destination.
Enjoy the challenge of using logic, imagination, observation, and team spirit to finish the game.
Feel the thrill of completing each riddle. Start or pause the tour whenever you want. See the city at your own pace.
Read interesting information and facts. Stop to snap pictures as you go. Reveal an exciting a puzzle at the exterior of each attraction.
Information
Includes
Mobile app and login credentials
Self guided tour
Navigation
Important information about Chania treasure hunt
Average duration: 2 hours including total walking time 42 minutes
Walking Distance: 3.2 km
Supported languages: English, German, Greek, Italian, French, Dutch
Museum admission fees: Visits to museums and other attractions do not require a ticket, as the puzzles are related to their outdoor areas. Admission is purely your choice.
Not suitable for…
Wheelchair users
People with mobility impairments
Unaccompanied children
What to bring
Weather-appropriate and comfortable clothing and shoes
Charged smartphone
Internet connection in case of the online-mobile application.
Important
What you need to know about Chania treasure hunt ?
No one will be waiting for you anywhere, it's just you and your smartphones!
You can start playing anytime, any day, every day! You can even pause your game and resume later or any other day within a year !
You can use one language per serial number. If your group is multilingual, you will need to buy more games if you need more languages.
There is no time limit for the game. You can complete it at any time at your own pace.
Our game is completely outdoor, so it depends on the weather. The game can continue on the same day or another day if it is interrupted.
Prefer to start the game in daylight, as the lack of light may make it difficult to solve puzzles. However, the game can still be played at night.
Children must be accompanied by an adult. It is a nice and very educational activity for them if an adult helps them solve the puzzles and explains them.
Puzzles do not require knowledge. Players must use their imagination, logic, combinatorial thinking and cooperation.
Every attraction hides a puzzle ! The puzzles are independent and not connected to each other through a story. The goal is for players to interact with the attractions and their surrounding areas !
Our game is completely covid19-free as it is an outdoor game!
Locations
Chania treasure hunt and city tour
You will visit:
Aviation Memorial Monument

Sabbionara Rampart

Mosque Kucuk Hasan

Maritime Museum

Firka castle

Talos square

Synagogue Etz Hayyim

Archaeological Museum

Trimartiri church

St Nicholas church

Chania Old Town
Aviation Memorial Monument
This Aviation Memorial Monument is also known as The Fall of Icarus Monument. This is a monument of flying aviators. This is based on the story of Daedalus and Icarus who wants to depict that the power of a man has no limits. However, it's always important to be careful while using the powers.
However, this monument has been open since February 2010 for public visits.
Sabbionara Rampart
Sabbionara Rampart is another lucrative tourist attraction in Chania, closer to Stachi. It is situated in the Old Town of Chania and has a gate and bastion in the Venetian walls. Even though the gate has gone but the rampart is still there.
Mosque Kucuk Hasan
This is a historic Ottoman Mosque in Chania, located at the Venetian port of the city. An Armenian architect designed it. Also, it was the very first mosque in Crete. However, currently, it has also turned into an exhibition place along with other things.
It has a beautiful cubic main building with four stone arches and a large dome.
Maritime Museum
You can find the Maritime Museum of Chania just opposite the lighthouse here. The museum displays an extensive history of maritime. It contains a collection of nautical instruments among other things at the display.
Firka castle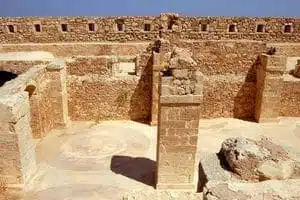 Built-in 1629 to serve as a shield by the Venetians for the harbors. However, it is now serving as a Maritime Museum of Crete. It boasts a variety of nautical findings and objects such as:
Nautical tools
Authentic photographs
Paintings
Models of ships
All these items are dating back from Bronze Age to the present.
Talos square
Talos Square is an interesting place to visit in Chania Greece. The majority of people visit the place in the evening to enjoy a beautiful view of the sunset from the seawall. You can also spot a fountain and public park just next to the water for relaxation.
Synagogue Etz Hayyim
The Synagogue Etz Hayyim is the only remnant of the Romaniote Jewish community surviving in Chania, Greece. After its restoration, it has become a popular tourist destination in Chania. It is also attracting several tourists every day.
The Synagogue has also faced an arson attack on 5th January 2010, by a British Citizen. However, at present, the community here is a fine example of good living. While an international team is taking care of congregation work here.
Archaeological Museum
This history of Chania is dating back to somewhere around 2200 BC. However, the Archeological Museum is displaying a wealth of:
Painted burial urns
Clay tablets with inscriptions
Minoan ceramics
Gold Jewelry and a lot more.
In short, it has an exciting collection of objects for its visitors to display.
Trimartiri church
This cathedral has built on the place of an old temple, dating back to the 14th century. When Chania went under Turkey's occupation in 1645, the temple turned into a soap factory without even changing its design. Until 1868, the temple belonged to a Turkish dignitary. However, later Christian community requested to reconstruct the temple. The temple was reconstructed and turned into a church in 1860 in the three-aisle basilica style.
Still, the church has the charming architecture to see.
St Nicholas church
St. Nicholas was a Dominican temple of the monastery of the Venetian era. Situated in the Chania's Splanzia square, constructed in 1320 by following the Central Monastery of St. Peter's architectural design.
After the Turk's conquest, the church converted into a mosque in 1645. At the temple's southwestern part, the most famous, impressive, and a tallest minaret was built that was 40-meter high.
However, in 1918, the mosque was converted into an Orthodox church again. Now it is the only Greek temple that has a minaret and bell tower.
Chania Old Town
Visiting the old town of Chania is one of the best things to do in the city. Here you can walk through a maze of streets that are pedestrian-only. Here you can also spot charming restaurants and shops lining the road. You can also take a locally guided tour to know more about the Chania Old Town.
You might also be interested in Athens, Thessaloniki or Rhodes