Athens treasure hunt and city tour
Athens treasure hunt was created to offer you the best way to explore this ancient city! Athens is the  city with the most glorious history in the world, a city worshipped by gods and people, a magical city.
The enchanting capital of Greece has always been a birthplace for civilization.
It is the city where democracy was born and most of the wise men of ancient times.
The most important civilization of ancient world flourished in Athens and relives through some of the world's most formidable edifices.
Explore Athens, playing our treasure hunt and city tour!
It is an outdoor activity combining playing, walking and learning!
As a result, we created the best walk of the city, so you can learn everything about it and it's most important attractions.
You will solve riddles and move from one attraction to the other! Don't worry, using our in app navigation system, you will never get lost.
For the hard riddles, an automatic help system will help you move on!
Exploring Athens playing our treasure hunt was never more fun!
Take photos, discover hidden gems and narrow streets!
This is the best activity for families, friends, couples, students! Finally, for the escape room lovers also!
Give it a try!
Cost:  Each game costs 20 Euros, up to 4-5 players.
Average duration: 2 hours including total walking time 45 minutes
Supported languages: English, German, Greek, Italian, French
Museum admission fees: Visits to museums and other attractions do not require a ticket, as the puzzles are related to
their outdoor areas. Admission is purely your choice.
Athens treasure hunt and city tour begins at Greek Parliament
You will visit:
Greek parliament
Monument to Unknown Soldier
Ermou Street
Monastiraki Square
Pláka
Church of Saint Nicholas Ragava
Areos Pagos Hill
Odeon of Herodes Atticus
Acropolis
Parthenon
Acropolis Museum
Dionysiou Areopagitou Street and more
1.Greek parliament-starting point of Athens treasure hunt and city tour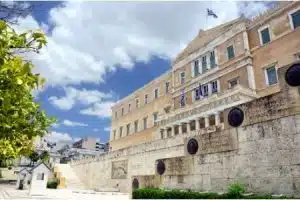 The Greek Parliament is also called as Hellenic Parliament. It is situated inside the Royal Palace, which overlooks the Syntagma Square Within the people of Athens. Moreover, It is a democratic institution of great importance that represents the democratic body of the Members of Parliament that the citizens elect. However, it plays a role as an area of representation for the common citizens who are seeking democratic rights.
2.Monument to Unknown Soldier
It is a tomb which is built in the memory of unknown soldiers. In the war, most of the soldiers were killed whose bodies were not found.  In Addition, some of the bodies did not even recognize, making it difficult to spot every soldier killed in the war. This monument is made in remembrance of the bravery and sacrifice of those soldiers in Athens, Greece.
3.Ermou Street
It is a street present in Athens, Greece, which is one and a half kilometer long. It plays a role as a connection between the Kerameikos archaeological site and the Syntagma Square through the channel of Monastiraki, Psiri, and Thiseio.  In addition, it is a commercial avenue that has been turned into a pedestrian street.
4.Monastiraki Square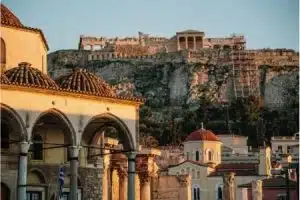 It is an iconic Landmark present in Athens, Greece. There are many ruins Included in this landmark, consisting of a museum and other historically important buildings. It is surrounded by many Markets and streets, making it appealing for the tourists.
5.Pláka
It is a neighborhood in Athens, Greece, which provides the feeling of a small vintage village. However, It has old streets which feel like walking on a movie set, including buildings and houses made in old architectural style. Overall, this place is very peaceful and quiet.
6.Church of Saint Nicholas Ragava
It is also one of the famous churches located in Athens, Greece. It was made by the famous architect Christoph Dientzenhofer. The church is made up of the Baroque Style. However, It is one of the oldest Churches present in Athens, Greece making it historically important. It is used for every type of religious occasion and is a secret place for the people of Athens.
7. Areos Pagos Hill
It is situated towards the right exit of Acropolis. It is also commonly called as Hill of Ares. However, It has classical importance because it was once used for judicial courts and the noble Council. In addition, It is of great importance to the people of Athens because of the history and architecture it represents.
8. Odeon of Herodes Atticus – ending point of Athens treasure hunt and city tour
It is a stone theatre structure situated in Athens, Greece. The building was completed in 161 AD. It was also remodelled in 1950, which represents the same shape as it is now.
9. Acropolis
It is an ancient citadel located in Athens, Greece. In addition, It is situated on the Rocky top that is presented above the city of Athens. In addition, there are many strong rocky outgrowths present in Athens; however, the Acropolis is best known among the locals and tourists.
10. Parthenon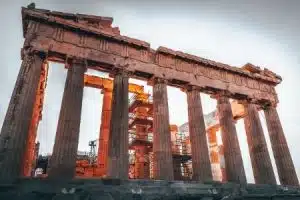 It is the Ancient Temple present in Athens, Greece. In addition, the construction of the temple was started in 447 BC. It is used for religious purposes as well as tourist attractions due to its beauty and history.
11. Acropolis Museum
It is an archaeological museum that consists of many Archaeological monuments of Greek history. However, the Museum is built to collect every piece of architecture that belongs to Greece, which makes it very unique.
12. Dionysiou Areopagitou Street
It is a long Street present in Athens, Greece, used by the pedestrians. However, it is one of the oldest Streets present in Athens, making it special. It is made up of a Rocky surface which has a smooth texture making it perfect for having a walk in the street of Athens, Greece.
You might also be interested in Thessaloniki, Rhodes or Chania