Description
Introduction
Highlights
Information
Important
Locations
Introduction
Athens treasure hunt and city tour
Athens treasure hunt was created to offer you the best way to explore this ancient city!
Athens is the  city with the most glorious history in the world, a city worshipped by gods and people, a magical city. The enchanting capital of Greece has always been a birthplace for civilization. It is the city where democracy was born and most of the wise men of ancient times. The most important civilization of ancient world flourished in Athens and relives through some of the world's most formidable edifices.
Highlights
Explore Athens, playing our treasure hunt and city tour!
What to expect
Uncover the highlights with an interactive smartphone app. Solve location-based riddles on this walking tour.
Visit 10 of the most important attractions in the city as you walk. Stop and find clues at each attraction to reveal your next destination.
Enjoy the challenge of using logic, imagination, observation, and team spirit to finish the game.
Feel the thrill of completing each riddle. Start or pause the tour whenever you want. See the city at your own pace.
Read interesting information and facts. Stop to snap pictures as you go. Reveal an exciting a puzzle at the exterior of each attraction.
Information
Includes
Mobile app and login credentials
Self guided tour
Navigation
Important information
Average duration: 2 hours including total walking time 50 minutes
Walking Distance: 3.9 km
Supported languages: English, German, Greek, Italian, French, Spanish, Dutch
Museum admission fees: Visits to museums and other attractions do not require a ticket, as the puzzles are related to their outdoor areas. Admission is purely your choice.
Not suitable for…
Wheelchair users
People with mobility impairments
Unaccompanied children
What to bring
Weather-appropriate and comfortable clothing and shoes
Charged smartphone
Internet connection in case of the online-mobile application.
Important
What you need to know about Athens treasure hunt ?
No one will be waiting for you anywhere, it's just you and your smartphones!
You can start playing anytime, any day, every day! You can even pause your game and resume later or any other day within a year !
You can use one language per serial number. If your group is multilingual, you will need to buy more games if you need more languages.
There is no time limit for the game. You can complete it at any time at your own pace.
Our game is completely outdoor, so it depends on the weather. The game can continue on the same day or another day if it is interrupted.
Prefer to start the game in daylight, as the lack of light may make it difficult to solve puzzles. However, the game can still be played at night.
Children must be accompanied by an adult. It is a nice and very educational activity for them if an adult helps them solve the puzzles and explains them.
Puzzles do not require knowledge. Players must use their imagination, logic, combinatorial thinking and cooperation.
Every attraction hides a puzzle ! The puzzles are independent and not connected to each other through a story. The goal is for players to interact with the attractions and their surrounding areas !
Our game is completely covid19-free as it is an outdoor game!
Locations
Athens treasure hunt and city tour
You will visit:
Greek parliament

Monument to Unknown Soldier

Ermou Street

Monastiraki Square

Pláka

Church of Saint Nicholas Ragava

Areos Pagos Hill

Odeon of Herodes Atticus

Acropolis

Parthenon

Acropolis Museum

Dionysiou Areopagitou Street and more
1.Greek parliament-starting point of Athens treasure hunt and city tour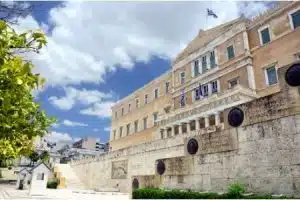 The Greek Parliament is also called as Hellenic Parliament. It is situated inside the Royal Palace, which overlooks the Syntagma Square Within the people of Athens. Moreover, It is a democratic institution of great importance that represents the democratic body of the Members of Parliament that the citizens elect. However, it plays a role as an area of representation for the common citizens who are seeking democratic rights.
2.Monument to Unknown Soldier
It is a tomb which is built in the memory of unknown soldiers. In the war, most of the soldiers were killed whose bodies were not found.  In Addition, some of the bodies did not even recognize, making it difficult to spot every soldier killed in the war. This monument is made in remembrance of the bravery and sacrifice of those soldiers in Athens, Greece.
3.Ermou Street
It is a street present in Athens, Greece, which is one and a half kilometer long. It plays a role as a connection between the Kerameikos archaeological site and the Syntagma Square through the channel of Monastiraki, Psiri, and Thiseio.  In addition, it is a commercial avenue that has been turned into a pedestrian street.
4.Monastiraki Square – ending point of Athens treasure hunt and city tour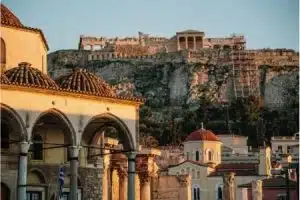 It is an iconic Landmark present in Athens, Greece. There are many ruins Included in this landmark, consisting of a museum and other historically important buildings. It is surrounded by many Markets and streets, making it appealing for the tourists.
5.Pláka
It is a neighborhood in Athens, Greece, which provides the feeling of a small vintage village. However, It has old streets which feel like walking on a movie set, including buildings and houses made in old architectural style. Overall, this place is very peaceful and quiet.
6.Church of Saint Nicholas Ragava
It is also one of the famous churches located in Athens, Greece. It was made by the famous architect Christoph Dientzenhofer. The church is made up of the Baroque Style. However, It is one of the oldest Churches present in Athens, Greece making it historically important. It is used for every type of religious occasion and is a secret place for the people of Athens.
7. Areos Pagos Hill
It is situated towards the right exit of Acropolis. It is also commonly called as Hill of Ares. However, It has classical importance because it was once used for judicial courts and the noble Council. In addition, It is of great importance to the people of Athens because of the history and architecture it represents.
8. Odeon of Herodes Atticus
It is a stone theatre structure situated in Athens, Greece. The building was completed in 161 AD. It was also remodelled in 1950, which represents the same shape as it is now.
9. Acropolis
It is an ancient citadel located in Athens, Greece. In addition, It is situated on the Rocky top that is presented above the city of Athens. In addition, there are many strong rocky outgrowths present in Athens; however, the Acropolis is best known among the locals and tourists.
10. Parthenon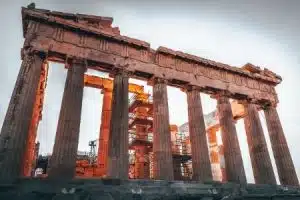 It is the Ancient Temple present in Athens, Greece. In addition, the construction of the temple was started in 447 BC. It is used for religious purposes as well as tourist attractions due to its beauty and history.
11. Acropolis Museum
It is an archaeological museum that consists of many Archaeological monuments of Greek history. However, the Museum is built to collect every piece of architecture that belongs to Greece, which makes it very unique.
12. Dionysiou Areopagitou Street
It is a long Street present in Athens, Greece, used by the pedestrians. However, it is one of the oldest Streets present in Athens, making it special. It is made up of a Rocky surface which has a smooth texture making it perfect for having a walk in the street of Athens, Greece.
You might also be interested in Thessaloniki, Rhodes or Chania