Dublin scavenger hunt
Dublin scavenger hunt was created to offer you the best way to explore Ireland's capital. Needs no introduction and for many visitors to Ireland, Dublin is the number one destination. Dublin has history, charm, sights, museums, galleries, theatres, shops, pubs, restaurants and an abundance of character. Dublin was voted Europe's fourth most popular city break destination, behind London, Paris and Rome and is one of the friendliest capital cities in the world. Dublin's elegant Georgian architecture makes it one of Europe's most attractive capitals. Dublin is a relatively small and accessible city, small enough and safe enough to get around on foot.
Explore Dublin, playing our scavenger hunt!
It is an outdoor activity combining playing, walking and learning!
As a result, we created the best walk of the city, so you can learn everything about it and it's most important attractions.
You will solve riddles and move from one attraction to the other! Don't worry, using our in app navigation system, you will never get lost.
For the hard riddles, an automatic help system will help you move on!
Exploring Dublin playing our scavenger hunt was never more fun!
Take photos, discover hidden gems and narrow streets!
This is the best activity for families, friends, couples, students! Finally, for the escape room lovers also!
Give it a try!
Cost:  Each game costs 20 Euros, up to 4-5 players.
Average duration: 2 hours including total walking time 1 hour
Supported languages: English, Deutsch, Spanish, Italian, French, Polskie, Pусский, 中文
Museum admission fees: Visits to museums and other attractions do not require a ticket, as the puzzles are related to
their outdoor areas. Admission is purely your choice.
You will visit:
The Spire
O' Connel Bridge
Christ Cathedral
Dublin City Hall
St Patrick
St Andrew
Fusilier's Arch
National Museum
Oscar Wilde memorial
and more
1.Parnell Monument – starting point of Dublin scavenger hunt
It is a historical Landmark present in Dublin, Ireland. It was made in the year of 1899 to 1911.  Also,it is built upon classical architecture, which makes it very noticeable and attractive for the visitors.
Well, It is famous for architecture, history, and arts which are the same as Ireland culture components. It has a height of 19 meters which is why it can be seen even from long distances.  Moreover, It is the Monument in the memory of historians that are famous in Ireland culture. So, if you want a sneak peek into the history of Ireland, this Building situated in Dublin is one of the greatest examples you can ever come across in entire Ireland.
2.The Spire
This is also one of the monuments of Ireland culture, which is situated in Dublin. This is also called the Monument of light because of all the light it reflects due to its Steel body. Its tall monument that has a needle-like shape made up of stainless steel.
So, the stainless steel reflects the light of the Sun, which makes the building glitter. This is the main reason it is called the Monument of light. It is 120 meters in height.
3.O' Connel Bridge
It is a famous Bridge present in Dublin, Ireland, over the River Liffey. It is famous for its great design and architecture because it was built in 1877, which is why the culture of Ireland is reflected from the bridge.
Moreover, It is famous not among the locals-only, but the visitors also take huge pleasure in capturing pictures on this iconic and famous bridge. The total length of the bridge is 45 meters. It has a width of 50 meters, making it convenient for the people to pass by even in groups. It helps in joining O'Connell Street to D'Olier Street both are the famous streets of Dublin, Ireland.
4.Christ Cathedral
This is one of the famous churches present in Dublin, Ireland. It is also called as Cathedral of the Holy Trinity.  Well, it plays an important role in the history of Ireland. Moreover, It is famous for its religious and holy purposes. So, this is considered as one of the most sacred and beautiful churches present in Dublin, which is why it is famous among the people.
5.Dublin City Hall
It is a civic building in Dublin, Ireland, which is also known as the Royal exchange. It is the main City Hall where a lot of events take place. Interestingly, It was built within the years of 1769 to 1779. So, a famous architect from Irish history called Thomas Cooley Built it who was the famous architect from the 18th century.
6.St Patrick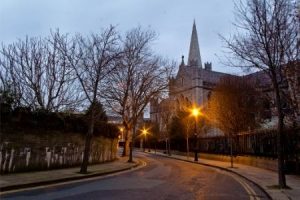 It is the famous missionary and Bishop of the Irish culture. It is of great importance to the Christians situated in Ireland. It is also called the Apostle of Ireland.  So, Saint Patrick is considered as one of the primary Patron Saint of Ireland. Well, this is why he is still remembered in the form of a missionary.
7.St Andrew
Well, It is one of the famous churches Located in Dublin, Ireland. It is situated in St Andrew Street. Both the street and Church are associated with the name of a famous Bishop in the history of Ireland.
8.Fusilier's Arch
Grafton Street is one of the most important places in Dublin, which is also an entrance to Saint Stephen's Green Park. Even more, this is a monument present at the entrance of Saint Stephen's Green Park, which is admired by all the people who crossed by the Monument. It was first to open in 1907, which makes it quite old.
9.National Museum
The national Museum of Dublin, Ireland, consists of Archaeological and historical importance. Moreover, It has various monuments and ornaments, which provides a glimpse of the Irish culture from the past centuries. It is a large museum which is why it is given national status.
10.Oscar Wilde memorial – ending point of Dublin scavenger hunt
Oscar Wilde is a famous play writer and poet of the Irish culture. This Memorial is built to praise his work. So, itt is a collection of three statues which are located in Merrion Square of Dublin, Ireland.
You might also be interested in London, Edinburgh or Liverpool