Description
Toledo scavenger hunt and city tour
Toledo scavenger hunt and city tour was created to offer you the best way to explore a glorious city of Spain.
Toledo is an ancient city set on a hill above the plains of Castilla-La Mancha in central Spain.
The capital of the region, it's known for the medieval Arab, Jewish and Christian monuments in its walled old city.
It was also the former home of Mannerist painter El Greco.
Explore Toledo, playing our scavenger hunt and city tour!
It is an outdoor activity combining playing, walking and learning!
As a result, we created the best walk of the city, so you can learn everything about it and it's most important attractions.
You will solve riddles and move from one attraction to the other! Don't worry, using our in app navigation system, you will never get lost.
For the hard riddles, an automatic help system will help you move on!
Exploring Toledo playing our scavenger hunt was never more fun!
Take photos, discover hidden gems and narrow streets!
This is the best activity for families, friends, couples, students! Finally, for the escape room lovers also!
Give it a try!
Cost:  Each game costs 20 Euros, up to 4-5 players.
Average duration: 1.5 hours including total walking time 40 minutes
Supported languages: English, German, Spanish, Italian, French, Portuguese, Dutch
Museum admission fees: Visits to museums and other attractions do not require a ticket. The puzzles are related to
their outdoor areas. Admission is purely your choice.
What you need to know about Toledo scavenger hunt ?
No one will be waiting for you anywhere, it's just you and your smartphones!
You can start playing anytime, any day, every day! You can even pause your game and resume later or any other day within a year !
You can use one language per serial number. If your group is multilingual, you will need to buy more games if you need more languages.
The city hunt + city tour provides information about the city and its attractions, but the escape games do not offer a city tour.
The outdoor escape games provide total points and a leaderboard and are a bit more difficult than the city hunt + city tour.
There is no time limit for the game. You can complete it at any time at your own pace.
Our game is completely outdoor, so it depends on the weather. The game can continue on the same day or another day if it is interrupted.
Prefer to start the game in daylight, as the lack of light may make it difficult to solve puzzles. However, the game can still be played at night.
For groups of more than 5 people, you must purchase 1 game per 5 people. For example, for a group of 25 people, buy 5 games.
Children must be accompanied by an adult. It is a nice and very educational activity for them if an adult helps them solve the puzzles and explains them.
Puzzles do not require knowledge. Players must use their imagination, logic, combinatorial thinking and cooperation.
Every attraction hides a puzzle ! The puzzles are independent and not connected to each other through a story. The goal is for players to interact with the attractions and their surrounding areas !
Our game is completely covid19-free as it is an outdoor game!
Toledo scavenger hunt and city tour begins at Plaza Zocodover and ends at Mezquita del Cristo de la Luz
You will visit:
Santa Iglesia Catedral Primada de Toledo
Ayuntamiento de Toledo
Iglesia de los Jesuitas
Iglesia de Santo Tomé
Museo del Greco
Monumento A El Greco
Sinagoga de Santa María La Blanca
Monasterio de San Juan de los Reyes
Mezquita del Cristo de la Luz and more…
Plaza Zocodover – starting point of Toledo scavenger hunt and city tour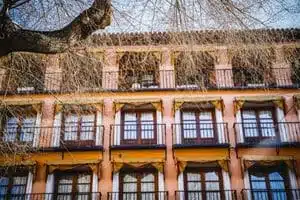 Santa Iglesia Catedral Primada de Toledo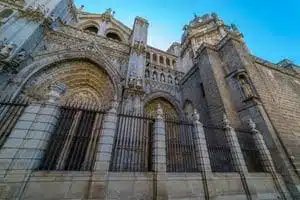 This Cathedral is one of the best examples of Gothic-style architecture in Spain. Just like various other churches in Spain, this cathedral has also built on a mosque. Construction started in 1226, but the work couldn't complete in the next 2 and a half centuries. Therefore, you can experience a blend of Mudéjar and gothic elements. Most importantly, the availability of so many curiosities in the cathedral is making it worth visiting.
Ayuntamiento de Toledo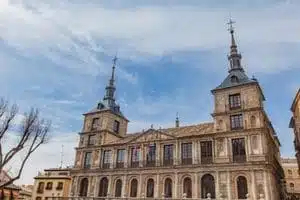 Also known as Toledo city council is an institution in charge of the government of Toledo's Spanish municipality. The mayor of Toledo chaired the consistory who has been elected democratically since 1979 by universal suffrage.
You can visit the building Plaza del Consistorio to know more about it.
Iglesia de los Jesuitas
Visiting Iglesia de Los Jesuitas can let you have some of the best views of Toledo's Old Town. However, this church itself is beautiful and the architecture of the church is in Baroque Style. It is situated in the historic center of the city and hallowed to Saint Ildefonso of Toledo.
The construction of this church took more than a century to complete. However, still the church has significant importance in the city.
Iglesia de Santo Tomé
Once a mosque, but turned into a church later. The exquisite Mudéjar tower of the church makes it prominent in the city which contains beautiful scalloped arches. However, the interior has an eye-catching blend of Moorish and gothic design.
However, the majestic renaissance painting is what attracts most of the visitors to the place.
Museo del Greco
El Greco was one of the fabled 16th-century artists and an important historical resident of the city. He helped immoralities with the cityscape's depictions.
His popular paintings Plan of Toledo and View of Toledo, both are available in this museum. These can simply tell you how the outline of Toledo has changed over time, straight away.
View of Toledo out of these two paintings has captured the imagination of the world. It has an impressive representation of the idea and also attracts numerous visitors to the museum daily.
Monumento A El Greco
This El Greco Monument you can find in the Sitges Municipality included in Catalonia's architectural heritage. You can spot this monument in the Paseo de la Ribera. However, the surrounded area consists of gardens. While the monument consists of a rectangular stone decorated beautifully with a statue of the painter and Catalan tiles.
As the whole set has been made with stones, so it overall makes a beautiful presentation.
Sinagoga de Santa María La Blanca
This Blanca is the oldest building of an intact synagogue in Europe. It dates back to the 12th century's end. Since the excursion of the 15th century, there was no Jewish community in Spain. Therefore, the building turned into a church in the 1400s without any major renovations.
Before the announcement, it was a monastery, later it turned out to be a warehouse. However, now visitors can enter the church to embrace its beautiful architecture and ambiance.
Monasterio de San Juan de los Reyes
This is a beautiful monastery that dates back to the 15th century located close to the San Martín Bridge. You can spot the magnificent granite façade of the building which shows manacles and chains. It symbolizes the Christian prisoners the Catholic Monarchs freed at the Christian "Reconquista" completion in the 1490s.
Mezquita del Cristo de la Luz – ending point of Toledo scavenger hunt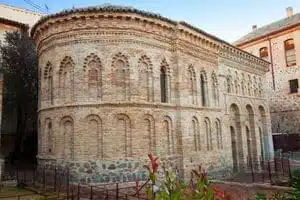 This beautiful building is situated inside the ancient medina. In this building, wealthy Muslim families of Toledo used to live. However, the Mezquita dates back to 999. Most importantly, this square-shaped building is still majorly in the same state as when it incepted. This makes the place more special for visitors.
However, after taking over the building in 1085, Christians turned it into a church. While, if you want to visit it at present, it's in closer proximity to Puerta del Sol.