Introduction
Highlights
Information
Important
Locations
Introduction
Lausanne scavenger hunt and city tour
Lausanne scavenger hunt and city tour was created to offer you the best way to explore a beautiful and historical city of Switzerland!
Lausanne, the second-largest city on Lake Geneva, combines a dynamic commercial town with the locality of a holiday resort. The capital of the canton of Vaud is also a lively university and convention town. Sports and culture are given a high profile in the Olympic capital.
Our game is a nice way to explore the city walking, playing and learning!
Highlights
Explore Lausanne, playing our scavenger hunt and city tour!
What to expect
Uncover the highlights with an interactive smartphone app. Solve location-based riddles on this walking tour.
Visit 10 of the most important attractions in the city as you walk. Stop and find clues at each attraction to reveal your next destination.
Enjoy the challenge of using logic, imagination, observation, and team spirit to finish the game.
Feel the thrill of completing each riddle. Start or pause the tour whenever you want. See the city at your own pace.
Read interesting information and facts. Stop to snap pictures as you go. Reveal an exciting a puzzle at the exterior of each attraction.
Information
Includes
Mobile app and login credentials
Self guided tour
Navigation
Important information about Lausanne scavenger hunt
Average duration: 2 hours including total walking time 1 hour
Supported languages: English, German, French, Italian, Spanish, Dutch
Museum admission fees: Visits to museums and other attractions do not require a ticket, as the puzzles are related to
their outdoor areas. Admission is purely your choice.
Not suitable for…
Wheelchair users
People with mobility impairments
Unaccompanied children
What to bring
Weather-appropriate and comfortable clothing and shoes
Charged smartphone
Internet connection in case of the online-mobile application.
Important
What you need to know about Lausanne scavenger hunt ?
No one will be waiting for you anywhere, it's just you and your smartphones!
You can start playing anytime, any day, every day! You can even pause your game and resume later or any other day within a year !
You can use one language per serial number. If your group is multilingual, you will need to buy more games if you need more languages.
There is no time limit for the game. You can complete it at any time at your own pace.
Our game is completely outdoor, so it depends on the weather. The game can continue on the same day or another day if it is interrupted.
Prefer to start the game in daylight, as the lack of light may make it difficult to solve puzzles. However, the game can still be played at night.
Children must be accompanied by an adult. It is a nice and very educational activity for them if an adult helps them solve the puzzles and explains them.
Puzzles do not require knowledge. Players must use their imagination, logic, combinatorial thinking and cooperation.
Every attraction hides a puzzle ! The puzzles are independent and not connected to each other through a story. The goal is for players to interact with the attractions and their surrounding areas !
Our game is completely covid19-free as it is an outdoor game!
Locations
Lausanne scavenger hunt and city tour
Ending location: Esplanade du Flon
You will visit: 
Esplanade de Montbenon

Place de la Palud

Lausanne Cathedral

Parlement vaudois

Château Ste-Maire

Palais de Rumine

Eglise Notre-Dame du Valentin

Église Saint-Laurent

Esplanade du Flon and more
Esplanade de Montbenon – Lausanne scavenger hunt
Arguably, Lausanne has some exhilarating panoramas. However, the one you can find at Esplanade de Montbenon is one of the best. Here you will definitely love to sit and see the beautiful scenery around. However, there are some interesting monuments also to see here at Esplanade de Montbenon such as Palais de Justice.
Before visiting this, just check out the schedule, because Esplanade de Montbenon usually hosts some amazing events also.
Place de la Palud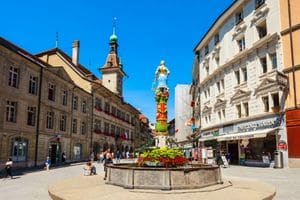 This is a beautiful pedestrian square that has a wedge shape in the center of the Lausanne. It has ruled by the old apartment buildings and 17th-century City Hall. On the ground floor of the building, you can find a passageway continuous through Place de la Louve.
Additionally, this place can let you have some beautiful City Hall Tower views to enjoy.
Lausanne Cathedral
The solemn cathedral of the city went up during the 13th century. It was consecrated in 1275. Viollet-le-Duc; French Master restorer is the person behind the current appearance of the cathedral. He completed the restoration process in the 1870s and it was the last project he completed before dying. On the southern portal, you can still find medieval paint traces. Also, on the southern face, you can find a rose window from the 13th century.
Parlement Vaudois
This is a new parliament building that is built on the old parliament that went into smoke in 2002. It took several years to revive this Vaudois parliament from the ashes. However, while reconstructing the Vaudois parliament, energy efficiency and its heritage preservation were two major concerns. However, the artists considered both while recreating the Parliament Vaudois.
Now it has again turned into a beautiful building to visit in Lausanne.
Château Ste-Maire
Château Saint-Maire aka Saint Maire Castle is a palace to visit here. It serves as a seat of cantonal government. However, it is now a Swiss site which is important for history and is loved by history lovers. The construction of the castle took place from 1397 to 1425.
It has designed in a single massive rectangular block. This construction style was common at that period. Originally, it has Ghibelline merlons that gave it a bit of an Italian appearance.
Palais de Rumine
After the death of the Gabriel-de-Rumine; a Russian aristocrat, he left a fortune for the development of a public venue. Palais de Rumine is what constructed at the turn of the century. However, the architecture is from Florentine Renaissance. Even more, the multiple museums inside contain more than 10,000 workpieces. There is an amazing collection of items available at displays for visitors.
Eglise Notre-Dame du Valentin
This was the first catholic church in Lausanne erected in the Canton of Vaud. However, in 1992 it turned into a Basilica. While, in 2003, is classified as a historic monument of the city.
It has a style of neoclassical basilica-type church. Its central nave and aisles have a raised appearance. However, it has also been renovated on multiple occasions.
Still, it is one of the most notable landmarks to visit in Lausanne.
Église Saint-Laurent
This more simply is Saint Laurent Church, a protestant church situated on the Lausanne territory, in Switzerland. This is the only church that has escaped the Lausanne great fire in 1235. However, while retaining its bell tower, the City Council of Lausanne decided to demolish the church in 1554. However, later a new temple was built in 1716 and 1719 as per plans of Rodolphe de Crousaz architect.
Esplanade du Flon – ending point of Lausanne scavenger hunt
So, this is mainly a pedestrian district in the city center belonging to a single owner. However, it's the only flat area of its type and size in Lausanne. While it has become a major focal point of the district because of the events that happen here. Overall, it is a pedestrian area to walk around and enjoy some amazing things.
You might also be interested in Zurich, Basel, Geneva, Lucerne or Bern and St Gallen