Description
Introduction
Information
Important
Locations
Introduction
Lucerne outdoor escape game
Lucerne escape game! Let's go outdoors! What about playing an outdoor escape game in Lucerne? You will have the chance to wander around the streets solving riddles! You will explore this amazing mega city in an interactive and unique way! Everything in your mobile phone, in your language and in a very cheap price! What a great chance to take some beautiful photos too!
Information
Can you solve the riddles and escape from Lucerne? Lucerne escape game
The mobile app provides :
Navigation and automatic help system with 3 levels of hints.
Total points and leaderboard.
Time is with you and not against you. Solve the riddles at your own pace.
You can pause your game any time and continue later or another day.
Each month, the no1 team of the leaderboard will win a free game for any city we provide.
Average duration:2 hours including total walking time of 60 minutes
Supported languages: English, Deutsch, Spanish, Italian, French, Dutch
Level of difficulty : Always hard 🙂 , but hints will always be there and the code of the riddle in order to be able to continue playing.
Important
What you need to know about Lucerne escape game ?
No one will be waiting for you anywhere, it's just you and your smartphones!
You can start playing anytime, any day, every day! You can even pause your game and resume later or any other day within a year !
You can use one language per serial number. If your group is multilingual, you will need to buy more games if you need more languages.
The outdoor escape games provide total points and a leaderboard and are a bit more difficult than the city hunt + city tour.
There is no time limit for the game. You can complete it at any time at your own pace.
Our game is completely outdoor, so it depends on the weather. The game can continue on the same day or another day if it is interrupted.
Prefer to start the game in daylight, as the lack of light may make it difficult to solve puzzles. However, the game can still be played at night.
Children must be accompanied by an adult. It is a nice and very educational activity for them if an adult helps them solve the puzzles and explains them.
Puzzles do not require knowledge. Players must use their imagination, logic, combinatorial thinking and cooperation.
Every attraction hides a puzzle ! The puzzles are independent and not connected to each other through a story. The goal is for players to interact with the attractions and their surrounding areas !
Our game is completely covid19-free as it is an outdoor game!
Locations
Lucerne escape game begins at Jesuitenplatz and ends at Rathaus
You will visit:
Historisches Museum
Spreuer Bridge
Nölliturm
Old town
Zytturm
Lion Monument
Rathaus
Hofkirche St. Leodegar
Seebrücke
Chapel Bridge and more
Different cities are known for different things, and this is the city that is known for its natural beauty and historical architecture. There are a lot of things that you can explore, and those are mentioned here.
1.Jesuitenplatz – starting point of Lucerne escape game
One of the most beautiful fountains in Lucerne, and it is also located right next to the Reuss. Not only the sight here is beautiful, but the best part is that you can explore the food here by visiting a wide range of nearby restaurants that offer traditional food.
2.Historisches Museum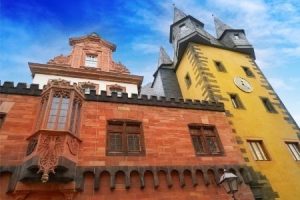 Not only does this museum collect historical assets from Lucerne, but it does so from central Switzerland as well. The best part is that you can see all of them present here. Not only this but the theater and exhibitions here are also great.
3.Spreuer Bridge
There are not a lot of wooden bridges in Lucerne that are this big, and this is one of those that exist. The main attraction is the artwork done under the roof of the bridge.
4.Nölliturm
This is a historical site that has recently been renovated, and now it is an amazing place for the guests. It is because it can be sued for its amazing hospitality. Keep in mind that the sight here is beautiful, but the bills may not be that attractive. It is because every other service is separately charged.
5.Old town
The old towns of each city have one thing to offer, and that is the traditional shopping and food. However, another thing that makes the old town worth visiting is the oldest buildings. These are the buildings that are converted into shops and hotels, and you can visit them to get an internal aspect as well.
6.Zytturm
This is a tower that takes you back to the architectural style of the 13th century. The thing that makes it unique from most of the buildings in Lucerne is that there is a huge astronomical cloche on this 52 meters high tower. With a lot of local shops around the circular wall that goes along, this is an amazing destination.
7.Lion Monument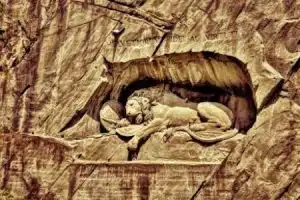 Present on the eastern end of the town is the statue of a dying lion carved out of a stone wall. Present at the lakeside, this represents the soldiers who lost their lives during the French revolution. While you are here, you can visit a lot of cultural restaurants offering amazing cuisines.
8.Rathaus
It is one of the most famous restaurants in Lucerne, not only providing traditional food but also some amazing drinks to try. Apart from this, the environment here is amazing, and you cannot get such a better combination anywhere in the city.
9.Hofkirche St. Leodegar
This is the Roman Catholic church that dates back to 17th-century architecture. This is one of the richest historic churches in the area that was built during the period of war. In terms of its views, you will be amazed by the beauty of its interior.
10.Seebrücke
One of the bridges that are considered to be the best sights in the city, well, if you are up for some sightseeing, grab some snacks from the nearby shops and enjoy the time you spend at the bridge while enjoying the environment.
11.Chapel Bridge – ending point of Lucerne escape game
Are you looking to get the best experience in the city, then visiting this bridge is a must, not only because this is a historical bridge and one of few remaining wooden bridges? But because the environment here is amazing. The 205-meter walk will be worth it, and this is also the reason why it is one of the most popular tourist attractions in the city.
You might also be interested in Zurich, Bern, Geneva or Basel or St Gallen or Lausanne
Only logged in customers who have purchased this product may leave a review.