Description
Brussels scavenger hunt and city tour
Brussels scavenger hunt was created to offer you the best way to explore this amazing city.
Brussels is the centre of European culture and institutions.
Brussels has much more to offer than most people imagine.
Apart from its famous chocolates and beers, there are almost 90 museums,
beautiful parks, architecture, bars and much more.
Brussels is one of the most interesting and important cities in the world!
Get lost in the city and explore it in a different and informative way!
Explore Brussels, playing our scavenger hunt and city tour!
What to expect
It is an outdoor activity that combines playing, walking and learning!
Explore the city in a fun way by solving riddles and puzzles.
Discover fascinating facts and stories about the city.
Let the game reveal hidden gems and places.
Have the best walk of the city and visit 10 of its most important attractions.
Full description of Brussels scavenger hunt and self guided tour
Uncover the highlights with an interactive smartphone app. Solve location-based riddles on this walking tour.
Visit 10 of the most important attractions in the city as you walk. Stop and find clues at each attraction to reveal your next destination.
Enjoy the challenge of using logic, imagination, observation, and team spirit to finish the game.
Feel the thrill of completing each riddle. Start or pause the tour whenever you want. See the city at your own pace.
Read interesting information and facts. Stop to snap pictures as you go. Reveal an exciting a puzzle at the exterior of each attraction.
Includes
Mobile app and login credentials
Self guided tour
Navigation
Important information about Brussels scavenger hunt
Cost:  Each game costs 20 EUR (per group) , up to 5 players. For more players you can purchase more games. For example for 25 players, you can purchase 5 games.
Average duration: 2 hours including total walking time 1 hour
Supported languages: English, German, Spanish, Italian, French, Dutch
Museum admission fees: Visits to museums and other attractions do not require a ticket, as the puzzles are related to
their outdoor areas. Admission is purely your choice.
Not suitable for…
Wheelchair users
People with mobility impairments
Unaccompanied children
What to bring
Weather-appropriate and comfortable clothing and shoes
Charged smartphone
Internet connection in case of the online-mobile application.
What you need to know about Brussels scavenger hunt ?
No one will be waiting for you anywhere, it's just you and your smartphones!
You can start playing anytime, any day, every day! You can even pause your game and resume later or any other day within a year !
You can use one language per serial number. If your group is multilingual, you will need to buy more games if you need more languages.
The city hunt + city tour provides information about the city and its attractions, but the escape games do not offer a city tour.
The outdoor escape games provide total points and a leaderboard and are a bit more difficult than the city hunt + city tour.
There is no time limit for the game. You can complete it at any time at your own pace.
Our game is completely outdoor, so it depends on the weather. The game can continue on the same day or another day if it is interrupted.
Prefer to start the game in daylight, as the lack of light may make it difficult to solve puzzles. However, the game can still be played at night.
For groups of more than 5 people, you must purchase 1 game per 5 people. For example, for a group of 25 people, buy 5 games.
Children must be accompanied by an adult. It is a nice and very educational activity for them if an adult helps them solve the puzzles and explains them.
Puzzles do not require knowledge. Players must use their imagination, logic, combinatorial thinking and cooperation.
Every attraction hides a puzzle ! The puzzles are independent and not connected to each other through a story. The goal is for players to interact with the attractions and their surrounding areas !
Our game is completely covid19-free as it is an outdoor game!
You will visit:
Triumphal Arch
Parliamentarum
Royal palace
Royal museums of fine arts
Chapel Church
Carillon of the Mont des Arts
Mannekin Pis
Grand Place
St. Nicholas church
Cathedral of St.Michael and St.Gudula and more
Triumphal Arch – starting point of Brussels scavenger hunt and city tour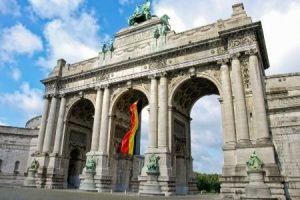 When you go a little outside the central Brussels cobbled streets, then you must pop over to the Triumphal Arch in Brussels. You can even wander around the beautiful Arch for peaceful yet stunning views. Here you can wander around the Triumphal Arch to visit the Art and History Museums, the Belliard Tunnel, and Brussels' Great Mosque.
Parliamentarum
The visitor's section of Parliamentarum is well-worth your visit. On arrival, you will get a multimedia guide that will help you to walk through the permanent exhibition here. However, here you can also explore an interactive floor map that demonstrates how European Union is impacting the local MEP's here.
Royal palace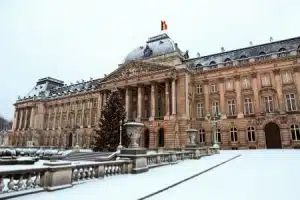 Even though the Royal Palace isn't being used as a Royal Palace anymore, it is still one of the gorgeous places to visit in Brussels. However, the building is still being used for multiple official engagements.
Royal museums of fine arts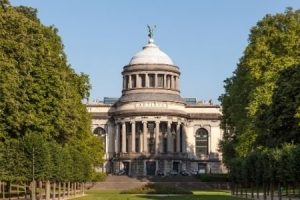 This is one of the most amazing Brussels things to do. However, this tremendous Royal museum of fine arts is combining four distinct museums, which are making one of the largest and best art galleries in the world combinedly.
Chapel Church
This 15th to 16th century's Notre-Dame du Sablon church is still known to be the loveliest place to visit in Brussels. The interior of this church is undoubtedly breathtaking, mainly because of the marvelous stained glasses used in it.
Carillon of the Mont des Arts
This historical place was developed from 1956 to 1958. This is inhabiting an elevated site between Place de l'Albertine and Place Royale. These are basically large buildings imposing complex architecture.
Mannekin Pis
Mannekin Pis is a bronze fountain sculpture and is considered as one of the most famous landmarks of Brussels. It is located 4 minutes on foot by the Grand Place. Every tourist pays a visit there , while exploring the historical center of Brussels.
Grand Place
No matter whether you have visited Grand Place before or not, this is always a worth exploring place in Brussels. Grand place is too gorgeous and dating back to 300 years, approx.
At different times of the year, you can find different art installations, events, and markets here. Best of all, with a little walk around Grand Place, you can easily visit the Galeries Royales Saint-Hubert and Mannekin Pis with ease.
St. Nicholas church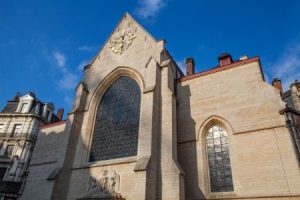 Located behind the amazing Bourse,  St Nicholas Church is a beautiful church , set amongst the numerous shops and it isdedicated to the patron saint of merchant's.
Cathedral of St.Michael and St.Gudula – ending point of Brussels scavenger hunt and city tour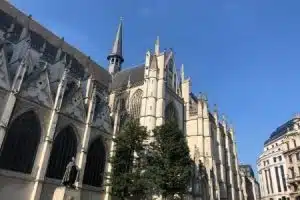 A medieval church dedicated to the patron saints of Brussels. The church is famous as one of the best examples of Gothich architecture.
Instead of Brussels scavenger hunt, you might be also interested in Ghent, Antwerp or Bruges or Liege?