Description
Naples scavenger hunt and city tour
Naples scavenger hunt and city tour was created to offer you the best way to explore a beautiful city of Italy.
The Province of Naples is a magical place where colors, flavors,
culture and history are intertwined in a charming mix of knowledge, joy and fun.
The area is loomed over by mountain Vesuvius and overlooks a marvelous bay,
whose beauty has served as driving inspiration for many an artist.
Naples scavenger hunt is a nice and unique way to explore this historical city.
Explore Naples, playing our scavenger hunt !
What to expect
It is an outdoor activity that combines playing, walking and learning!
Explore the city in a fun way by solving riddles and puzzles.
Discover fascinating facts and stories about the city.
Let the game reveal hidden gems and places.
Have the best walk of the city and visit 10 of its most important attractions.
Full description of Naples scavenger hunt and self guided tour
Uncover the highlights with an interactive smartphone app. Solve location-based riddles on this walking tour.
Visit 10 of the most important attractions in the city as you walk. Stop and find clues at each attraction to reveal your next destination.
Enjoy the challenge of using logic, imagination, observation, and team spirit to finish the game.
Feel the thrill of completing each riddle. Start or pause the tour whenever you want. See the city at your own pace.
Read interesting information and facts. Stop to snap pictures as you go. Reveal an exciting a puzzle at the exterior of each attraction.
Includes
Mobile app and login credentials
Self guided tour
Navigation
Important information about Naples scavenger hunt
Cost:  Each game costs 20 EUR (per group) , up to 5 players. For more players you can purchase more games. For example for 25 players, you can purchase 5 games.
Average duration: 1.5 hours including total walking time 40 minutes
Supported languages: English, German, French, Italian, Spanish, Dutch
Museum admission fees: Visits to museums and other attractions do not require a ticket, as the puzzles are related to
their outdoor areas. Admission is purely your choice.
Not suitable for…
Wheelchair users
People with mobility impairments
Unaccompanied children
What to bring
Weather-appropriate and comfortable clothing and shoes
Charged smartphone
Internet connection in case of the online-mobile application.
What you need to know about Naples scavenger hunt ?
No one will be waiting for you anywhere, it's just you and your smartphones!
You can start playing anytime, any day, every day! You can even pause your game and resume later or any other day within a year !
You can use one language per serial number. If your group is multilingual, you will need to buy more games if you need more languages.
The city hunt + city tour provides information about the city and its attractions, but the escape games do not offer a city tour.
The outdoor escape games provide total points and a leaderboard and are a bit more difficult than the city hunt + city tour.
There is no time limit for the game. You can complete it at any time at your own pace.
Our game is completely outdoor, so it depends on the weather. The game can continue on the same day or another day if it is interrupted.
Prefer to start the game in daylight, as the lack of light may make it difficult to solve puzzles. However, the game can still be played at night.
For groups of more than 5 people, you must purchase 1 game per 5 people. For example, for a group of 25 people, buy 5 games.
Children must be accompanied by an adult. It is a nice and very educational activity for them if an adult helps them solve the puzzles and explains them.
Puzzles do not require knowledge. Players must use their imagination, logic, combinatorial thinking and cooperation.
Every attraction hides a puzzle ! The puzzles are independent and not connected to each other through a story. The goal is for players to interact with the attractions and their surrounding areas !
Our game is completely covid19-free as it is an outdoor game!
Naples scavenger hunt and city tour
You will visit:
National Archaeological Museum
Museo Cappella Sansevero
San Domenico Maggiore
Complesso Monumentale di Santa Chiara
Chiesa del Gesù Nuovo
Chiesa di San Nicola alla Carità
Fountain of Neptune
Castel Nuovo
Piazza del Plebiscito
National Archaeological Museum – starting point of Naples scavenger hunt
The Archaeological Museum of Naples is in a beautifully ornate building. The building dates back to the mid-18th century. However, once the building has been used as military barracks. While it turned into a museum later. Inside the museum, you can find an impressive collection of Roman and Greek artifacts. It also displays a work selection of Pompeii and Herculaneum.
Museo Cappella Sansevero
The Cappella Sansevero is a truly fine architectural example in the heart of Naples. The Museo dates back to 1590. However, once it was a private building of the Duke of Torremaggoire. However, later it turned into a family burial chapel in 1613. The true highlight of this chapel is its interior which attracts and impresses most of the visitors in Naples.
San Domenico Maggiore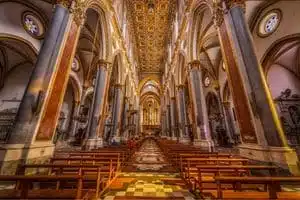 San Domenico Maggiore is another gracefully and beautifully decorated church of Naples. It dates back to 1324. The church is also situated in the Old Town's center in Naples. Even though the exterior of this building isn't that impressive. However, entering the San and admiring its interior is a real treat for the visitors here. The interior features renaissance artwork, decoration, and sculptures, which makes the building immensely opulent.
Complesso Monumentale di Santa Chiara
In the heart of the city, you can find the Monumental Complex of Santa Chiara. The construction of this complex dates back to 1310. The building had two convents one for men and the other for women. However, the church at present is available in original Gothic style with a simple façade and an ancient rose window.
The architect DA Vaccaro renovated the church in 1742. However, the church gained its baroque appearance with lavish coatings and looks mesmerizing still.
Chiesa del Gesù Nuovo – Naples scavenger hunt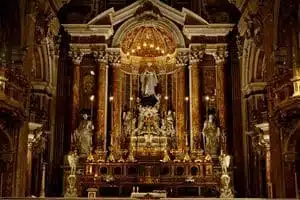 This is a basilica church in Naples, located in front of the basilica of Santa Chiara. It is one of the largest yet most important churches in the city. It is also a building with higher concentrations of Baroque sculpture and painting. The work has done by the most influential artists of the Neapolitan school.
Chiesa di San Nicola alla Carità
It's a church you can find with Toledo about midway between Piazza Dante Naples and Piazza Carità. San Nicola alla Carita church dates back to 1647. Most importantly, the construction completed because of a donation of 6000 ducats to the workers. The interior layout of the church has a Latic cross with side chapels and three aisles.
Fountain of Neptune – Naples scavenger hunt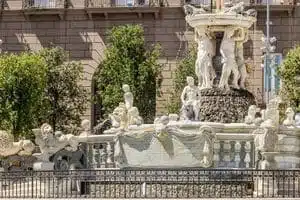 This is a monumental fountain in Municipio square of Naples. You can find this fountain in front of the Town Hall Building. Because of the construction of the new station, the location of the fountain has changed.
However, the construction of this fountain dates back to the Spanish Viceroyalty period. Giovanni Domenico D'Auria built the fountain based on the design of Domenico Fontana who was a Swiss architect.
Overall, this is a circular fountain surrounded by a balustrade.
Castel Nuovo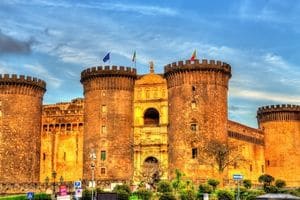 This castle stands out as a beautiful feature in the Naples skyline. This is also the very first site people will see in the city entering via cruise ships. This castle dates back to 1282 and features crenulated towers with a lucrative triumphal arch.
When in Naples, you must take a tour of Castle Nuovo to admire its stunning beauty. You can also climb up the ramparts of the castle to enjoy breathtaking views of the city.
Piazza del Plebiscito – ending point of Naples scavenger hunt
This is undoubtedly the main square of Naples. This Piazza featuring the royal palace is still a fantastic place to visit. The vast open space boasts multiple buildings and statues. You can easily use this beautiful place as a beginning point of your visit to Naples.
You might also be interested in Rome, Florence , Milan or Venice or Verona or Siena or Bologna